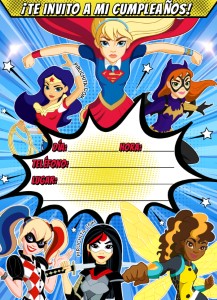 In recent years, superheroines have a greater role in the movies and drawings of Marvel, DC and also in children's cartoon series.
Although there are incredibly powerful female characters such as Scarlet Witch or Captain Marvel and in the last Endgame movie they had a "special scene of girls", already in the 2015, it was DC who made a series of children's drawings exclusively of superheroines.
Get the free now DC Super Hero Girls Birthday Invitation with Wonder Woman, Batgirl (Batichica), Supergirl (Supergirl), Harley Quinn, Katana, and Bumblebee.
Our superheroes attend high school classes at the "Super Hero High School" where they live adventures and also have to deal with the typical complications of teenage girls.
Spending the day is super easy when you are a Super Hero. But stopping evil and having to get good grades in school while maintaining a good social visa is not that simple, rather it is super hard.
DC Super Hero Girls are more than just best friends in the fight against crime, they are a diverse group of super teenagers!
Working together, they fight in the battles of Metropolis and its growth, all at the same time.
Always discovering new ways to control their powers and abilities, these amazing girls are quickly learning (sometimes in the most complicated way) how to deal with the super challenges of being a teenage Super Hero.
We all have the power to make a difference. Just make sure you always use it for good or you will meet these stubborn teenagers, the DC Super Hero Girls.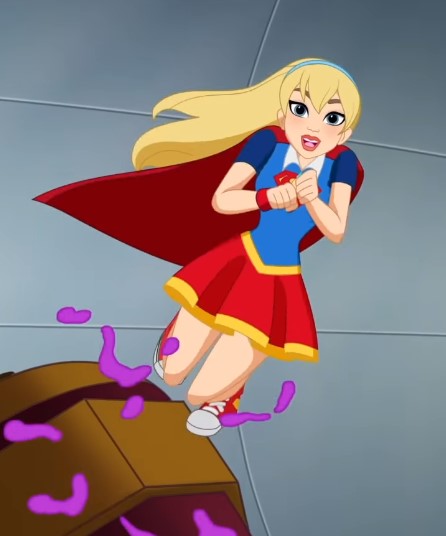 DC Super Hero Girls Dolls
If you are looking for a birthday present, go for it. You will want to have the complete collection of superhero dolls. We know that there are many characters and it is difficult to know which one to buy, so we give you some clues:
The main protagonists From this cartoon series are these:
Wonder Woman, Batgirl Supergirl, Harley Quinn, Poison Ivy, Katana, and Bumblebee
Other characters Included are: Hal Jordan, Barry Allen, Star Sapphire, Beast Boy, Cheetah, Hawkgirl and Catwoman
Here you have direct links to have more at hand and buy the most wanted superhero dolls And at the best price you'll find.
New DC Super Hero Girls Series in Cartoon Network - Official HD Trailer
The graphics of this fabulous intro are much better than then the gameplay of the game itself that leaves a lot to be desired. Still, very entertaining to be able to have control over a lot of characters so different among them with such varied and fun powers.
IMDB rating of DC Super Hero Girls [2019]
IMDB is Internet Movie Data Base. The largest online database of movies, series, drawings, anime, etc.
It includes two types of assessments, that of the specialized critic and that of the visitors. This can make you a very good idea of ​​the reception that this film has had worldwide, as well as read the opinions of many participants, but OJO, it is common for some spoilers to escape.
Do you want us to customize the DC Super Hero Girls Invitation?
A little further down you will find the fantastic DC Super Hero Girls Dolls Birthday Invitation And you know what? You do not have to pay anything at all, just put your e-mail and it will arrive instantly to your email. Of course, then you will have to write by hand some information such as the day, time and place where the birthday will be celebrated.
Although this invitation is enough, one day is a day, and we believe that because of the little that it costs DC Super Hero Girls Birthday Invitation Customizable Premium, you would have to at least see it so that you can appreciate the enormous difference in quality and how you will look good delivering a premium invitation card instead of a handwritten one. It is almost a gift, because for just 7,95 € (9,95 € if you want the photo version) we will personalize it with the data you provide and you can print it as many times as you want.
Download the free DC Super Hero Girl Birthday Invitation in high quality ready to print
La DC Super Hero Girls Birthday Invitation is designed in high quality, 300 dpi, perfect for printing both at home with any type of printer, as well as in a printing or online printing service.
If you are going to print the Invitation, we recommend that you use paper a little thicker than the typical ones that we have at home, since with this paper it would be excessively thin. If you can, get some 220gr paper in brightness (also called glossy). EYE, it is not necessary to look for it to be specific to photography since they tend to be more expensive.
The default invitation size is 7 "x 5" inches (17,78cm x 12,7cm). Yes! It is huge, but this is so that when you print them to a smaller size, the quality is excellent. You can then reduce the size at the time of printing, eg. 6 "x 4" inches (15,24cm x 10,16 cm) or even less.
We recommend that you print 2 for each sheet of size A4, which is a large size but will be more striking than normal tiny. You can also reduce them more and put 4 per sheet, and save if you have many guests or have only got expensive photo paper, but keep in mind the size of the text as it will be, so before doing anything on good paper, it is always advisable to print on a normal sheet and see how it will look.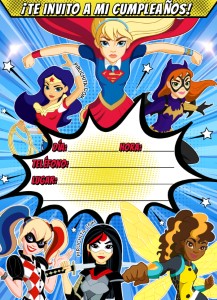 I'm preparing your file ...
Surely it will be a great birthday!
The file will be visible in a few moments, wait, please.
Has it been useful to you?
Please, click on the hearts to rate us!
Average Rating 5 / 5. Total votes: 2