The same day that went on sale I bought in Amazon the Kara's Party Book Well-known ideas Kara Allen with great expectations, since he followed her for a few years both in his blog and on social networks.
Kara Allen began at a very young age to organize small birthday parties, and what was a hobby ended up turning it into a profession that she practices with great passion. Admittedly, he has a lot of imagination and style, always taking into account the type of party to be set up and for whom it is intended.
Many event organizers have it as a point of reference to take ideas (some even copy them as such without further hehe), since during all these last years has organized thousands of events of all kinds, from baby showers, children's birthday parties of characters known, themed parties of everything imaginable (each client has their own different request), weddings, etc.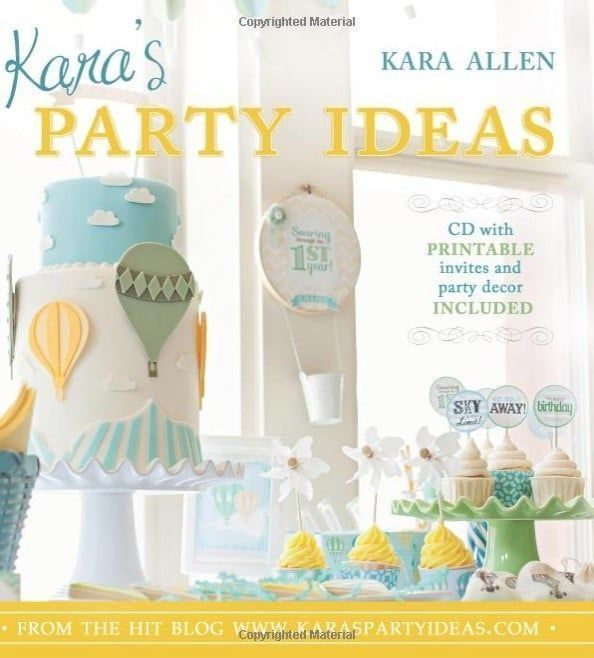 If I go to the point, the book in summary seems more a self-promotion of its services than anything else, but you should still buy it, I consider it an essential book, let me detail the pros and cons:
PROS:
[su_list icon = »icon: check» icon_color = »# 2e960f»]
The quality of the lid and the sheets is very good
Includes a large number of high quality photographs
It will provide you with many ideas that will open the way to organize your own party
It includes a CD with templates to print that you have used in some of the parties included in the book.
[/ su_list]
CONS:
[su_list icon = »icon: warning» icon_color = »# ff0820 ″]
It is in English
The steps of how to assemble and organize the different examples are not detailed
[/ su_list]
SUMMARY BOOK KARA'S PARTY IDEAS
Without becoming your reference book, you should have it on your bookshelf and so dispose of it as a reference.
Although it is in English, you will make more use of the images than the text, since it simply describes general features what it shows in the photos without going into the detail of the step by step.
The good thing about the large number of photographs, is that it includes many details, both from the general view of the party, and from photos close to the products in which you can appreciate many details that will give you many ideas.
I always recommend buying the hardcover book. They are more elegant and keep the book better, but it is not essential either. In amazon You can also find it in its soft cover version and even for the Kindle, although in this case I do not recommend the electronic version, it is your thing to have it in your hand and enjoy all the pictures.
Has it been useful to you?
Please, click on the hearts to rate us!
Average Rating / 5. Total votes:
There are no votes yet. Be the first to vote!