🎃 Frame for Halloween photo with Minnie Mouse free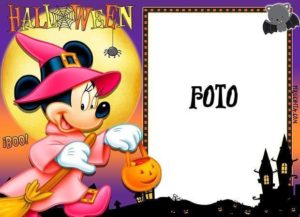 Nor we could give only one frame for halloween photo with Mickey, so here you have a frame for halloween photo with Minnie Mouse.
And although Mickey Mouse likes everyone, if you have a girl at home, without a doubt you will choose Minnie Mouse for the frame of your Halloween horror photo. Rest assured that once Halloween is over, he will continue to treasure his frame, and do not be surprised if he asks you to take him to school to teach the whole class and make them envious. Now, yes, if you allow it, try the consequences, since your daughter will surely arrive home with several orders from her friends.
If so, do not worry, tell your daughter to tell her friends that Piruchita.com can download this frame and many more completely free. That way their parents are the ones who have to take care of the small craft. You will save your work, and you will help parents and daughters to work together and have a fun time.
Below you can download the corresponding files. As with the Mickey Mouse version, you also have several options. Everything depends on what you prefer to do:
Print the JPG version: Then you will have to cut out a photo and paste it in the blank place. Another option is to cut out the white area and put the photo of the small one behind.
Edit the version in PNG: Having a transparent background, with a program like Photoshop or the free Gimp, you can put the child's picture on the back layer and print it directly.
Toys, apparel and accessories by Minnie Mouse for gifts
Offer
IMC Toys - Minnie Dream Princess (182172)
Play with Minnie and her different dresses and accessories
With 3 different outfits
She's always so smug on her dressing table
Which dress suits you best, the light pink, the lilac or the fuchsia pink? Choose the shoes that most match you, with lots of glitter
Toy
IMC Toys
Offer
Offer
Your download is being prepared, wait for the meter to finish