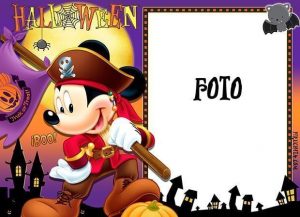 SWe continue with the freebies for the event of the moment with this great halloween picture frame.
If you are here it is because you are decorating the house with a totally terrifying atmosphere with pumpkins, cobwebs, bats, etc. Surely you have pictures of the little ones, but they will be a bit boring in their usual frame. Get some frame for photos of 18x13cm and allow the kids to be the envy of their compis by showing them their photos with the special Halloween Mickey Mouse.
Below you can download the frame:
PNG: By having the transparent background, with a program like Photoshop or the free Gimp, you can put the child's photo on the back layer and print it directly.
UPGRADE: Do you want to have the same frame but with Minie Mouse? Here it is.
Toys, apparel and accessories by Mickey Mouse for gifts
[amazon box="B071Z623ZT,B00UC3XGYC,B071RJ4GKQ,B013TE7T16,B00008K62T,B075GR76PZ″]
Your download is being prepared, wait for the meter to finish
Has it been useful to you?
Please, click on the hearts to rate us!
Average Rating 3 / 5. Total votes: 1