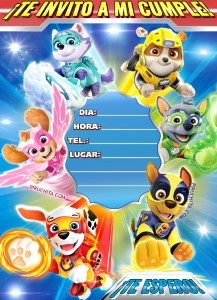 Surely you've seen images and a video on youtube of a super hero version of the canine patrol, do you want to know more? But the first thing is that you already have the The Powerful Canine Patrol Birthday Invitation.
«Mighty Pups» (Powerful Patrol) is an episode of the fifth season of Paw Patrol. It is the first special episode of 44 minutes of the series where our dear puppies are transformed into powerful puppies.
What are the superhero version of the Paw Patrol called in Spanish?
They are called «The Powerful Patrol»
Where does the powerful canine patrol come from?
This special episode has only been broadcast by some cinemas in Spain, and it makes sense since it barely lasts 44 minutes, very short for the high cost of movie tickets, so they have taken for granted that it would not have much audience and only in the Capitals or big cities have been able to enjoy it.
It was released on DVD before its premiere on Nickelodeon in the United States.
The DVD was available exclusively at Walmart as of September 11 from 2018, and the DVD includes instructions for getting a digital copy for VUDU users.
For international cinemas, the film's release date was the October 4 of 2018.
The 2 of March of 2019 was released in Spain
In LATAM the 2 of August of 2019 was released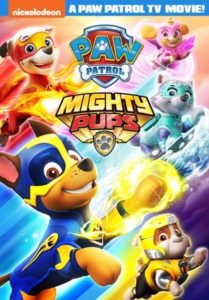 Trailer of The Powerful Patrol (Paw Patrol) | Nick Jr. Spain
Fans of the Paw Patrol have never seen their favorite characters so strong… so fast… so cool! 🐾 Do you feel like watching the movie? Watch this trailer preview of the movie The Powerful Patrol along with a snippet of a new episode. Watch how Marshall, Everest, Chase, Skye and Rubble learn to use their super powers. Freeze! They fly! They are full! The puppies have already saved Bahía Aventura before, and now they have to save the world.
Mighty Pups trailer - LATAM version
In the dubbed Latin American version of La Poderos Patrulla, they have decided to keep the original name, just as the originals are called Paw Patrol, the "super" version is called Mighty Pups.
Summary of the Special chapter in which the Powerful Patrol is presented
In this heroic and high-flying mission, the Paw Patrol receives powers from the Mighty Pup (Powerful Puppy) after a mysterious meteor lands in Ventura Bay.
When Mayor Humdinger and his nephew catch Ryder and steal the meteor to seize the city, the puppies must work together and use their new powers (from Chase's super speed to Marshall's powerful heat, Rubble's super strength and much more) to run to the rescue and save the day.
In this way, nickelodeon leaves the classic puppies behind, to make their "super" version from the fifth season, where they will begin to have great adventures, yes, to another level.
It is obvious that they wanted to take advantage of the boom of the superheroes of the last 12 years thanks to Marvel and DC to renew a series that could be jeopardized by becoming repetitive and monotonous.
Infinite and new possibilities open up, where not why ... will new super puppies appear?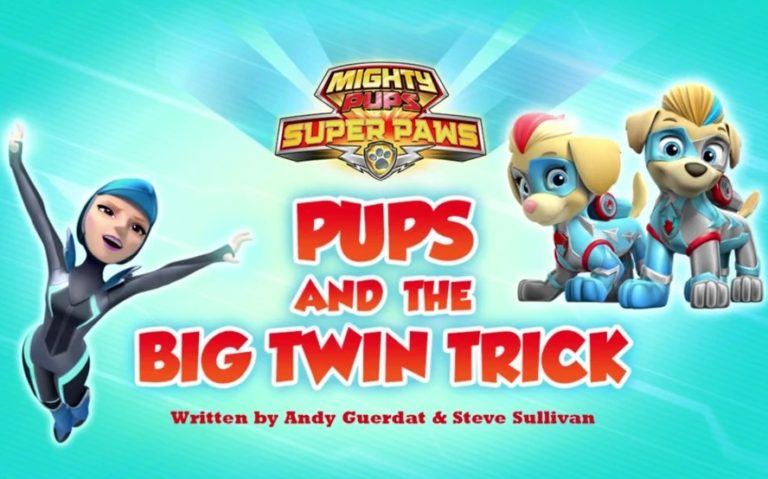 The sun is setting in Adventure Bay as the PAW patrol race to rescue the farmer Al from the top of his silo. Ryder deploys in his ATV vehicle along with Chase on his police cruiser, Marshall in his fire truck and Skye in his PAW Patrol helicopter. Soon they arrive at the barn and find the farmer Al clinging to the roof of the silo with a large red balloon attached to his waist. Chase then assures him that they have everything under control and Ryder has Marshall climbing his ladder to blow up the balloon and Skye for air support. As soon as the farmer Al starts to fall on his balloon, Ryder quickly orders Chase to catch him using his net. With a small bounce, Farmer Al is saved, and thanks you for the help. Ryder then says his usual catchy phrase and returns to the Lookout with the puppies.
Meanwhile, in Adventure Beach, Mayor Humdinger is preparing to launch his rocket to the moon to claim his title of "First Mayor on the Moon" with the help of his nephew, Harold Humdinger. While announcing his plans to the spectators, Cap'n Turbot and Wally, he makes Harold hasten his plans to prevent the PAW Patrol from ruining them. However, as Harold explains that the rocket was able to cross the Earth's atmosphere to Cap'n Turbot, he accidentally drops his laptop and launches the rocket into space without his uncle. While Harold apologizes, he realizes that the rocket completely misses the moon and instead crashes into a meteor that moves, causing it to quickly fall into the Earth's atmosphere.
As the meteor falls, Jake and Everest prepare their telescope to observe the stars after having found a perfect opportunity. While Jake looks at the telescope, he meets the meteor and realizes that he is heading towards Adventure Bay. He gives Everest a look through the telescope and she concludes that it was a meteorite. Without hurry, call the PAW Patrol to warn them about it.
In the PAW patrol, Ryder and the puppies receive the call from Everest and upon hearing the news of a meteorite, the puppies pant in shock. Ryder immediately checks the meteorite data and confirms that the meteorite was going to hit Adventure Bay. He then decides to clear Adventure Bay away from the impact and has Everest to clear the beach while they clear the city area. The PAW Patrol runs back to the rescue before the meteor collides.
Back in Adventure Beach, Harold is calculating where the meteorite would fall. While calculating with algebra and pi, Cap'n Turbot notices the meteor that is heading towards them and, ironically, takes a picture of him to disbelief of Wally. Mayor Humdinger, hearing Cap'n Turbot's warning, flees the scene while Harold, without knowing it, continues his calculations.
The PAW patrol soon returns to Adventure Bay and everyone leaves the PAW patrol in their vehicles. Ryder then divides everyone into two teams to clean the different parts of Adventure Bay; Ryder, Zuma and Rubble in one, and Chase, Rocky, Skye and Marshall in the other. When Chase is asked to lead his team, at first he is hesitant, but Ryder encourages him. The teams set out to clear the Bay of Adventure Bay. As the meteor approaches Adventure Bay, the PAW Patrol warns everyone to cover the streets and the sky. When the Chase area is completely clear, he calls Ryder to introduce himself, but soon realizes that Mayor Goodway is chasing a petrified Chickaletta. As he asks them to get away, Chickaletta flies over a nearby tree branch, Chase, with his quick thought, uses his megaphone to convince Chickaletta to come down. However, the chicken crows she made scare Chickaletta even more and make her fly to the top of the Town Hall. Chase then asks for help and Ryder asks him to prepare his ball thrower. While Ryder runs to his aid, the meteorite that falls passes through the Mirador and causes an aura of thunder to gain and the ground around it tremble.
Ryder soon arrives in Chase with corn treats and asks him to fill his ball pitcher with them to lure Chickaletta to a safe place. Chase then shoots the treats to the ceiling and successfully attracts Chickaletta down along with Ryder, who catches her from his descent. When Ryder catches Chickaletta, the approaching meteorite catches his attention and immediately asks everyone to run to take refuge. While they hide, the meteor passes just above them and upon inspecting their address, warns Everest that it is hitting Adventure Beach and checks their status to make sure everyone present has been evacuated. While Everest takes the last people out of the arena, Cap'n Turbot, Wally and Harold still remain in their current place. While Cap'n Turbot inspects the meteor, Everest passes by them, asking them to bend down and evacuate immediately, however, without Harold. While Harold continues with his calculations, he turns around and when he sees that the meteor was near, he bends down quickly to avoid the impact of the meteor.
Shortly after, the meteorite falls into Adventure Beach, with the sand cushioning its fall. Everest then reports to tell Ryder that everyone was cleared and that there were opportunities on the fallen meteor. Shortly after, the PAW Patrol began to spread that Adventure Bay was safe from impact and they all slowly emerged from their hiding place. When they leave, Rocky decides that everyone looks at the meteor and the puppies run towards him with emotion without a disappointed Chase. While Chase and Ryder walk slowly behind the running puppies, Chase thanks Ryder for saving Chickaletta and also comments that he did not do a good job of leading his team. Ryder then encourages him not to give up and they both decide to check the meteor. However, while Chase runs to join the puppies, Ryder is stopped by Mayor Goodway for an interview on how he saved Chickaletta.
Mientras lo entrevistan, Cap'n Turbot y Wally exclaman que están a salvo, y Harold emite un gruñido molesto. Las crías pronto llegan al meteoro y se asombran por el brillo dorado que estaba emitiendo. Rocky se pregunta entonces por qué el meteoro estaba brillando y luego Harold responde que fue la interacción de la atmósfera de la Tierra con'Cosas Cósmicas' (es la fricción la que causa el resplandor del Meteoro*[4]) De repente, el meteoro irradia una fuerte oleada de poder y aleja a las crías y a Harold de él. Sobre la racha de luz brillante, Ryder, el alcalde Goodway y el camarógrafo vienen corriendo hacia ellos para ver cómo están. A medida que Ryder se acerca al meteoro para comprobarlo, Chase comenta que había algo raro en él y Rubble añade, diciendo que aún brillaba. Para su incredulidad, el meteoro pierde irónicamente su brillo. La alcaldesa Goodway decide entonces celebrar la ocasión colocando el meteoro en el Ayuntamiento de su ciudad y Ryder decide echar una mano. Sin embargo, se da cuenta de que era demasiado profundo y pide a Rubble que intente desenterrarlo. Los escombros automáticamente concuerdan y comienzan a cavar hacia el meteoro. Sin embargo, sus patas comenzaron a brillar y luego comenzó a cavar vigorosamente. Poco después, envía el meteoro volando hacia el cielo. Cuando los cachorros se ponen a cubierto, Chase se da cuenta de que el meteoro se dirige hacia él y corre en busca de refugio. Sin embargo, en lugar de eso, corre a la seguridad de una sombrilla de playa más lejos, y corre de regreso a Rubble, desconcertado. Mientras Rubble y Chase se preguntan sobre lo que hicieron, Everest suelta un estornudo y congela el meteoro por todas partes. Marshall se sorprende entonces por el hielo sólido del Everest y lo toca. Sin embargo, sus patas empiezan a derretir el hielo por su incredulidad. Luego comenta que la roca tenía una temperatura demasiado alta para empujar, pero que está asegurada por Zuma. Sin embargo, mientras Zuma coloca sus patas sobre el meteoro, libera un poderoso chorro de agua, empujando el meteoro hacia delante y empapando a Harold por todas partes. Mientras el meteoro salta hacia Skye, ella salta para evitarlo, pero en vez de eso convoca un tornado de viento alrededor de sus piernas, dejándola volar en el cielo sin su jauría de cachorros y su helicóptero. Sin embargo, mientras vuela con gracia, accidentalmente coge el meteoro con sus poderes de viento y lo envía volando antes de estrellarse contra la arena, mareada. Sobre las cosas raras que les pasan a los cachorros, Rocky comenta que algo raro estaba sucediendo y cuando levanta su pata derecha, crea súper herramientas en el cielo. Sin embargo, el martillo que crea hace que el meteoro ruede hacia el Ayuntamiento. Mientras la Patrulla de la PAW lo ve rodar, Harold libera su desaprobación cuando afirma que fue injusto que todos los cachorros obtuvieran superpoderes menos él. Ryder entonces se pregunta cómo todos los cachorros obtuvieron sus poderes donde es respondido por Cap'n Turbot donde cita que el meteoro los encendió. Poco después, el suelo a su alrededor comienza a temblar y el Mirador comienza a brillar. Zuma se da cuenta de esto y exclama al respecto. Mientras todos miran la brillante estructura, el Mirador comienza a elevarse hacia el cielo y permanece flotando en el aire. La Patrulla de PAW concluye entonces que como el Mirador y ellos fueron los únicos que fueron alcanzados por el meteoro, todos ganaron superpoderes, y corren hacia el meteoro para ayudar en el movimiento. Mientras lo hacen, Harold se aleja de ellos malhumoradamente. Sin embargo, para su sorpresa, al desear zapatos para cohetes, sus manos comienzan a brillar y comienza a construir un par de zapatos para cohetes con piezas de repuesto en la playa. Luego se eleva hacia el cielo con asombro, pero pronto se arrepiente al olvidarse de colocar un interruptor de apagado.
Back at the Town Hall, Rubble lifts the meteor over a globe in the center of the building with little or no effort and everyone comments on how beautiful the exhibition is.
As they do, Harold is back in Mayor Humdinger's lair explaining to the crew of the kittens catastrophe and his uncle about his powers. Then he builds a robot to make food to prove it, but he doesn't do it for his dismay. However, upon seeing Harold's powers, Mayor Humdinger concludes that if he puts his hands on the meteor, he will also receive powers. Harold then decides to build a super vehicle to steal the meteor at City Hall along with his uncle.
The next morning, the kitty catastrophe team left their terrified den of being run over by the new Humdinger vehicle. The duo will head towards Adventure Bay towards the City Hall. While driving, Harold activates the option of tinted glass in his vehicle to maintain anonymity, but is prevented from seeing correctly. Even with Harold's horrible driving, they manage to bump into Mayor Goodway's tulips in front of City Hall and soon begin to remove the meteor from his screen. As soon as they recovered the meteor, Mayor Goodway and Chickaletta noticed it, as well as their damaged City Hall and crushed tulips and called the PAW Patrol, panicking.
At the call of Mayor Goodway, Ryder summons the super pups to the Lookout. However, while the puppies are heading towards the Mirador, Marshall and Rubble wonder how they were going to do it, since the Mirador was far above them. Ryder then replies that he has built a Lookout launcher to reach the top. Soon they have fun jumping to the viewpoint. However, Marshall has an "oopsie" in the pitcher and crashes into the puppies as usual. After making a joke, all the puppies laugh while they get on the lookout, with their new super costumes. When they reach the top, they are greeted by Ryder, who flies from above using a jet-pack. When Rocky comments, Ryder says he has to keep up with the Mighty Pups. Chase overhears the name of his new team by chance and prepares the puppies with a new slogan. Ryder then begins to inform them about the mission and deploys Skye to discover the meteorologists with his new "wind pilot wings", to Chase to use his super speed to reach the escape car using his parachute to reduce the speed , and the other puppies to use their equipment to save the day. Before being deployed, Marshall asks how they were going to go down to the Mirador. Ryder then asks the pups to look through the Lookout window and, to his surprise, the Lookout launcher became a landing platform. Next, the team is deployed along the slide simultaneously ready to deal with meteor thieves with Ryder using their jet-packs.
As soon as they reach the ground, Ryder asks Skye to find the escape car and soon finds it without hurry. After reporting that he was headed for Foggy Bottom, Ryder has a hunch that they can be the Humdingers and asks Chase to chase him using his super speed. He does it immediately. While running, Mayor Humdinger is in the vehicle announcing the steps of his great master plan. However, when he is about to announce another step, Chase stops them with a warning. Instead, they use the vehicle's megaphone to convey their disapproval and accidentally reveal their identities. They then back up the vehicle and start driving with Ryder landing next to Chase. Chase concludes that the people in the vehicles were really the Humdingers and Ryder makes Chase reach them once again. While flying towards them, it has debris to use its super force to build a road block. When pushing a log on the road, he thought it was not enough and therefore brought an entire train to act as a road block. While the Humdingers avoid blocking the road, Mayor Humdinger orders Harold to stop the vehicle, but he refuses to give up. As they approach Adventure Beach, Harold uses the vehicle's integrated amphibious mode to cross the sea surface. Realizing they were in the water, Chase activates his parachute to prevent him from running into the water. Ryder then has Zuma to use his surfboard and powers to create a giant wave, causing the Humdingers to return to the bay. Then ask Everest to freeze the vehicle as it falls, making it difficult to move.
Inside the vehicle, Mayor Humdinger asks Harold to give up and order hot chocolate, however Harold is upset about his negativity and activates the lazer option to melt the ice around him. They succeed in doing so and soon begin driving back to Foggy Bottom. Ryder then has Skye to use his wind powers to turn the Humdingers' vehicle and travels back to the Lookout to make a trap for the Humdingers.
After turning around the Humdingers, Mayor Humdinger evacuates Harold's vehicle to annoy Harold. In doing so, Ryder is back in the Lookout and receives information that the Humdingers were heading back to Adventure Bay. He then makes Rocky use his power tools to send them down the side street next to him, which uses his tools to create traffic signs from a nearby trunk. After doing this, Ryder causes Marshall to melt the street under the vehicle to make it stop. When the vehicle approached, Marshall did so and caused the wheels of the vehicle to get stuck, stopping Harold on his way. After meeting Marshall with Rubble and Zuma, Chase exclaims that Ryder was the best leader a puppy could have, and everyone agrees. While Harold is sulking in defeat, Mayor Goodway congratulates the puppies for stopping the Humdingers in stealing the meteor. Ryder then asks Rubble to use his "Super Strong Claw" to bring the meteor back to City Hall and Chase to watch Harold until Mayor Humdinger picks him up with the other puppies. Chase then asks Ryder about his decision commenting on his previous flaws, but is encouraged by Ryder, saying that a good leader never gives up and has faith in him. After more encouragement from Marshall and Zuma, Chase assumes the role while Ryder devises a plan to clean up Harold's disaster.
Back in the vehicle, Marshall asks Chase how they should protect the vehicle. He replies that he would use his super speed to keep an eye on him and that he would never leave his eye, so they should help Ryder by starting the Adventure Bay cleanup. Mayor Goodway agrees with the plan and takes Marshall and Zuma to their trampled tulips. When they leave, Chase tells Harold that he would not lose sight of him. However, Harold activates a rocket chair and escapes Chase's disbelief. Chase then runs to the other puppies to tell them the situation. As he does, Harold flies to the Mirador and decides to turn it into his new headquarters before getting the meteor. Then create a super suit.
While doing so, Ryder controls the puppies and finds Marshall and the other puppies helping out in cleaning rather than protecting the Humdingers' vehicle. While Ryder asks them more, Harold goes up to the Lookout with his new suit and "Magnetic Super-Suit Remover" to Ryder's surprise. Then activate the machine and remove all Ryder equipment, including its Pup-Pad. Before Chase warned him to be careful, Harold has already caught Ryder in a bubble and sent him to the Lookout. While the puppies ask about what was happening, Harold exclaims that the Mirador was now his headquarters and Chase deploys the puppies to the bottom of the Mirador.
In doing so, Ryder is pushed into his garage by Harold's machine and locked inside. Then he finds a way to blow the bubble in which he is, but discovers that he is trapped in the garage. Knowing that puppies need it, he begins to find a way to contact Chase and comes up with the idea of ​​making another Pup-pad.
Back at the end of the Lookout, Chase informs the puppies that they need to find a way to get to the Lookout and rescue Ryder. However, when Skye asks Chase for a plan, he thinks about it and asks Skye to fly to see Ryder. While she does, she asks Everest to build an ice ramp so everyone can run to the viewpoint. With the ramp under construction, Chase asks Marshall to climb first. However, in doing so, his legs begin to melt the ice in a puddle. Chase concludes that it was a bad plan and that they should have used the pitcher. Then he makes Rocky and Rubble go up to the viewpoint using the pitcher together after doubting a bit. However, before jumping, Chase makes the last-minute decision to join them and causes them to crash, jump into the sky and bump into Skye on the way. As they fall, Everest creates a pile of snow on which they fall and fall without suffering any injuries. Marshall heats them with his legs and melts the snow pile in a puddle. Chase then apologizes to the puppies for his failed plan and is encouraged by them. However, he mentions that he does not have a plan B and suggests that someone else take over. Rubble's stomach begins to growl and while everyone looks at him, Rubble tells a joke in which his only plan was to have lunch. While the puppies laugh, Chase is disappointed.
At the top of the viewpoint, Harold is giving the last touches to his "Tractor Beam." While placing the final part, begins to recover the meteor from the City Hall. In doing so, Mayor Goodway exclaims that life has returned to normal in Adventure Bay in front of her tulips. Then he sees a mysterious ray of light that recovers the building's meteor and takes it as normal. However, then he notices and the lightning continues to raise the meteor until it breaks through the roof of the City Hall. The rise of the meteor attracts the attention of the puppies and shakes them. Meanwhile, Harold successfully places the meteor inside the Lookout, but feels lonely talking to a rock. Then use the "Beam Tractor" to take Mayor Humdinger to the viewpoint while the crew of the lazy kitty catastrophe.
In the garage, Ryder is testing his Pup-pad. He fails, but he doesn't give up. While he continues to fix a puppy cushion, Mayor Humdinger is taken to the gazebo while the pups look stunned. While Everest exclaims that Harold now has the meteor and Mayor Humdinger, Zuma expresses his anger but accidentally sprays Marshall with a jet of water. Skye then comments that Ryder made Chase a leader for a reason and that all puppies cheer him up.
In the Lookout, Harold presents his uncle with the meteor and does a victory dance. Mayor Humdinger then asks him to take advantage of his power to empower him and expresses his enthusiasm. Annoying, however, Harold decides to be the mayor and let Mayor Humdinger be the mayor's assistant. Soon he receives a call from Chase to let Ryder go and return the meteor. Immediately does not agree and ends the call. While dancing again in victory, Mayor Humdinger comments that with puppies having powers, they can ruin Harold's plan. This makes Harold think of a plan to gather the puppies and decides to make a super machine using parts around Adventure Bay.
While Chase and the puppies think of another plan, the top of the silo of Farmer Al's farm, as well as other metal parts around Adventure Bay, are taken to the viewpoint using the "Beam Tractor." To hide his creation, Harold also attracts clouds to cover up his plan. While doing so, the puppies, Cap'n Turbot, Mayor Goodway and the Porters notice. Chase then comments that if Ryder were there, he would know what to do. Marshall adds that they needed to eliminate the cloudiness, giving the puppies an idea. Skye then uses his "wind pilot wings" to fly into the cloudiness and summons a tornado to fly the clouds. To the surprise of the puppies, a giant robot was revealed.
Harold then asks Mayor Humdinger to lower it through a tractor beam and destroy Mayor Goodway's tulips once more. Mayor Goodway gasps over her trampled tulips and flees along with terrified spectators. Harold then announces his plan to capture the puppies, causing Chase to ask everyone to run. While they run, Harold has trouble moving his robot. He asks Mayor Humdinger to load him into the robot through the tractor beam without the puppies noticing. As he does, he comments how bossy Harold was and that he now understands how his kitty team felt. Meanwhile, Ryder tries a newly built Pup-pad. Although it doesn't work as intended, listen to the conversation between Harold and his uncle. When he hears his plan, Ryder is surprised, and while the meteor is charging on the robot, the puppies hide behind two beach umbrellas, with Chase thinking of a plan.
After harnessing the meteor's power, Harold begins to surround the puppies. He finds them behind the umbrella and, despite the efforts of the puppies, all of them, except Chase, were captured. When Chase begins to feel disappointed, Ryder's words remind him that a good leader never gives up. With his new confidence, he climbs into Harold's robot and warns him that they were going to succeed. He then asks Marshall to use his legs to melt the nets that trap him, Zuma and Everest, and Rubble to use his super strength to free Rocky and Skye. Chase then asks Zuma to make a mini lake in front of Harold and with his overconfidence, Harrold despises the puddle. However, Chase then asks Everest to freeze the puddle and causes Harold to lose his balance and fall on Mayor Goodway's tulips, again, to the dismay of Mayor Goodway.
When Ryder heard the conversation between the Humdingers, he concluded that he needed to find a way for the pups to know by taking out the meteor. When he finds a solution, Chase makes Harold chase him down the forest path. Harold misses Chase every time he tries to catch him and when his oversized helmet blinds him, Chase drops his parachute and makes Harold run to a nearby cliff. However, this makes the robot turn around and with the rocket boosters on, it makes it fly through the air uncontrollably. He then passes the puppies and hits the Lookout, causing him to climb into space due to the robot's rocket thrust. When he gets up, the tremor of the structure frees Ryder from his garage and he runs away delighted.
While the Mirador flies farther from the ground, Chase comments that he and the puppies must find a way to reach the Mirador or else they would not see Ryder again. Then he comes up with a plan in which he has Skye to tow the puppies to the Mirador through Rocky's power tool belt, and they went to the Mirador.
Upon reaching the viewpoint, they get off the tool belt and head inside to try to climb the elevator. However, Mayor Humdinger gives them the opportunity and turns it off, making it useless. Despite this, Chase finds another path through his difficulties and asks Marshall to use his bubble explosive to put out the rockets in the robot. It turns off for a moment but reactivates again. Chase then asks Zuma and Everest to create solid ice on both rockets and they do so immediately, causing the rockets to stop working. However, Harold presses a button and makes the rockets work again to dismay the puppies.
At the bottom, Ryder begins to scale the pole he uses when he deploys the PAW Patrol for missions hoping to call the puppies on the big screen.
When the Lookout leaves Earth's orbit, Chase concludes that they must remove the robot's meteor so that it stops working, and that they must begin to find where it is. All puppies start searching all over the robot while the clock ticks. While Mayor Humdinger mocks the puppies on the big screen, Ryder climbs on the lookout and orders the Humdinger to stop. Mayor Humdinger is surprised by Ryder's appearance and falls backward, damaging the large screen control panel in the process. Ryder then lowers the Mirador periscope and puts his torch on the viewfinder, waiting for Chase to take it to the meteor.
While the puppies try to find the meteor, Chase notices that the PAW Patrol symbol is issued from the Mirador Periscope and the pups follow it to where it shines; The robot's backpack. Using Rubble's super strength, the backpack opens and through Chase's guide, Rocky uses his puppy's "Super-Vac" to suck the Meteor and throw it overboard. This sends the meteor orbiting back to Earth. However, without a fuel source, it makes the Lookout, a rocky ship, fall back on Earth. With a quick thought, Chase makes Skye pick up all the pups of the Lookout and quickly makes her fly back to Adventure Bay. When they land in Adventure Beach, they find the Lookout that falls along with the other citizens of Adventure Bay. With no time to lose, Chase makes Skye create a whirlwind to stop the fall of the Lookout. Chase realizes then that it was not enough to slow him down to create a sand tornado using his super speed to cushion his fall. The Lookout lands safely on Adventure Beach. As the impact creates a cloud of sand around the puppies, Ryder worries them and they started calling him. To his relief, Ryder is safe and Chase runs towards him with his super speed to hug him even though he knocked him down. All puppies celebrate Ryder's safety and Ryder praises them, especially Chase for his leadership. They are then bombarded by the cheers of the people of Adventure Bay for saving the day. As the cheers continue, Mayor Humdinger slides down the Mirador slide and lands on the sand, dizzy. As for Harold, he is stuck upside down in the head of his robot. The PAW patrol laughs, and Chase assures him that he will be disappointed. Ryder then adds on that they would then have some cleaning to do and Mayor Goodway passes Mayor Humdinger a couple of brooms to his annoyance.
Back at the original Mirador site, Rubble is busy placing the Mirador on the ground, but it is difficult to do so. However, the meteor soon loses its glow, causing Rubble to lose his super strength and fly towards the PAW Patrol and Mayor Goodway. Then he exclaims that he lost his powers and Skye performs a somersault to test it, landing surprised on the ground. Cap'n Turbot explains that it was Harold's robot that drained the meteor from his power and therefore they have lost their powers. Then, Rubble asks what they were going to do with the meteor and is recommended by Mayor Goodway not to be put in the City Hall. Ryder then suggests that they put him in the basement of the gazebo and Mayor Goodway agrees. He also thanks the PAW Patrol for saving the day and Ryder says his usual motto. Meanwhile, Mayor Humdinger and Harold are busy cleaning Adventure Beach, with much discomfort.
The PAW Patrol then takes the meteor to a containment unit in its underground storage facilities and Chase exclaims that it was fun for them to have super powers. Ryder then says that another day may come for them to recover and asks if the puppies want Pup-Treats. Everyone agrees with the excitement and everyone runs to the elevator, while the meteor emits its last glow.
Note: This synopsis is the version automatically translated from https://pawpatrol.fandom.com/wiki/Mighty_Pups
Download for free now the Powerful Canine Patrol Birthday Invitation in high quality printable
La Powerful Paw Patrol birthday invitation! is designed in high quality, 300 dpi, perfect for printing both at home with any type of printer, as well as in a printing or online printing service.
If you are going to print the Invitation, we recommend that you use paper a little thicker than the typical ones that we have at home, since with this paper it would be excessively thin. If you can, get some 220gr paper in brightness (also called glossy). EYE, it is not necessary to look for it to be specific to photography since they tend to be more expensive.
The default invitation size is 7 "x 5" inches (17,78cm x 12,7cm). Yes! It is huge, but this is so that when you print them to a smaller size, the quality is excellent. You can then reduce the size at the time of printing, eg. 6 "x 4" inches (15,24cm x 10,16 cm) or even less.
We recommend that you print 2 for each sheet of size A4, which is a large size but will be more striking than normal tiny. You can also reduce them more and put 4 per sheet, and save if you have many guests or have only got expensive photo paper, but keep in mind the size of the text as it will be, so before doing anything on good paper, it is always advisable to print on a normal sheet and see how it will look.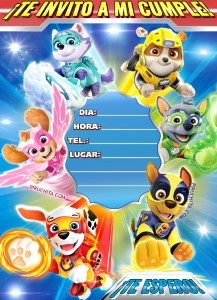 I'm preparing your file ...
Surely it will be a great birthday!
The file will be visible in a few moments, wait, please.
Has it been useful to you?
Please, click on the hearts to rate us!
Average Rating 5 / 5. Total votes: 3