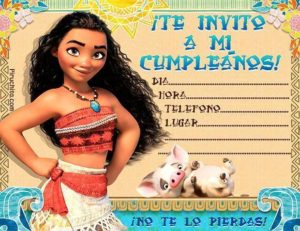 LThe new Disney princess arrives from Polynesia and is called Vaiana.
Of course, in Piruchita we advance to its next release the 2 of December in the cinemas of Spain, and we have already designed several Princess Vaiana Birthday Invitations - Moana, so that the children of the house as they leave the cinema hall and ask you to celebrate their birthday party, so that they can organize it of the theme corresponding to the last Disney movie.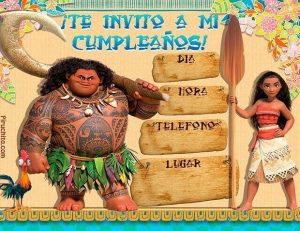 The original name in its English version is Moanain Latin America is Moana: Un mar de aventuras and in some countries in Europe (including Spain) we will know it as Vaiana.
We get the feeling that Disney is imitating the concept that Studio Ghibli has been implementing for years, where the female roles that are used as protagonists in the 70% of their films are usually characters, each in their own way «heroic », Represented by princesses, witches and warriors, or even normal girls, which Miyazaki describes as "They are brave, self-sufficient women, who don't think twice before fighting for what they believe. They need a friend or a partner, but never a savior. ".
[su_box title = »Personalized Vaiana / Moana birthday invitations» style = »glass» box_color = »# d12133 ″]If you prefer something more personalized where you do not have to be handwriting the data with a pen, we can arrange to personalize it with your name, photo and an amazing design.
Get them from only 7,95 € in www.Piruchita.com in digital format so you can print as many as you want or send them via WhatsApp.
[su_button url = »https://www.piruchita.com/categoria-producto/decoracion-para-cumpleanos-de-personajes-imprimible/vaiana-moana/» target = »blank» style = »flat» background = »# d12133 ″ color = »# ffffff» size = »5 ″ icon =» icon: star »] See PREMIUM Birthday Invitations [/ su_button]
[/ su_box]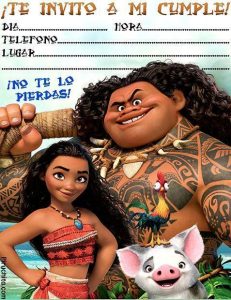 Disney in his latest films has been presenting us with princesses in the same line, such as Mulán, Tiana, Mérida (Brave) and even Elsa and Anna (Frozen), who are far from the model of princesses who presented us a few generations ago.
Now Moana, with just 16 years, points to the list of brave princesses, with huge and beautiful eyes (something that also gives the impression that they are more imitating the Japanese anime) and their dexterity avoiding all kinds of difficulties in this new and epic adventure, will fall in love with children and parents.
In the three birthday invitation cards we have designed from Vaina / Moana, the main protagonists and their pets appear.
In the first model only Vaiana appears with her cute Pua pig. And in the 2 and 3 invitations, we've added Maui and the crazy rooster HeiHei.
Data and valuation about Vaiana in IMDB
Pod movie trailer
To not bore you more by reading, instead of telling you what the new movie is about, I better put the trailer for you right? Here it is:
And if you want more details, you can read more information about Vaiana here.
Have you already seen the three Princess Vaiana - Moana birthday invitations that we have prepared for you? At the end of this publication you will find the option to receive them totally FREE to your e-mail but in high quality and resolution format.
Vaiana / Moana toys to give as gifts:
What child does not like toys? See for sure, here are our recommendations:
[amazon box="8499518265,B01N5GLQ4B,B01MXS1O9W,B01C2RHYN4,B01CZYOEUU″]
Vaiana / Moana clothes to give as gifts:
But if you prefer something that in addition to fun, is practical, we recommend you better shirts, pajamas, backpacks, etc:
[amazon box="B078SJQ7JB,B01MF9BEQY,B073Q2VVY8,B075YS3ZQ6,B071CW7YYB,B0755XBNYZ,B075DSSYYD″]
Custom Vaina / Moana Premium Birthday Invitation Cards
It is logical that the children of the house want to spend their birthday with one of their favorite characters, Vaina / Moana is the chosen one. That's why we offer you several premium personalized birthday invitations with designs based on this wonderful movie.
They can be personalized with photos and texts that we will personalize for you manually with an impeccable result. In just 24 / 48h you will receive them in your e-mail in digital format. Ready to print in high quality or if you prefer, you can use them to send them by whatsapp, share them on social networks, send them by e-mail, etc.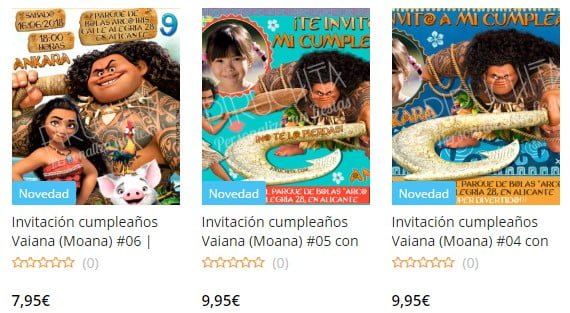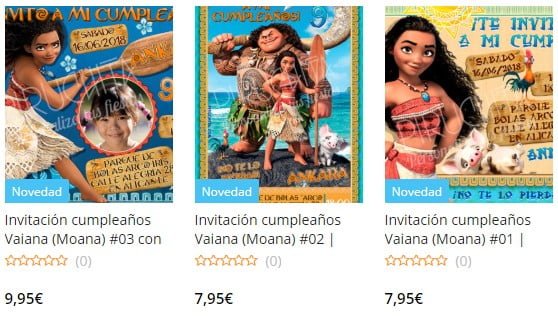 Download now for free Princess Vaiana Birthday Invitations - Moana at

high quality

, ready to print .:
Have a great and happy birthday party!

Your download is being prepared, wait for the meter to finish
Has it been useful to you?
Please, click on the hearts to rate us!
Average Rating 4 / 5. Total votes: 1