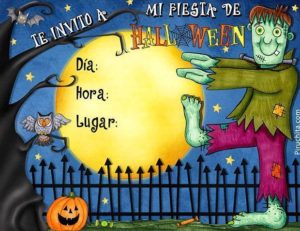 ¿You want to have another invitation for a halloween party similar to the one we offered you for free before and so have two variants?
Your wish is my command! Halloween is just around the corner, so here you have a second invitation to use the one you like ... or both 🙂
Although Halloween is known as Halloween or Halloween, you can not miss all kinds of monsters, and we could not forget our beloved Frankenstein monster. Did you know that his name is not Frankenstein? In fact the original novel has no name, and although everyone calls Frankenstein, in reality that is the name of its creator "Victor Frankenstein."
If you are going to dress up as our beloved little monster, do not forget the screws in the neck and add several scars. Remember that it is made of various dissected parts of different corpses.
I do not bore you anymore. Download now the invitation for halloween party and hallucinate your guests!
Your download is being prepared, wait for the meter to finish