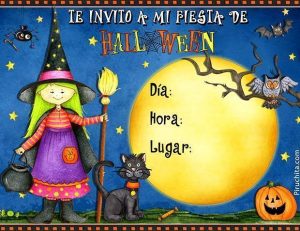 ¿Do you want an invitation for a free halloween party ready to print and distribute among your guests?
Well here you have it! Since the closest event is Halloween, we start with the first freebie.
Halloween It is a most celebrated party in the United States, the United Kingdom, Ireland or Canada. But every year more children (and some, not so children) are seen through the streets of Spain and Latin America disguised on the night of the 31 from October to the 1 in November asking for candies playing the famous Trick or Treat.
This party is also known as Halloween or Halloween, so if you were thinking about creating a Invitation for halloween party, here you have it with all the classic elements: Witch, Pumpkins, Black Cat, etc. Of course, all very nice, because although they all disguise themselves as somewhat dark characters, such as witches, vampires, zombies, ghosts, etc., the idea is to have a fun time with friends, and we do not want anyone to end up having nightmares about the nights hehehe.
But not only children go out to have fun. Once the children are at home sleeping or eating the candy secretly, teenagers and adults start their own parties.
Have fun with your friends on the eve of all the saints. If you are a child, look for a fun costume and prepare a good bag to carry sweets, chocolates, candies, chewing gum and all kinds of sweets. And if you are an adult, you already have the perfect excuse to disguise yourself as your favorite monster.
If you are from Spain, you will have to be a little more patient, since it is still a very new party and it is not yet well accepted and integrated. Many people do not even remember that they have to buy sweets to have them ready when the children go to ring their bell, and others will not even open the door.
Still, it is not a reason to leave, if not the opposite! Only with your participation in the party will we get that little by little the new generations will accept it more and celebrate more naturally. Between all we will make Halloween a party so that we can all enjoy it.
What are you waiting for? Download the invitation for halloween party, print it, cut out, fill in data and distribute! Make it an unforgettable night.
Your download is being prepared, wait for the meter to finish
Has it been useful to you?
Please, click on the hearts to rate us!
Average Rating / 5. Total votes:
I'm sorry it didn't help you ...
It allows to improve this publication
Thank you for your feedback!