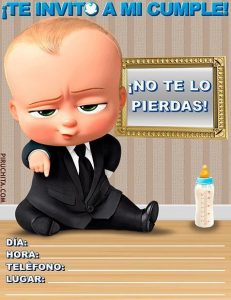 LThe last Dreamworks movie is already in theaters in Spain, and obviously we already have the Birthday Invitation Baby Boss in high quality to print ... as always free!
Also on this occasion we also add a special bonus that consists of a "Welcome to my Baby Boss Party" sign and a "Thank you for coming to my baby Boss party" card.
In Latin American countries it has been titled «Un Jefe en Pañales«.
It is based on a book written by Marla frazee, which at the same time also made the fun illustrations.
In the original version, it has been Alec Baldwin who has given the voice to our protagonist, while in Spain it has been José Coronado.
ARGUMENT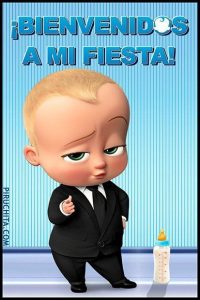 Tim, a 7 year-old boy with a great imagination and a high knowledge of the world of children, tells us the story of how the arrival of a new baby in his family changed his life.
The entry made by the baby, is in itself the most curious, since the Baby Boss arrives at Tim's house in a Taxi, perfectly dressed and with a briefcase.
As in most houses, sibling rivalry is imminent from the start, as the new baby steals the role and the perfect life that Tim had. But one day Tim discovers that his new little brother is actually a spy on a secret mission, and only he can help him in an epic battle between puppy puppies and babies.
OFFICIAL TRAILER IN SPANISH
CHARACTERS
The boss baby:
It is a very unusual baby. She is wearing a suit, a briefcase and is on a secret mission to discover why babies are losing their place in the love market. To fulfill this mission, he will have to join forces with his older brother, Tim.
Tim Templeton:
He is a normal boy with an extraordinary imagination. His perfect world goes to pieces when his new brother arrives. Convinced that Baby Boss is different, he is determined to discover the truth.
Ted and Janice Templeton:
They are Tim's affectionate and exhausted parents and Baby Boss. Happily unaware that their new baby is a little different, they become involuntary pawns of the secret mission of Baby Boss.
Francis E. Francis:
He is the charismatic and slightly deranged President of PuppyCo. He is determined to put BabyCorp out of the baby's business and will stop at nothing to achieve it.
Eugene:
He is the older brother and right hand of Francis. His job is to ensure that no one interferes with Francis' diabolical plan to achieve market domination.
Eternal Puppy:
Designed to stay always like a puppy, it is the most curious and adorable hair ball ever created.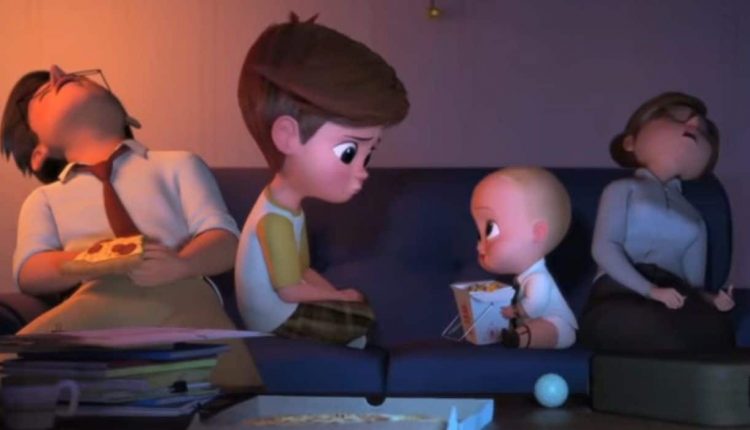 OPINION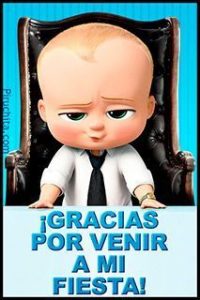 Obviously the little ones are having fun in theaters of all theaters with the movie thanks to their lively characters, the colorful, great animation, etc., and they let out several laughs.
But it is not so well among the adults that we were waiting for more after seeing the hilarious trailer and even more so bearing in mind that it comes from the creators of already classic animated films and of such high level as Shrek and Madagascar have been. The 97 minutes will sometimes be long, and even controversial, although sometimes it will also be impossible to prevent you from laughing even though the story itself does not make much sense ...
In this case, Dreamworks has not made an effort to make a film that children and adults like equally, since with Shrek we could find many situations that were obviously not understandable for children but who also laughed imitating the laughter of parents.
After watching the film is although you can doubt if it tries to convey an overly conservative message where it rewards the importance of family, birth, etc ... or if it is an ironic way of making fun of these forms of behavior, I think it has been done thinking more about the first option.
EXTERNAL ASSESSMENTS
In IMDB you get an 6.5 / 10 average over 10.000 ratings. Watch here.
In Sensacine you get an 3 / 5. Watch here.
OFFICIAL VIDEOS AND GAMES
You can find more videos and online games on the official website of «The Baby Boss» here.
RECOMMENDED GIFTS FOR BIRTHDAY PARTIES
[amazon box="B06XX12GZK,B071CVS3BG,8408167413,B06XY2ZD6K,B01NADDGWI,8469620975″]
DOWNLOAD FREE THE BIRTHDAY INVITATION OF EL BABY JEFAZO + BONUS. In high quality and ready to print
Have a very happy and fun party!

Your download is being prepared, wait for the meter to finish
Has it been useful to you?
Please, click on the hearts to rate us!
Average Rating 4.9 / 5. Total votes: 11