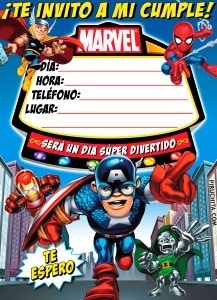 Super Hero Squad, best known in Spain and Latin America for "The Superhero Squad" they are already here! You can finally download the Free Marvel Superhero Birthday Invitation, with Captain America, Spiderman, Thor and Ironman. But since without the villains we could not have superheroes, we have also reserved a space for the evil Dr. Doom.
Decoration for Superhero Birthday Party Marvel / Superhero Squad
Iron Man, Hulk, Thor, Wolverine ... are just some of the classic supeheroes that all children and adults know, even those who are not fans of superheroes. It will be easy to design an amazing party and that everyone recognizes any character.
You can also think about making use of a Super Heroes costume for children and adults to liven up the party.
To organize a great birthday party for Marvel Superheroes, start with the Birthday Invitation that we give you, Banderines and Boxes to put personalized candy with stickers with elements or characters from the drawings.
Now, if you can afford it, organize what can be a great memory for your child, and use everything you can related to the theme. I give you some ideas: Superhero plastic tablecloth, cups and plates, children's balloons and all kinds of personalized decoration on paper.
Do not miss our custom premium decoration packs for Marvel Superhero Birthday Party that we will personalize in digital format for you and you will be able to receive by working 24 / 48h. Print as many times as you want what you like the most and leave everyone hallucinated!
Ideas to decorate a Marvel Squad Cartoon superhero birthday party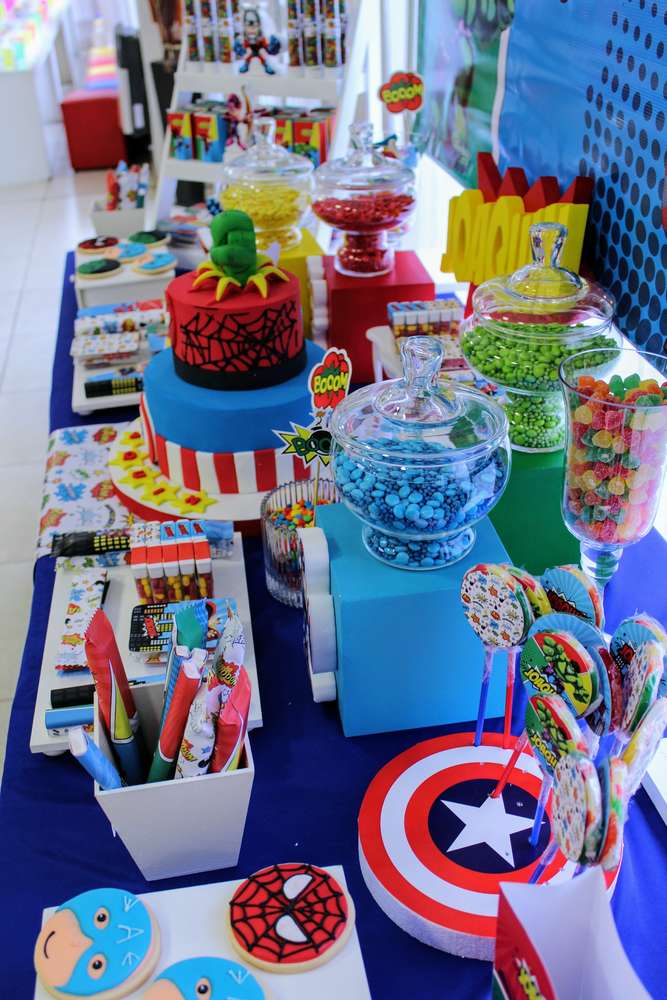 The bright colors are perfect for any children's birthday. And thanks to the diversity of squad superheroes, they will make a very striking party.
As you can see there are all kinds of trinkets and personalized cookies. I do not lack anything!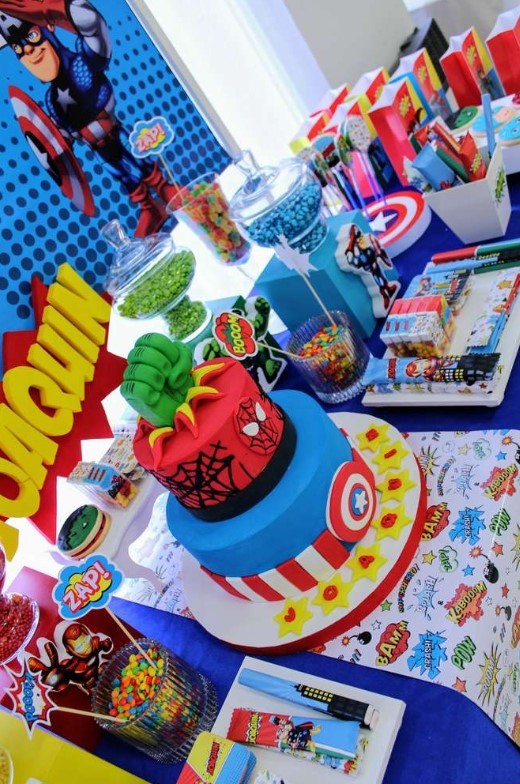 The cake they have designed is very well thought out.
The base of Captain America, the top of Spiderman, and looks over the whole hand of the Hulk doing like he is breaking the cake from within. Very original! Of course below is the name of the birthday boy.
Source:
https://www.catchmyparty.com/parties/joaquins-awesome-superhero-squad-birthday
Decorate your children's birthday party yourself with our Premium Custom KITS to print
Don't you settle for a simple invitation and want the day when the child is going to be the party's celebrity, let all the guests hallucinate with a amazing decoration on Superheroes Squad?
We still had more reserved for you. If you are going to set up a party where you deliver a superhero birthday invitation, everyone will expect a great themed party.
We have prepared a fabulous superhero birthday decoration kit with pennant, welcome to party poster, labels, posters, toppers, thank you cards and many more things:
Get an amazing decoration for the birthday party with the best-known Marvel Superheroes.
To the family, friends, parents of the friends of your child, but above all and mainly to your son, that for something that day will be the protagonist.
You know it, it deserves the best, and although sometimes it takes you out of your boxes, it has you in love with your love, hugs and kisses. This is only once a year, and he has earned it. Show him your love by giving him the best party of his life.
We only do a small part, and it is to give you the necessary tools. Then you are the person in charge of devising the order to decorate everything, print, cut and place everything in its place.
For this, you have Premium Decoration Kits for Superhero Squad birthday party that we can customize for you with the name of the birthday boy / girl.
You can get it here for only 19,95 € and in a working 48h term you will receive it in your e-mail. All ready for you to print what you want and as many times as you need, without limit of uses.
Items included in the Premium Kit
"Happy birthday" pennant + 3 images of Super Heroes Squad: 13 x 15 cm / recommended to print on cardboard or glossy photo paper
Tabletop Label - Placecard: 8,5 x 11 cm / recommended to print on cardboard or glossy photo paper
Hang tag - Placecard: 8,5 x 5,5 cm / recommended to print on cardboard or glossy photo paper
Poster «Welcome to my party» for 10 x 15 cm frame / recommended to print on cardboard or glossy photo paper
2 models of labels for water bottles or glass bottles: 22 x 4 cm / recommended to print on plain paper of 80 grs. or glossy photo paper
Label for candy bag: 10,5 x 10 cm / recommended to print on cardboard or glossy photo paper
2 models of labels for lollipops: 6 x 6 cm / recommended to print on cardboard or glossy photo paper
2 models of little flags for straws: 12 x 2 cm / recommended to print on cardboard or adhesive paper
Thank you for coming: 6 x 4 cm / recommended to print on cardboard or glossy photo paper
Toppers of 4 and 6 cm: / recommended to print on cardboard or glossy photo paper
Circles to decorate 10 and 18 cm / recommended to print on cardboard or glossy photo paper
Origin of the cartoon series "The Superhero Squad"
The superheroes have been more fashionable since Marvel released the movie "The Avengers" in the 2012, but in reality they have been feeding the imagination of several generations with the comics of Stan Lee among other great writers and cartoonists.
Obviously with any fashion there is a lot of merchandising, and this series is born from there. Yes, as is, and it seems that some cross in the multiverse, has made a series of cartoons based on action figures created by Hasbro 2009 the year.
These figures are typical in "super big heads" or "super deformed" mode, with unnatural proportions with a larger than usual head.
Figures of The Avengers, X-Men and other characters of the Márvel Universe were put on sale.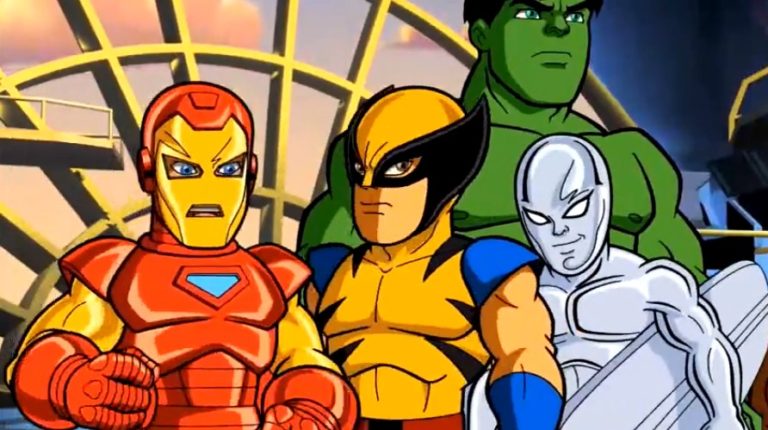 In a strong battle between Iron Man and Dr Doom, the Sword of Infinity is broken in many places falling over the city. Obviously the villain Dr. Doom sought universal domination (he did not conform to the world) and had been trying to become more powerful with the help of the Sword.
From that moment begins the fight between superheroes and villains where Dr. Muerte tries to recover the fragments of the sword to rebuild it leading a team of evildoers.
Although more than 50 heroes appear, the main heroes are:
Captain America
Iron Man
Hulk
Falcon
Reptile
Silver Surfer
Thor
Wolverine
Carol Danvers
Scarlet Witch
And among the almost 40 villains, the protagonists are:
Dr. Doom
Abomination
MODOK
Thanos
Dark Surfer
Video Game Online Marvel Super Hero Squad
Although the series of drawings only had 2 seasons and a total of 52 episodes of about 22 at 24 minutes, it got enough audience to also launch an online game of the same name, which could be played alone or in multiplayer, both in Adventure mode as battle.
It was available for different platforms, such as PlayStation 2, Wii and Nintendo DS.
Obviously the characters also had a more inflated head than normal, and being that bigheads was the characteristic that differentiated them from other superhero video games with the same protagonists.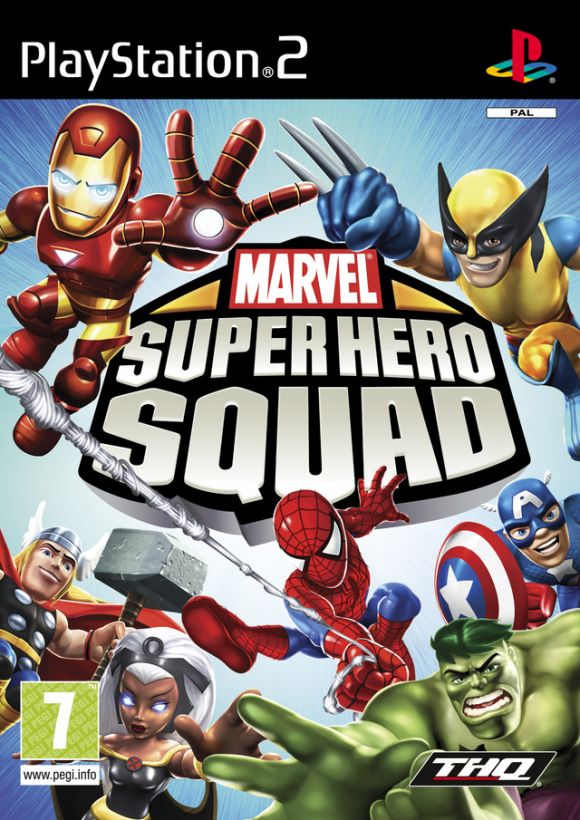 Super Hero Squad Online video game trailer
The graphics of this fabulous intro are much better than then the gameplay of the game itself that leaves a lot to be desired. Still, very entertaining to be able to have control over a lot of characters so different among them with such varied and fun powers.
Rating in IMDB of Marvel Superhero Squad [2009-2011]
IMDB is Internet Movie Data Base. The largest online database of movies, series, drawings, anime, etc.
It includes two types of assessments, that of the specialized critic and that of the visitors. This can make you a very good idea of ​​the reception that this film has had worldwide, as well as read the opinions of many participants, but OJO, it is common for some spoilers to escape.
Do you want us to personalize the Superhero Birthday Invitation?
A little further down you will find the fantastic Marvel Superhero Birthday Invitation. And you know what? You don't have to pay anything at all, just put your email and it will instantly reach your email. Of course, then you will have to write by hand some information such as the day, time and place where the birthday will be celebrated.
Although this invitation is enough, one day is a day, and we believe that because of the little that it costs Marvel Superhero Birthday Invitation Customizable Premium, you would have to at least see it so that you can appreciate the enormous difference in quality and how you will look good delivering a premium invitation card instead of a handwritten one. It is almost a gift, because for just 7,95 € (9,95 € if you want the photo version) we will personalize it with the data you provide and you can print it as many times as you want.
Download now the Marvel Superhero Birthday Invitation in high quality ready to print
La Marvel Squad Superhero Birthday Invitation is designed in high quality, 300 dpi, perfect for printing both at home with any type of printer, as well as in a printing or online printing service.
If you are going to print the Invitation, we recommend that you use paper a little thicker than the typical ones that we have at home, since with this paper it would be excessively thin. If you can, get some 220gr paper in brightness (also called glossy). EYE, it is not necessary to look for it to be specific to photography since they tend to be more expensive.
The default invitation size is 7 "x 5" inches (17,78cm x 12,7cm). Yes! It is huge, but this is so that when you print them to a smaller size, the quality is excellent. You can then reduce the size at the time of printing, eg. 6 "x 4" inches (15,24cm x 10,16 cm) or even less.
We recommend that you print 2 for each sheet of size A4, which is a large size but will be more striking than normal tiny. You can also reduce them more and put 4 per sheet, and save if you have many guests or have only got expensive photo paper, but keep in mind the size of the text as it will be, so before doing anything on good paper, it is always advisable to print on a normal sheet and see how it will look.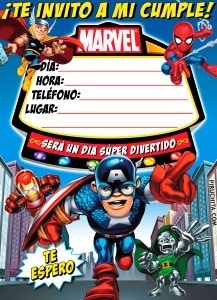 I'm preparing your file ...
Surely it will be a great birthday!
The file will be visible in a few moments, wait, please.
Has it been useful to you?
Please, click on the hearts to rate us!
Average Rating / 5. Total votes:
There are no votes yet. Be the first to vote!