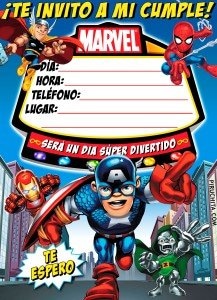 Super Hero Squad, best known in Spain and Latin America for "The Superhero Squadron" they are already here! You can finally download the Free Marvel Superhero Birthday Invitation, with Captain America, Spiderman, Thor and Ironman. But since without the villains we could not have superheroes, we have also reserved a space for the evil Dr. Doom.
Y If you prefer it totally personalized in which the name of the birthday boy appears, his photo and an incredible design, you can also get them from only 7,95 € in www.Piruchita.com in digital format so you can print as many as you want or send them via WhatsApp.
Do not settle for a simple invitation and want the day when the child is going to be the celebrity of the party, hallucinate all the guests with a amazing decoration on Superheroes Squad? Click on the following button:
PREMIUM DECORATION KIT BIRTHDAY PARTY SUPERHERO MARVEL
Facts about Super Hero Squad in IMDB
Origin of the cartoon series "The squad of superheroes"
Superheroes are more fashionable since Marvel released the movie "The Avengers" in the 2012, but in reality they have been feeding the imagination of several generations with the comics of Stan Lee among other great writers and cartoonists.
Obviously next to any fashion there is a lot of merchandising, and this series is born from there. Yes, as it is, and it seems that some cross in the multiverse, has made appear a series of cartoons based on action figures created by Hasbro 2009 the year.
These figures are typical in "super stubborn" or "super deformed" mode, with unnatural proportions with a larger head than usual.
Figures of The Avengers, X-Men and other characters of the Márvel Universe were put on sale.
Argument of the series
In a strong battle between Iron Man and Dr Doom, the Infinite Sword is broken in many places falling on the city. Obviously the villain Dr. Doom sought universal domination (he was not satisfied with the world) and had been trying to become more powerful with the help of the Sword.
From that moment begins the fight between superheroes and villains where Dr. Muerte tries to recover the fragments of the sword to rebuild it leading a team of evildoers.
Although more than 50 heroes appear, the main heroes are:
Captain America
Iron Man
Hulk
Falcon
Reptile
Silver Surfer
Thor
Wolverine
Carol Danvers
Scarlet Witch
And among the almost 40 villains, the protagonists are:
Dr. Doom
Abomination
MODOK
Thanos
Dark Surfer
Video Game Online Marvel Super Hero Squad
Although the series of drawings only had 2 seasons and a total of 52 of episodes from 22 to 24 minutes, it obtained enough audience to also launch an online game of the same name, which could be played alone or in multiplayer, both in Adventure mode as battle.
It was available for different platforms, such as PlayStation 2, Wii and Nintendo DS.
Obviously the characters also had more inflated than normal head, and that being big headed was the feature that differentiated them from other superhero video games with the same protagonists.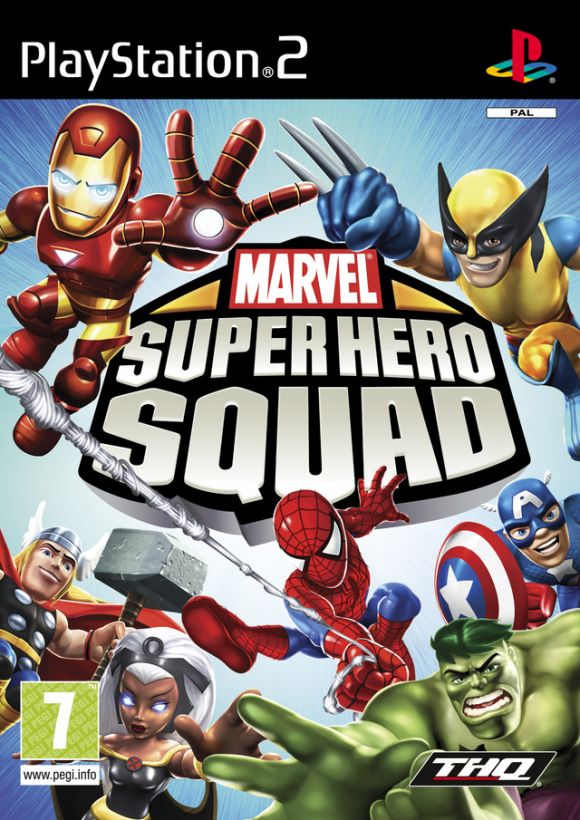 Super Hero Squad Online video game trailer
The graphics of this fabulous intro are much better than then the gameplay of the game itself that leaves a lot to be desired. Still, very entertaining to be able to have control over a lot of characters so different among them with such varied and fun powers.
Toys for Marvel Superhero birthday gift
Are you looking for toys from the fashionable Marvel Superheroes? This is our selection with which you will ensure a huge smile of the child.
[amazon box="B018DNN62Y,B017HAST62,B01AIKPJZW,B01N1F3W1T,B018DNN64M,B071LG13W6,B00SUSUDCO,B06WXX6QVW,B00ND5ZITC,B00HA4X21I,B0714C5M7W,B00DSS4BCY,B01LEYKTJ2,B01I9OGEZS,B01MQR0SJA,B01MQXF8N5″]
Personalized Marvel Premium Superhero Birthday Cards
A little further down you will find the fantastic Marvel Superhero Birthday Invitation. And you know what, you do not have to pay anything at all, just put your e-mail and it will come instantly to your email. Of course, then you will have to write by hand some information such as the day, time and place where the birthday will be celebrated.
Although this invitation is enough, one day is a day, and we believe that because of the little that it costs Marvel Superhero Birthday Invitation Customizable Premium, you would have to at least see it so that you can appreciate the enormous difference in quality and how you will look good delivering a premium invitation card instead of a handwritten one. It is almost a gift, because for just 7,95 € (9,95 € if you want the photo version) we will personalize it with the data you provide and you can print it as many times as you want.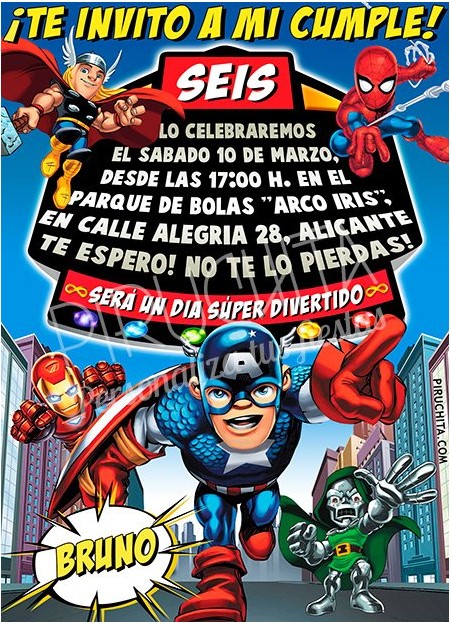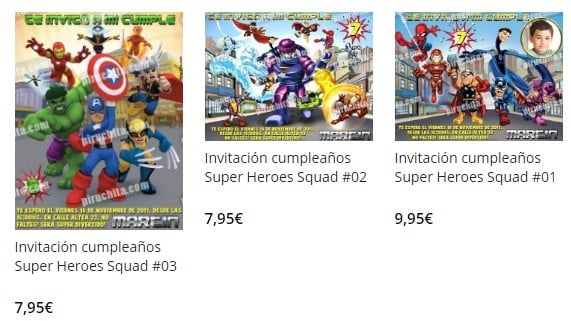 [su_button url = "https://www.piruchita.com/categoria-producto/decoracion-para-cumpleanos-de-personajes-imprimible/super-heroes-squad/" target = "blank" style = "flat" background = "#Ef2d32" color = "# ffffff" size = "5" icon = "icon: shopping-cart"] See Premium Personalized Birthday Invitations from Marvel Superheroes [/ su_button]
Personalized Marvel Squad Premium Superhero Birthday Party Decoration Kit
We still had more reserved for you. If you're going to put on a party where you give out a superhero birthday invitation, everyone is going to expect a big themed party.
We have prepared a fabulous decoration kit for birthday of superheroes with pennant, poster of welcome to the party, labels, posters, toppers, thank you cards and many more things: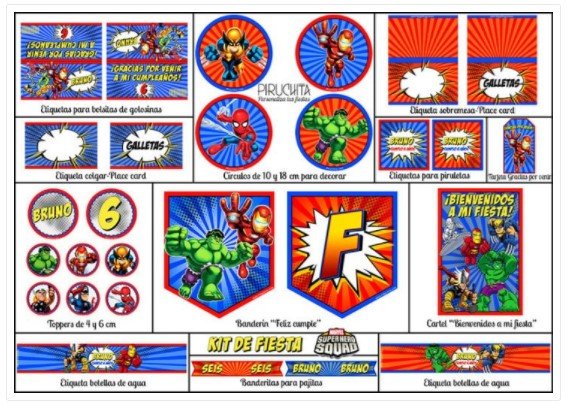 [su_button url = "https://www.piruchita.com/producto/decoracion-fiesta-de-cumpleanos-super-heroes-squad-para-imprimir/" target = "blank" style = "flat" background = "# ef2d32 "color =" # ffffff "size =" 5 "icon =" icon: shopping-cart "] See Kit to decorate Marvel Superhero Personalized Birthday Party [/ su_button]
Free Marvel Superhero birthday invitation in digital format
La Marvel Squad Superhero Birthday Invitation is designed in high quality, 300 dpi, perfect for printing both at home with any type of printer, as well as in a printing or online printing service.
If you are going to print your Invitation, we recommend that you use paper a little thicker than the typical ones that we have at home, since with this paper it would be excessively thin. If you can, get some 220gr paper in brightness (also called glossy). EYE, it is not necessary to look for it to be specific to photography since they tend to be more expensive.
The default invitation size is 7 "x 5" inches (17,78cm x 12,7cm). Yes! It is huge, but this is so that when you print them to a smaller size, the quality is excellent. You can then reduce the size at the time of printing, eg. 6 "x 4" inches (15,24cm x 10,16 cm) or even less.
We recommend that you print 2 for each sheet of size A4, which is a large size but will be more striking than normal tiny. You can also reduce them more and put 4 per sheet, and save if you have many guests or have only got expensive photo paper, but keep in mind the size of the text as it will be, so before doing anything on good paper, it is always advisable to print on a normal sheet and see how it will look.
Download now for free Marvel Superhero Birthday Invitation in high quality ready to print:
Surely it will be a great birthday!
Preparing your download ...