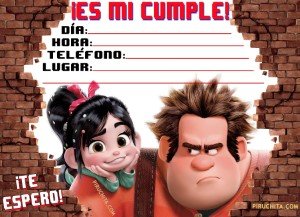 Debido to the great affection that the little ones in the house have taken Ralph, Vanellope and the other characters, we put on our website a fun Ralph's Birthday Invitation Breaks Internet, so they can be downloaded at no cost, that is, for free! The interesting thing about these cards is that they can print or make use of WhatsApp messaging and also social networks, such as Facebook or Instagram, to be disseminated to the guests.
Walt Disney Pictures produced a fun animated feature film for the youngest of the home called Rompe Ralph, in Spanish America it is known as Ralph the Wrecker. The fun does not end here, because for this December 5 2018, the second part of such a great story will come, and as expected, children will want to enjoy their fun and great birthday party on the occasion of Rompe Ralph.
[su_box title = »Personalized Rompe Ralph birthday invitations» style = »glass» box_color = »# d12133 ″]If you prefer something more personalized where you do not have to be handwriting the data with a pen, we can arrange to personalize it with your name, photo and an amazing design.
Get them from only 7,95 € in www.Piruchita.com in digital format so you can print as many as you want or send them via WhatsApp.
[su_button url = »https://www.piruchita.com/categoria-producto/decoracion-para-cumpleanos-de-personajes-imprimible/rompe-ralph/» target = »blank» style = »flat» background = »# d12133 ″ color = »# ffffff» size = »5 ″ icon =» icon: star »] See PREMIUM Birthday Invitations [/ su_button]
[/ su_box]
Valuation of Rompe Ralph in IMDB
Rating of Ralph Breaks Internet in IMDB
Origin of the animated series
This children's movie was released in the year 2012 by Walt Disney Animation, although it was in constant production since the 80 years, however, the animated film project had a brake in the 90 years, but the idea was resumed in the new millennium .
Its director, Rich Moore, is known to be a participant in well-known animated series such as The Simpsons, so there's no doubt Ralph's success on movie boards worldwide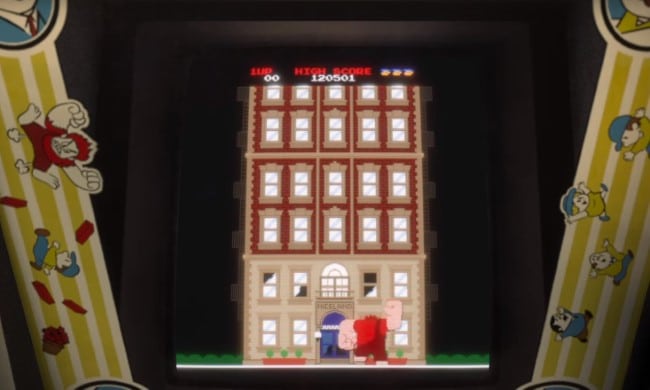 Argument
The story unfolds in a videogame of machines called Repair Felix Junior, where there is a hero named Felix and also a villain, Ralph. Basically the game consists of a character that fixes all the chaos that is created by the destroyer.
But already Ralph wants to stop being the evil character in the story, since 30 years being the destroyer, does not make him happy at all. And it is there where he expresses all his feelings in the anonymous Malvados explaining his situation and the reason why he wants to get away from that dark side as a villain.
Ralph with the idea of ​​changing his past and obtain a medal, he notes that a new shooting game comes out with his main character called Sergeant Calhoun. He sees the opportunity to achieve the goal, but upon entering the new game, he mistakenly leaves a dangerous and evil villain free that puts all other video games at risk. It's there when another key character comes in, Vanellope, a mistake from another racing game that will help Ralph out and face the big problem.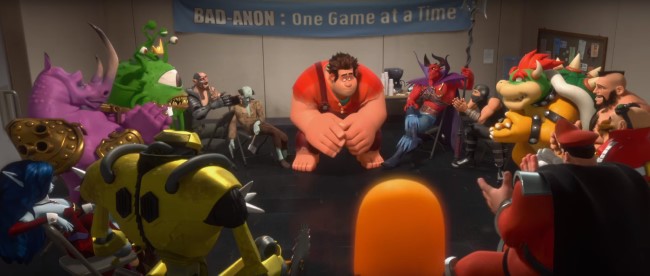 Characters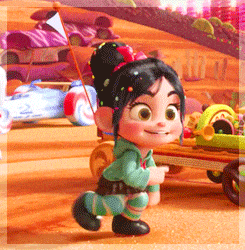 Each of the members of this film are very funny and particular because they represent heroes, villains and characters in general, out of other video games, with characteristics of each world in which they operate.
In this story there are several characters: the first and main in this animated film, Ralph, who is the destroyer of the video game and wants to be a hero. Vanellope von Schweetz, a failure or error produced for a career video game. Felix, the star character who fixes all the disasters that Ralph causes. Sergeant Calhoun, is the tough and skillful character of the shooting game that the destroyer enters.
Villains
M. Bison: is one of the many bad characters of another of the games that exists in the room, called Street Fighter.
CyBugs: they belong to the shooting game where Sergeant Calhoun is. They are quite dangerous for the other worlds. In addition, they reproduce very quickly, so they are considered a major threat.
Zangief: similarly, this gigantón with rude appearance, is a villain more than the video game Street Fighter.
Other characters
General Hologram: the character comes from Hero's Duty, and is in charge of giving the honorable medal to who destroys more CyBugs in the game.
Gene: a character who lives in the main video game and is the cause of Ralph's displeasure that makes him look nicked and change his image.
King Candy: It's like a kind of Sugar Rush world boss. It is responsible for watching the races.
Bitter Bill: helper of King Candy.
Taffyta Muttonfudge: one of the most skilled runners in the sugary world.
Snowanna Rainbeau: the runner with a peculiar way of dressing.
Globo Orangeboar: It's another runner a little orange.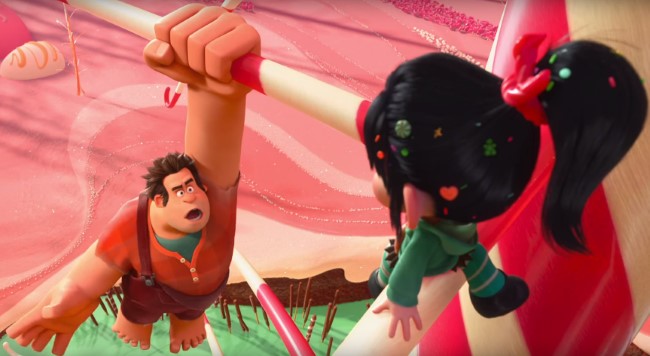 Worlds
The film is based on different video games, and therefore, there are several worlds, in which the different characters that were named live and develop. Each world is totally different because the game themes are nothing similar.
Fix Felix Junior: there are two of the main characters, Ralph, who is the great destroyer of 291 kilos of weight, which destroys the different buildings and structures where people live. And on the other hand there is Felix, the great savior and rebuilder of disaster.
Hero´s Duty: the so-called shooting video game where Ralph wants to achieve recognition and a medal. In it, his main character is Lieutenant Calhoun. The main idea in this video game is to eliminate the CyBugs to obtain the prized medal that the destroyer desires.
Sugar Rush: a racing game surrounded by delicious sweets, where the little Vanellope is present.
Pacman: the remembered Pacman, that many played in the decade of the 80, appears in this animated film.
Ralph Breaker Trailer in Spanish
Ralph's Trailer Breaks Internet
Break Ralph and Vanellope come out of the Internet arcade! Imagine the adventures that will be there and the one that will come together!
Ralph and Valleope von Schweetz dive into the internet to locate a spare part needed by the Sugar Rush video game.
Will the Internet survive the massive demolition power that Ralph has?
And to complicate matters further, Ralph and Vanellope depend on Internet citizens, the so-called 'citizens' to help them navigate this dangerous world. Among them is an Internet entrepreneur named Yesss who is the star algorithm and the soul of "BuzzTube", the most fashionable website of the moment.
"Ralph breaks the Internet" will arrive in theaters in Spain on December 5 of 2018. We look forward to it!
New Ralph 2 Breaker Trailer featuring all Disney princesses:
Rompe Ralph toys to give on birthday
We never know what to give a child, but let's face it, on their birthday they don't want clothes (unless they include their favorite character), what they want are toys, so make it happy!
[amazon box=»B008C0Q0JA,B00A7NEORA,B00EPC5GX0,B00EC6VTQ2,B00EPC5GO4,B00BIY46OS,B00A93DT7O,8444168173″]
Personalized Premium Rompe Ralph Birthday Invitation Cards
As it is common for children to enjoy their birthday with one of their special favorite characters, Ralph Break, we put at your disposal a creative invitation on the occasion of this great movie. To obtain it, you will simply have to download it and modify the address, time and place information, the best of all is that it is totally free!
But if you want to personalize the Rompe Ralph's Birthday Invitation card even more, like adding photos or other elements, there's also the premium package, at a very small cost. Therefore, do not miss this interesting opportunity to make your little one's party an unforgettable memory.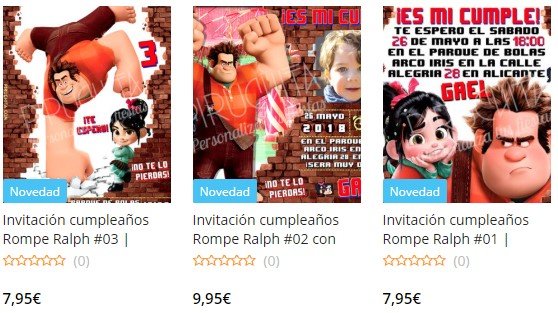 Download now for free Birthday Invitation Ralph breaks in high quality ready to print:
Your birthday of Rompe Ralph has to be a breaker! You can not miss the Birthday invitation to print or send by whatsapp. Right below you can download it. Then you will only have to write in each the data of the date and time of your celebration.
Remember that we always bring the best designs for online invitation card, so do not waste any more time and make all your friends dying to attend your meeting and also remember it for a long time.
It will be a totally groundbreaking party!
Wait for the counter to finish to start the download:
Has it been useful to you?
Please, click on the hearts to rate us!
Average Rating 5 / 5. Total votes: 2