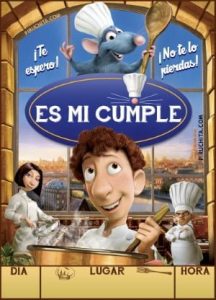 Pixar Animation Studios produced a famous computer animated movie, Ratatouille, directed by Brad Bird, and was created especially for the little ones in the home. The film offers hilarious scenes that the children, until today, have not been able to forget. The great thing is that children can enjoy the whole theme of the film to make the Ratatouille's birthday invitation. Thus, the Remy rat will be the protagonist of lots of parties creating fun and genius for all children.
Origin of the film Ratatouille
The first concept of Ratatouille It was made by Jan Pinkava when he planned to direct it in the 2001 year. He created a quite original design of all the characters, the plot and the scenarios. But there was a lack of confidence regarding the script. Therefore, the Pixar production company replaced it with Brad Bird in 2005.
Brad was interested in the project because of the extravagance of the concept and the conflict that had to be handled: the fact that the rats panicked the kitchen and the human, and how, even so, one of them wanted to cook since it was his talent. He also loved the idea that it could be a physical humor film with the character Lingüini, who could be provided with unlimited features and touches of fun. He rewrote the story, gave Skinner and Colette major roles.
It should be noted that the appearance of the rats was changed.
Because Ratatouille It is set in Paris, many entertainers and producers spent many days in that city analyzing the environment and sewers, to give a realistic and incredible touch to the film. In fact, many of the scenes were set in various parts of the city.
[su_box title = "Personalized Ratatouille birthday invitations" style = "glass" box_color = "# d12133"]If you prefer something more personalized where you do not have to be handwriting the data with a pen, we can arrange to personalize it with your name, photo and an amazing design.
Get them from only 7,95 € in www.Piruchita.com in digital format so you can print as many as you want or send them via WhatsApp.
[su_button url = "https://www.piruchita.com/categoria-producto/decoracion-para-cumpleanos-de-personajes-imprimible/ratatouille/" target = "blank" style = "flat" background = "# d12133" color = "# ffffff" size = "5" icon = "icon: star"] See PREMIUM Birthday Invitations [/ su_button]
[/ su_box]
Rating of Ratatouille in IMDB
Argument
Remy is a rat with dreams. One of them is to become the best chef in a five-star French restaurant. This particular rat, with the help of young Lingüini, will end up destroying the schemes and becoming a very important chef in Paris.
Remy was born with a rather peculiar smell and an unusual dream: to become the best French chef. But, to achieve his dream, he will have to overcome many problems that involve opening a path in a profession that detests rodents like him.
Thanks to Lingüini, a shy boy who takes out the garbage and, as if that were not enough, is about to lose his job, he is even with the rat. A crazy couple in which the boy's body is driven by the immense talent of the incredible Remy. This incredible couple will revolutionize the kitchen as it is known and will experience many adventures and emotional moments that could not have been experienced separately.
Thanks to Auguste Gusteau's motto: "Everyone can cook"Remy will achieve, along with Lingüini, achieve his dream.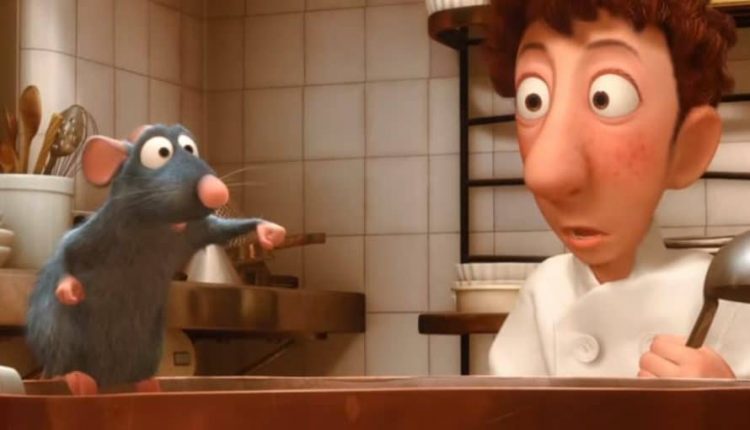 Characters principales
Remy: a bold and hipster rat with a developed sense of smell, which gives her aspirations to be a chef. It is dark blue.
Alfredo Lingüini: he is a clumsy and timid young man who works as a janitor in Gusteau's restaurant. His relationship with Remy will make him a successful chef. It is, at the same time, an unknown son of Gusteau.
Anton Ego: He is a very difficult, elitist and very demanding gastronomic critic. With a bad review in the newspaper you can take a restaurant to bankruptcy. In the end, he becomes a kind person when he goes to the new restaurant founded by Lingüini and Colette. Ratatouille is the first food on your list.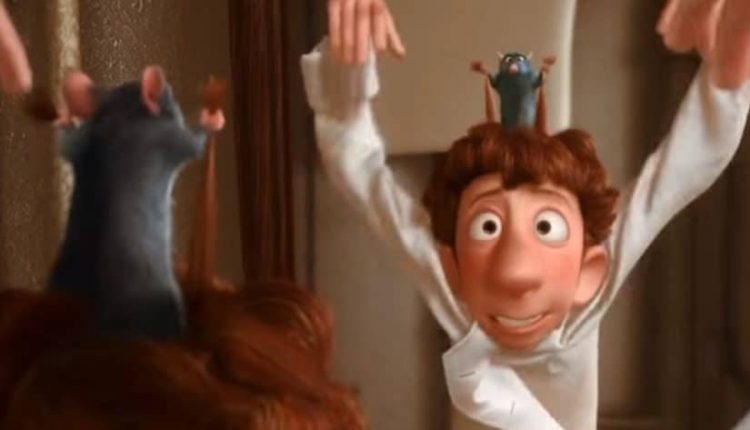 Secondary characters
Colette Tatou: she is the cook of the turkey and the meat. The only woman who has the responsibility to train and guide Lingüini, being the bride of the same.
Skinner: He is the chef of the Gusteau restaurant executive. He has short stature, repellent attitude and sinister appearance.
Django: He is the father of Remy and the leader of the group of rats. He does not like dealing with humans and throughout the film he tries to persuade Remy to destroy his relationship with Lingüini.
Emile: He is Remy's brother. He can not understand Remy but he respects him and allows him to express himself to his liking. Eat anything without knowing what it is.
Auguste Gusteau: He is Lingüini's father and Remy's inspiration. He does not appear on the tape physically but is Remy's imaginary friend and accompanies him everywhere.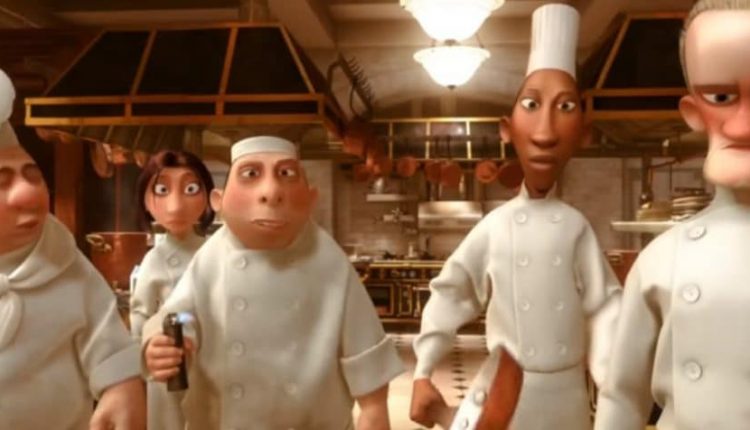 Ratatouille soundtrack
Brad Bird teamed up with Michael Giacchino to musicalize Ratatouille after the success they had with The Incredibles. Giacchino made two songs for Remy, he also wrote the song "Le Festin"About Remy's dreams. The music of Ratatouille gave Giacchino his first Oscar nomination for best soundtrack. He also awarded his first Grammy for the same category.
Personalized Ratatouille birthday invitation
After enjoying a movie as entertaining as Ratatouille, it is normal for children to wish to enjoy their birthday with special characters. For this, we will have a birthday invitation Ratatouille creative, and effectively based on this great film. The only thing you have to do to have the birthday cards Ratatouille, is to download it and put the correct data, address, time and place. Best of all, it's completely free!
If you want to add more things to the birthday invitation Ratatouille, as photos or other details, there is also the premium package for a very low cost. Do not miss this opportunity to make your child's party unforgettable!
Ratatouille trailer in Spanish
6 Curiosities of the movie Ratatouille that maybe you did not know
Toy Story's Pizza Planet van appears for a few seconds between bridge transit (in the background) when Remy has the papers.
There is a similar look to Bomb Voyage (the enemy at the beginning of the film of The Incredibles) when Linguini and Colette walk through Paris.
Director and team signed up for a cooking course to learn more about the chef's world. From the way to pick up the knife, cut the onion, the typical expressions among chefs served as an example to the technicians and scriptwriters. In gratitude, one of the chefs, Thomas Keller, great chef in the United States, lent his voice to the owner of one of the restaurants in the film and went to the world pre-release of the film.
For the recreation of the scenes of the film, the design production team made a small tour for a week in Paris. During the day they visited the old sewers and the catacombs and at night they dined in the best restaurants.
For greater expressive realism, Brad Bird and his entire technical team watched a large number of classic French films with which to encourage the characters as "as French as possible", especially for mouth movements when speaking. After watching so many movies, great French actors like Brigitte Bardot, Serge Gainsbourg and even Charles de Gaulle served as inspiration for the creation of the characters.
The critics praised it to the point of considering it the best Pixar film, over masterpieces like Toy Story. Of course, this was before releasing UP.
Source of curiosities: http://disney.wikia.com/wiki/Ratatouille
Ratatouille toys to give on birthday
We never know what to give a child, but let's face it, on their birthday they don't want clothes (unless they include their favorite character), what they want are toys, so make it happy!
[amazon box="B01N10MP4S,B003Z7SIFY,B00WQX3SWG,B01MS754XQ,B00OGWS4JW"]
Custom Ratatouille Premium Birthday Invitation Cards
As it is common for children to enjoy their birthday with one of their special favorite characters, Ratatouille, we offer you a creative invitation for this great movie. To obtain it, you will simply have to download it and modify the address, time and place information, the best of all is that it is totally free!
But if you want to further personalize the Ratatouille Birthday Invitation card, such as adding photos or other items, there is also the premium package, with a very small cost. Therefore, do not miss such an interesting opportunity to make your child's party an unforgettable memory.

Download the Ratatouille Birthday Invitation now for free in high quality ready to print:
Your Ratatouille birthday has to be a breaker! You can not miss the Birthday invitation to print or send by whatsapp. Right below you can download it. Then you will only have to write in each the data of the date and time of your celebration.
Remember that we always bring the best designs for online invitation card, so do not waste any more time and make all your friends dying to attend your meeting and also remember it for a long time.
It will be a totally exquisite party!
Wait for the counter to finish to access the download link:
Has it been useful to you?
Please, click on the hearts to rate us!
Average Rating / 5. Total votes:
There are no votes yet. Be the first to vote!
I'm sorry it didn't help you ...
It allows to improve this publication
Thank you for your feedback!