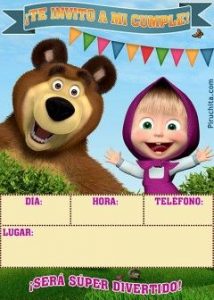 MAsha is a girl who is equally as tired as she is adorable ... and she is in that age when children do not know how to stand. Surely you have lived some experience like this with your children, that if they know it, they will want this Birthday invitation from Masha and the Bear to print completely for free in digital format that you can also use to send by Whatsapp.
When our son Gael, with a year and a half old, discovered Masha and the Bear on the Youtube Kids of his tablet, he fell in love completely with her, he has seen all the episodes again and again. Dialogues are known, and although he still says no more than single words, he makes gestures, he imitates them, growls a few seconds before the wolves ...
Source
We have started to see Masha very recently in Spain on TV and you start to see something of it, but there is still very little available, while in many other countries it has been a complete success, in fact, the version that Gael sees. on the tablet is the dubbed in Latin, with a tremendously sweet voice.
The cartoon series of Masha and the Bear is originally from Russia and exists from the 2009.
It already has 3 seasons and has a total of 63 chapters today.
It is based on a folk tale of the same name. I will put you as it is written in Russian: Маша и Медведь. Yes, I know, it is no use to you or you know how to pronounce it hehe, but you had to mention the original name ... and as to how it is pronounced, it is as if you readMasha i Medved '»(This is not so complicated, huh?)… Another curiosity, Masha, would be the equivalent of Mary 🙂
I do not know 10, I count to 5 then, 1, 2, 3 to start, 4, 5 and look ...
Facts about Masha and Bear in IMDB
Argument
Masha is a girl of 4 years, in full age to play without stopping for a second. He lives in the forest where his friends animals avoid him because they tend to be victims of their pranks while playing.
One day, when her friends were more hidden, a Butterfly crossed her face. His peculiar laugh entered her and he began to chase her, ending without realizing in front of a house that caught his attention.
The house, of course, is Bear, which had left a moment and had left empty.
Masha, as well naughty and very curious that is, began to play making a big mess throughout the house.
When Bear returns he finds her in full action and tries to get rid of her without success, despite trying by all means, until finally giving in and becoming good friends.
Bear, is aware that she is small and is not afraid of anything, so it is usually very imprudent, so assuming a protective role, Bear is constantly monitoring what occurrences Masha has every day and does everything possible to protect her, being he who normally pays the broken plates or becomes the victim of mischief.
But not all episodes are like that, and that is that Masha is not only naughty and reckless, she is also very brave, generous (although sometimes she eats all sweets) and very smart, more than she seems, and she also ends up caring a lot of Bear, especially when it's about love towards Osa.
Masha will perform all kinds of roles, from cook, nurse and even rocker of great level! (When Gael listens to her in rock mode she starts to dance at full speed)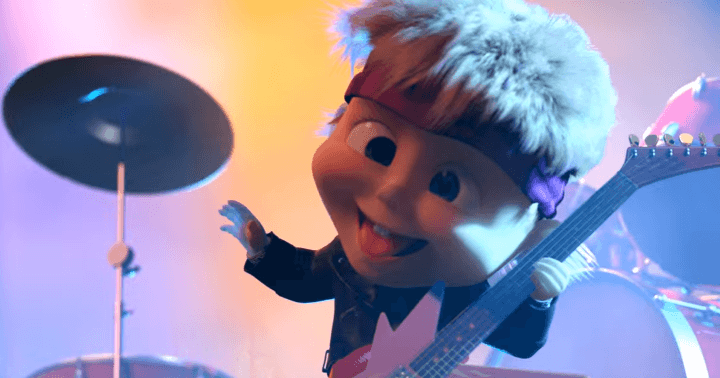 Bear, it's the opposite of Masha. He has already worked for many years in a circus, he is retired and he just wanted a quiet and solitary life cultivating his garden, fishing, and trying to connect to a Osa in the area. With the arrival of Masha, everything turns upside down, but Bear loves her very much and will do everything to make her happy and protect her.
Removing from the momentary appearances of Papa Noél and Dasha, the rest of the characters are all animals. In Masha's house there is a pig, a goat and a dog next to some chickens, who hide quickly as soon as they hear Masha's voice in the distance.
There is also Osa, to whom he tries to dazzle Bear, and there is also another Bear, a black bear who tries to compete with our protagonist.
Many animals will participate in their adventures, but none of them speaks except for Papa Noél and his cousin Dasha, all the animals communicate with gestures, which is also very educational for the little ones.
Among these animals there are Wolves, Squirrel, Hare, Hedgehogs, Chinese Panda, Tiger and Penguin.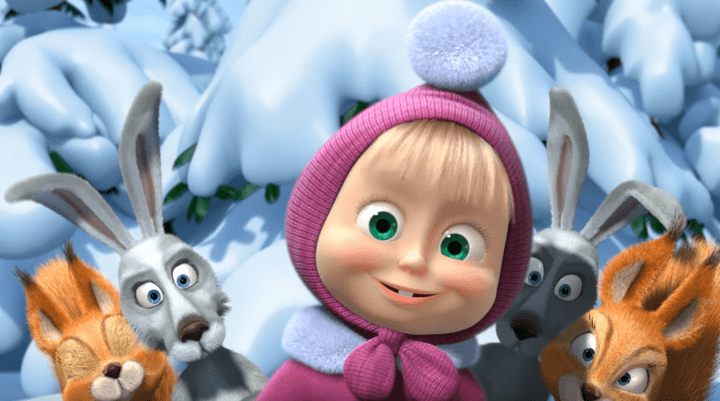 [su_note note_color = »# cbff66 ″]
Watch now Official episodes of Masha and the Bear in Spanish
[su_button url = »https://www.youtube.com/channel/UCuSo4gcgxJRf4Bzu43wwVyg» target = »blank» style = »flat» background = »# cc2def» wide = »yes» icon = »icon: youtube-play»] See all the videos of Masha and the Bear on Youtube [/ su_button]
[/ su_note]
Games of Masha and the bear
A free mobile game is available for both Android and Iphone. Of course, like almost all free games for mobile phones, they incorporate advertisements or in-game purchase options.
Still you have to try them:
[su_list icon = »icon: heart»]
[/ su_list]
Masha and the bear birthday gift toys
We recommend some of the best selling toys of Masha and the Bear. It will be a sure hit:
[amazon box="B00R9BBSZ4,B00VPY431C,B01BZ1VPS8,B019DT8RYE,B019DT8XS4,B00VPY46WI″]
Masha and the bear clothes
If you already have many toys but want to enjoy the gift, we recommend clothing with images of your favorite character. You will help the daddies while making him happy:
[amazon box="B0742FR77B,B01M0PRQHK,B071FC35K2,B013WOYCAO,B0789X7WRY,B0742J1P5R'″]
Opinion
It is an essential series of drawings. As the safest thing is that your son or daughter likes it, you will be lucky to be able to enjoy with them this great series instead of many others that are very tiresome.
The visual quality in terms of color, quality, 3D design, ambience, lighting, etc., were already very good in the first episodes, but it still shows much more in the most recent in recent years.
Personally, the best thing about Masha is his characteristic laugh, it is the most contagious.
You will not stop laughing all at home with the adorable Masha, Bear and all the animals, and even being as it is of hyperactive, surely you see it so adorable that if it were real you would want to adopt it 😉
Birthday invitation from Masha and the Bear
La Birthday invitation from Masha and the Bear is designed in high quality, 300 dpi, perfect for printing both at home with any type of printer, as well as in a printing or online printing service.
If you are going to print your Invitation, we recommend that you use paper a little thicker than the typical ones that we have at home, since with this paper it would be excessively thin. If you can, get some 220gr paper in brightness (also called glossy). EYE, it is not necessary to look for it to be specific to photography since they tend to be more expensive.
The default invitation size is 7 "x 5" inches (17,78cm x 12,7cm). Yes! It is huge, but this is so that when you print them to a smaller size, the quality is excellent. You can then reduce the size at the time of printing, eg. 6 "x 4" inches (15,24cm x 10,16 cm) or even less.
We recommend that you print 2 for each sheet of size A4, which is a large size but will be more striking than normal tiny. You can also reduce them more and put 4 per sheet, and save if you have many guests or have only got expensive photo paper, but keep in mind the size of the text as it will be, so before doing anything on good paper, it is always advisable to print on a normal sheet and see how it will look.
Download now for free Birthday invitation from Masha and the Bear in high quality ready to print:
Your download is being prepared, wait for the meter to finish
Has it been useful to you?
Please, click on the hearts to rate us!
Average Rating 4.8 / 5. Total votes: 13