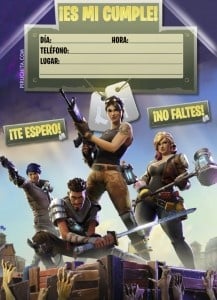 We venture into the world of videogames, and the first will be the Fornite Birthday Invitation, of course, the video game of the moment, with as many followers as detractors, but that without a doubt is a real boom. Available to download 100% FREE, customizable and in high quality so you can print or send by Whastapp.
The prestigious company Epic Games in 2017 launched Fortnite, a video game presented in various modes, and that since its presentation has captivated even the smallest of the home.
Although the video game was released in different software packages, which present different ways of playing, they share the same mechanics and general engine. These game modes are: Fortnite Battle Royale, published for Nintendo Switch and devices with Android and iOs, and Fortnite: Save the World, available on Xbox One, PlayStation, Windows and macOS.
Thanks to the popularity of this famous videogame, the birthday celebration of the smallest addicts to Fortnite, has become quite an event. Therefore, the birthday invitation cards of the Fortnite Videogame are undoubtedly ideal for celebrations on this amazing subject.
Decoration for Fortnite Birthday Party
Would not it seem original to you to create a Fortnite birthday party? Surely yes! It will be a great success since it is more common to make the decorations of cartoon characters, disney, etc., but not so much about video games.
To organize a good Fortnite birthday party, the first thing is to have the Fornite Birthday Invitation, and then Banderines and Boxes to put personalized candy with stickers with elements or characters of the game.
We recommend you use everything you can related to the subject. I give you some ideas: Fortnite plastic tablecloth, Fortnite glasses and plates, Fortnite balloons and all kinds of personalized decoration on paper.
Do not miss our custom premium decoration packs for Fortnite Birthday Party that we will personalize in digital format for you and you will be able to receive by working 24 / 48h. Print as many times as you want what you like most and leave everyone hallucinated!
At the moment, Fortnite is divided into two game modes. However, each one uses the same engine, they have artistic resources, graphics and game mechanics with very similar characteristics.
Fortnite: Saving the world
It is a game of player against environment, designed with 4 players and whose function is to help in order to achieve a common goal in different missions.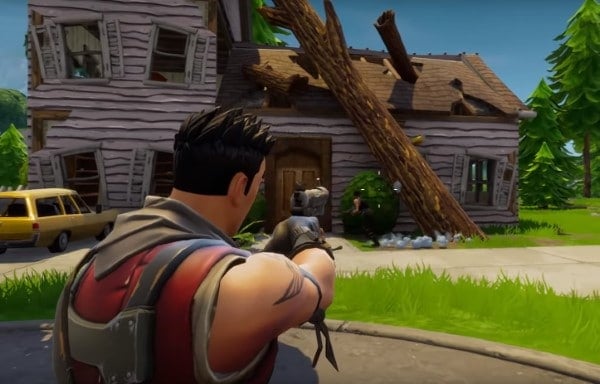 This game mode is developed after an overwhelming and highly deadly storm attacked the planet Earth, causing the disappearance of almost 100% of the total population. The few inhabitants that managed to survive the sinister are attacked by carcasses, similar to zombies.
Players take the role of commanders based style shelters, save the lives of survivors, collect ammunition and protect equipment in gathering data about the deadly storm, or to make the storm recede.
From the missions, players receive certain elements in the game, such as schemes of traps and weapons, hero-like characters, as well as survivors who can even be leveled by the experience gained in order to improve their qualities.
In this case, the game is a real battle type, where 100 players can compete alone, or in the form of 2 squads in 2 or up to 4 members.
Players jump from a bus that crosses the map just at the time they want, and start without any weapons. While they manage to land, their first task is to obtain weapons, resources, objects that are useful to them, all with caution, because they must try not to kill them while attacking other players. This situation results in players having no choice but to meet each time in less extensive places, thus increasing the clashes. The winner is the last surviving player or squad.
The start of this game mode was like a game jam in Epic Games after the publication of Gears of War 3 around the 2011. Although it did not become one of the first titles developed during the jam, the concept of mixing the genre of construction games was born, which generated the creation of Fortnite.
However, the development of Fortnite stopped advancing due to various inconveniences, some of the causes being:
The change from the Unreal Engine 3 to the Unreal Engine 4.
The change of art style from a dark theme to one more inclined to caricature.
The change from a deeper approach to the role play in order to extend the life of the game.
In turn, the famous American video game development company (Epic Games), had as its purpose to enter the games as a service model, which led to the Chinese publisher Tencent to cooperate. And so it was, Tencent even collaborated considerably in the Epic, causing the departure of executives, such as Cliff Bleszinski, who had been a key member in the development of Fortnite. After this, the focus of the game was changed, becoming a bank test of the company for service games, further increasing the decline in development.
After all, Epic Games prepared to launch the video game as a form of payment title for early access in the middle of 2017, with the vision of launching it later (2019) for free
Fun facts about Fortnite: Battle Royale
It did not take long in which Epic launched Fortnite with early access to PlayerUnknown's Battlegrounds be transformed into an event worldwide, managed to sell more than the sum of copies 5.000.000 three months after its launch in March 2017 and increasing the attraction for the games of Battle Royale. After this, Epic considered that with the base game of Fortnite also they could realize a way Battle Royale, and thus it was. It did not take long, exactly two months, to develop his own version of Fortnite.
In the last quarter of 2017, the company had everything ready to launch this as a second, different and innovative way to "Save the World" in a previous payment access. However, later he decided to release it as a free game, Fortnite: Batlle Royale, which received more than 10.000.000 in just the first few days of release 14 and 2018 45.000.000 in March about.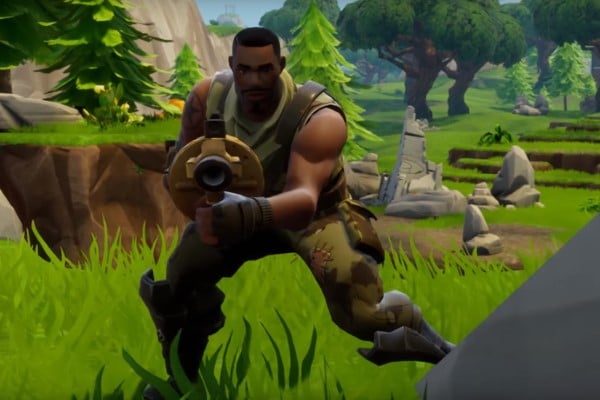 But that's not all, Epic Games designed separate teams to follow the development of Fortnite: Battle Royale Save the World mode, allowing Fortnite Battle Royale come to other platforms, which otherwise would not be compatible with the mode "Saving the world ", Including Nintendo and devices with Android and iOS.
Fortnite Battle Royale - Gameplay Trailer
Watch the official video of the Fortnite video game presentation
Rating in IMDB of Fortnite
IMDB is Internet Movie Data Base. The largest online database of movies, series, drawings, anime, etc.
It includes two types of assessments, that of the specialized critic and that of the visitors. This can make you a very good idea of ​​the reception that this film has had worldwide, as well as read the opinions of many participants, but OJO, it is common for some spoilers to escape.
Personalized Fortnite PREMIUM Birthday Invitations
Because Fortnite, in any of its two game modes, is one of the favorite videogames of children and not so children, we make it easier for you to plan a birthday party on this theme through the creation of Fortnite video game birthday cardsstriking and beautiful.
All you have to do is download it and add the data of your long-awaited birthday celebration. And if you want the card to have a different touch, choose the Premium package.
It can not be cheaper for a customized product. For only 7,95 € get it in 24 / 48h.
See how some would be about Fortnite and imagine them with your son / daughter's data:
Download the Fortnite Invitation now for free in high quality ready to print
La Fortnite Birthday Invitation is designed in high quality, 300 dpi, perfect for printing both at home with any type of printer, as well as in a printing or online printing service.
If you are going to print your Invitation, we recommend that you use paper a little thicker than the typical ones that we have at home, since with this paper it would be excessively thin. If you can, get some 220gr paper in brightness (also called glossy). EYE, it is not necessary to look for it to be specific to photography since they tend to be more expensive.
The default invitation size is 7 "x 5" inches (17,78cm x 12,7cm). Yes! It is huge, but this is so that when you print them to a smaller size, the quality is excellent. You can then reduce the size at the time of printing, eg. 6 "x 4" inches (15,24cm x 10,16 cm) or even less.
We recommend that you print 2 for each sheet of size A4, which is a large size but will be more striking than normal tiny. You can also reduce them more and put 4 per sheet, and save if you have many guests or have only got expensive photo paper, but keep in mind the size of the text as it will be, so before doing anything on good paper, it is always advisable to print on a normal sheet and see how it will look.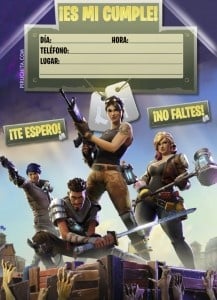 I'm preparing your file ...
The file will be visible in a few moments, wait, please.
Has it been useful to you?
Please, click on the hearts to rate us!
Average Rating 4.5 / 5. Total votes: 6