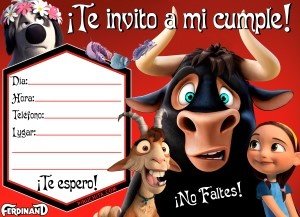 FErdinand is a great bull. He has many friends with whom he enjoys life until one day everything changes suddenly and he is immersed in an adventure with his friends. Once again, from Piruchita, we have designed the Ferdinand birthday invitation for FREE, for the birthday of your children. Ready to download, print and put day, time, contact phone number and place where birthday is celebrated.
Y If you prefer something personalized with the name of the birthday boy, his photo and a fantastic design, you can also get them from only 7,95 € in www.Piruchita.com in digital format so you can print as many as you want or send them via WhatsApp.
The Ferdinand animated film
As soon as a movie about a bull was announced, everyone thought it was made in Spain, but no, it is not. It is an American film directed by Carlos Saldanha, produced by Blue Sky Studios and distributed by 20th Century Fox.
In the original version there are well-known voices, being the famous WWE heavyweight world champion John Cena who has given the voice to our beloved bull.
It was released last December 17 in the United States and only 5 days later, December 22 in Spain.
In Latin America, they have chosen to put a somewhat longer and more striking title: «Olé, Ferdinand's Journey», suggesting with the «olé» the possible theme.
Facts about Ferdinand in IMDB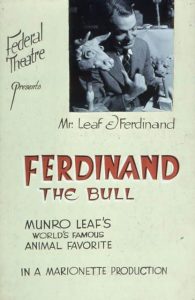 The origin of the film Ferdinand
Ferdinand is also not based on any story written by a Spanish, it is actually based on a children's book published in the year 1936. The writer was the American Munro Leaf and illustrated by Robert Walson. The story has the original title "Ferdinand the Bull" and the Spanish translated version is entitled "Ferdinando's Tale«.
It was a bad year in which a book was published, that even being childish, some of the most twisted minds in history did everything possible to prevent them from reaching their country. In Spain it was banned because it was considered a pacifist book among the most supporters of Francisco Franco. In Germany Hitler ordered to burn all the books of Ferdinand. Meanwhile, Gandhi said it was his favorite book.
In the story, Ferdinando is a bull who likes to smell flowers and who does not like violence, so he sits in the bullring ignoring all the bullfighter's provocations.
There are places out there where they do not bother you because you are yourself. - Ferdinand

Ferdinand image gallery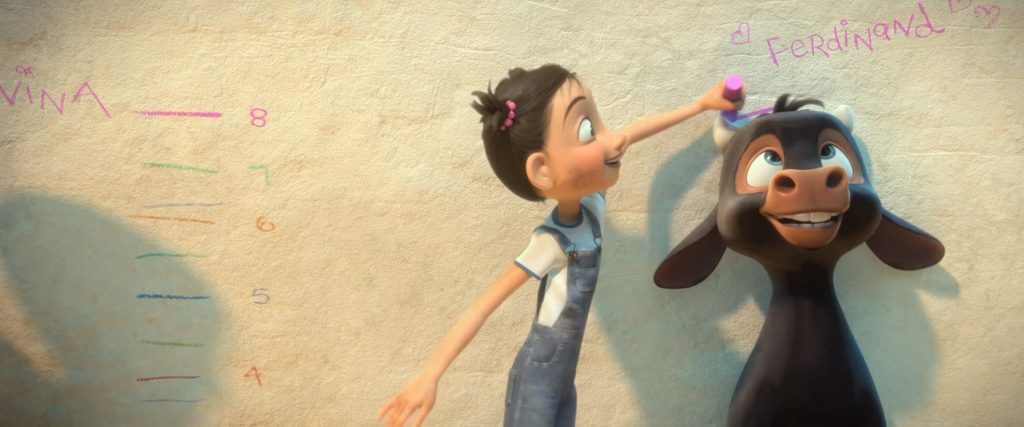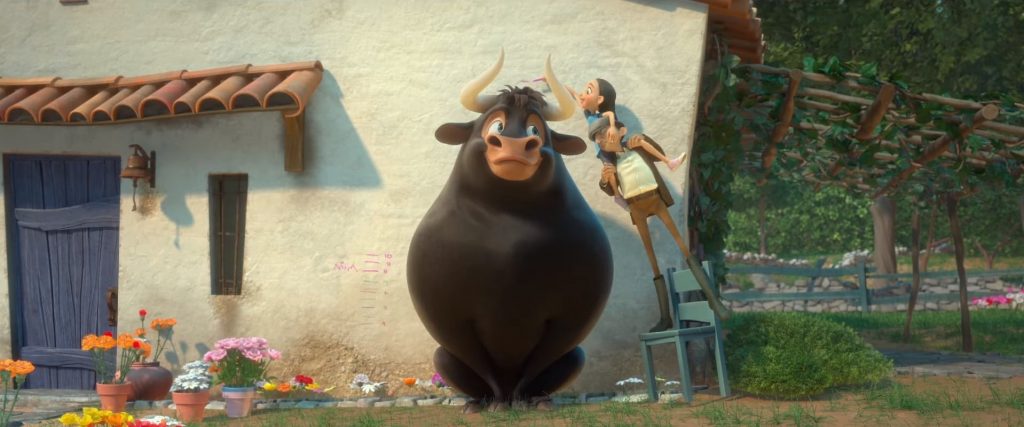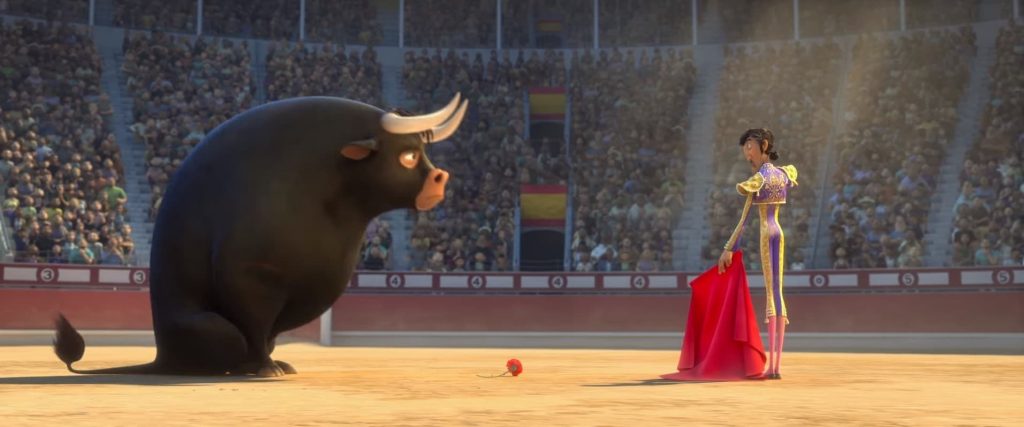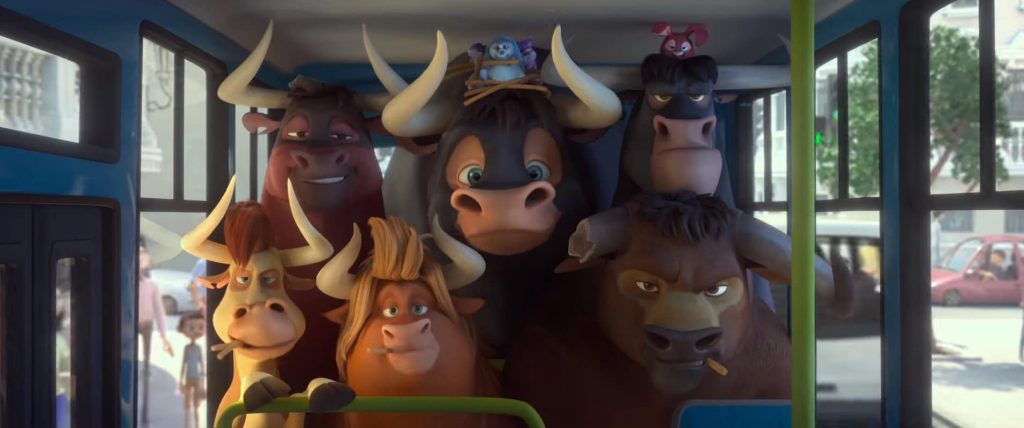 Argument of Ferdinand
Ferdinand is very calm and pacifist, he doesn't like to be jumping, snorting or ramming. He prefers to walk quietly, sit under trees and smell flowers.
One day by mistake it is considered a very dangerous animal because of the fame of the bulls and more being so big and corpulent.
A Spanish bullfighter finishes by choosing to turn him into a brave bull, but the day he goes out to the bullring he sits ignoring the bullfighter and everything he does to provoke him.
Ferdinand knows that this is not his place and wants to return to his family, starting an adventure with his new friends.
Official trailer of the movie Ferdinand in Spanish
Ferdinan official trailer in Latin America
Toys for birthday gift from Ferdinand
Now Ferdinand is fashionable. Any of these toys, stuffed animals and film on DVD or Bluray will be a success:
[amazon box="B07889XB8M,B07881J6R6,B0788C73RT,B078HND6ZK,B078HSQFLH,0140542531,B0788DSCV5″]
Opinion on the movie Ferdinand
The criticisms that this film has received have been numerous and for various reasons.
The bullfighting critic of the Spanish newspaper "El País" Antonio Lorca, argues that this film is "deeply unnatural", and that the "resignation" of the protagonist bull "to his animal nature" is a lie that manipulates children, who they will become "tomorrow's anti-bullfighting."
On the other hand, another Spanish newspaper "El Diario.es" argues that the film's anti-bullfighting story "raises blisters" for its message against animal abuse, which can also be interpreted as "fighting bullying" and "implicit defense of sexual and gender diversity ».
En IMDB has an 6.8 score on 10 as an average of 6466 ratings.
The general public after seeing it in the cinema has very varied opinions. From people looking for all possible details to complain about, to those who simply wanted to have a fun time with their children and have left pleased.
In general, it is not a film that brings great news, in fact it is not the first adventure story of animal travel, but it will not stop being entertaining and we must not forget that it is a picture film designed for children.
I think we should just catch the most basic message of the movie without giving it a lot of thought. This film tries to show that animals, naturally, simply want to live free in nature and that they do not have to be aggressive, since in reality bulls are not born with an instinct as fierce as they want us to see in the bullfights of bulls, if not trained for that purpose.
Personalized Ferdinand Birthday Invitations
You can download the free invitation below, but it has a small paste: you will have to fill in a hand with a pen or marker the data such as the day and place of the event or edit it with an image editing program if you have the program and necessary knowledge In addition it will not include any personalized data.
For this reason, we also offer you the service of PREMIUM CUSTOMIZATION in which the personalization is complete, since it will include additional data such as the name and age of the birthday boy, a photograph (if the invitation is available in said version) and the data of place, date and time of the birthday, all perfectly integrated and With a very professional finish.
The prices are very cheap, just € 7,95 for the text only version y 9,95 € if you want us to add the photo (for invitations that are available with photo).
See how the Birthday Invitations of Ferdinand personalized in digital format ready to print and imagine them with your child's data: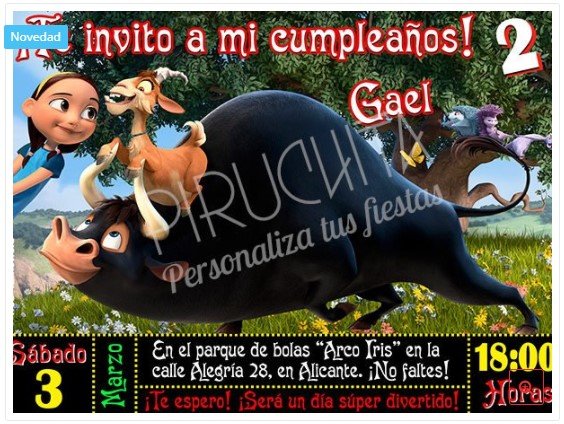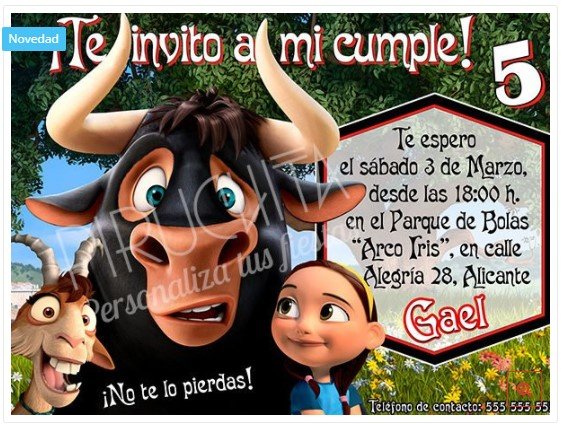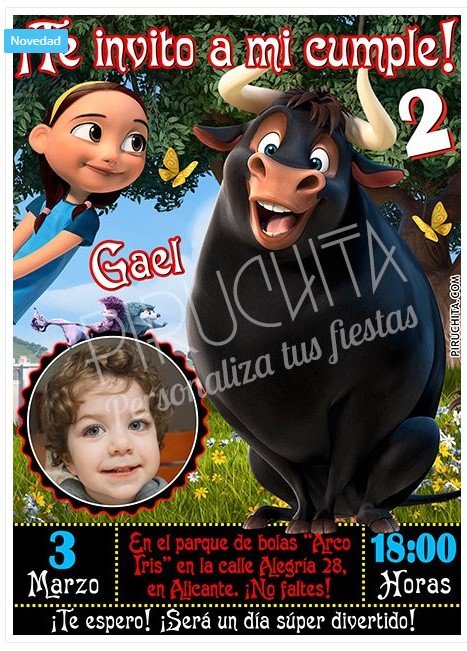 [su_button url = »https://www.piruchita.com/categoria-producto/decoracion-para-cumpleanos-de-personajes-imprimible/ferdinand/» target = »blank» style = »flat» background = »# ef2d32 ″ color = »# ffffff» size = »5 ″ icon =» icon: shopping-cart »] See the Premium Custom versions [/ su_button]
FREE Ferdinand birthday invitation in digital format
La Ferdinand Birthday Invitation is designed in high quality, 300 dpi, perfect for printing both at home with any type of printer, as well as in a printing or online printing service.
If you are going to print your Invitation, we recommend that you use paper a little thicker than the typical ones that we have at home, since with this paper it would be excessively thin. If you can, get some 220gr paper in brightness (also called glossy). EYE, it is not necessary to look for it to be specific to photography since they tend to be more expensive.
The default invitation size is 7 "x 5" inches (17,78cm x 12,7cm). Yes! It is huge, but this is so that when you print them to a smaller size, the quality is excellent. You can then reduce the size at the time of printing, eg. 6 "x 4" inches (15,24cm x 10,16 cm) or even less.
We recommend that you print 2 for each sheet of size A4, which is a large size but will be more striking than normal tiny. You can also reduce them more and put 4 per sheet, and save if you have many guests or have only got expensive photo paper, but keep in mind the size of the text as it will be, so before doing anything on good paper, it is always advisable to print on a normal sheet and see how it will look.
Download now for free Ferdinand Birthday Invitation in high quality ready to print:
Enjoy a great birthday party!
Your download is being prepared, wait for the meter to finish
Has it been useful to you?
Please, click on the hearts to rate us!
Average Rating 5 / 5. Total votes: 1