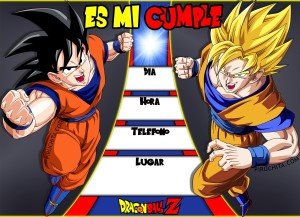 Dragon Ball, Dragon Ball, Drac Ball, Ace Balls, Dragoi Ball ... no matter the language and the dialect. We have all enjoyed in our childhood our beloved Goku, friends, family and even their worst enemies. More than 30 years ago they started their adventures, and still today we can see new episodes with Dragon Ball Super. Do not wait any longer and download 100% for free your Dragon Ball Birthday Invitation to print, either for your child's party or yours.
If you would like something more personalized where you do not have to be handwriting the data with a pen, we can commission you to personalize it with the name, photo and an amazing design. Get them from only 7,95 € in www.Piruchita.com in digital format so you can print as many as you want or send them via WhatsApp.
Facts about the Dragon Ball Anime in IMDB
Origin of the anime "Dragon Ball"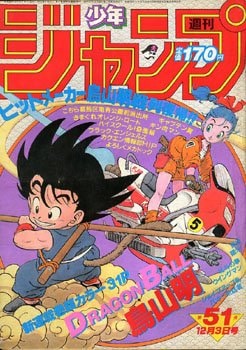 Dragon Ball is written and drawn by the world-renowned Akira Toriyama and was first seen in a manga originally published in the magazine Shōnen Jump in 1984, specifically in the number 51.
With 519 chapters he has managed to sell more than 230 million copies worldwide and has inspired other mangakas who have achieved great fame with Naruto, One Piece and Fairy Tail.
Akira Toriyama was already famous before creating Dragon Ball thanks to his first success, the Dr. Slump. Dr. Slump had 18 manga and 240 anime episodes. It was about the fun adventures of Arale, a robot child of 10 years created by Sembei Norimaki along with the rest of the charismatic inhabitants of Villa Pingüino.
Villa Pingüino had everything you need, from a bank, a zoo, a cafeteria, a hospital, a barber shop, a cafeteria, and a police station, to a school where you do not study, you just have to attend. There are also other shops and houses where our protagonists live.
There are only 50 inhabitants more than any other of step by step. The most curious thing is that they are not all humans, although there are many humanoids and prehistoric animals ... indeed, they even participate in the Sun, the Moon, and the poop. Yes, you read well, even the poop has a face. Have not you ever seen this anime or read any manga? I'm sad for you, and I do not know what you're waiting for to find her and see her 🙂
Why talk so much about Dr. Slump? Because the origin of the style of drawing and animation of Dragon Ball starts from there, and by then a crossover was made where Goku meets Arale. Correct, two animes that are mixed in a chapter for the delight of the readers. Goku will be surprised by Arale's strength and they will become good friends. And you know what? in Dragon Ball Super they meet again!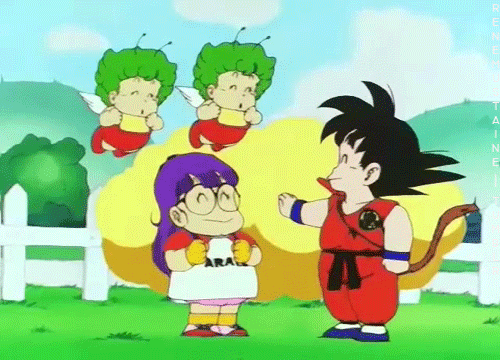 Dragon Ball is the reworking of Dragon Boy,

a manga between Dr. Slump and Dragon Ball
Argument of the series
Goku is an "extraterrestrial" child who arrived on earth in the purest superman style, in a small ship where he could barely fit in being little more than a baby.
This ship was located by an old man who adopted him, cared for and educated him, becoming his grandfather.
One day a young girl appeared on the mountain in front of Goku while searching for the "Dragon Balls", and Goku had one inherited from her grandfather, the one who had 4 stars and treasured.
Goku refuses to give it to her but she decides to accompany her to find the rest of the dragon balls.
The Dragon balls are scattered all over the world, and whoever gathers them can invoke a powerful dragon capable of granting any desire, even raising the dead (much work of this style is left to the poor)
Later Goku will go to the master Mutenroshi (Kame Sen'nin), an old man who seems immortal, with more than 300 years of age and who always has on his back a turtle shell. There Goku will meet his best and inseparable friend Krillin. The teacher will teach you all the necessary bases of the most powerful martial arts you know by subjecting them to extremely hard training, including the invincible "Kame Hame Ha"
From this point the manga and anime has rotations between wrestling championships, training to become stronger and defend the Earth from the worst enemies that appear, where the greatest power of Goku is to get many of his enemies to end up becoming his Comrades fight against other more powerful enemies.
Our characters will grow, having children and grandchildren, all of them very powerful and sharing the best adventures.
Anime Music Dragon Ball Vine
Enjoy one of the many AMV about Dragon Ball that you can find on youtube:
Toys and gifts of Dragon Ball for birthday
Buy now one of our recommendations, sure you're right and the spoiled birthday boy will thank you with effusiveness:
[amazon box="B0793HPFX1,B00PY7IJQG,B0077CJ0ZU,B01N6NQ4EV,B00E7VQ1KG,B01L4DBG72,B00CM40S3Q″]
Dragon Ball Clothing
Do you want the best Dragon Ball clothes? T-shirts, sweatshirts, etc ... See our TOP selection:
[amazon box="B01DYAOB4I,B01ALS7A62,B075XC8TGG,B075L8ZVJ8,B0779629KW,B076NM8NR4,B01FSG37IW,B01L4BNT3S"]
Personalized Dragon Ball Premium birthday cards
A little further down you will find the fantastic Dragon Ball Birthday Invitation. And you know what, you do not have to pay anything at all, just put your e-mail and it will come instantly to your email. Of course, then you will have to write by hand some information such as the day, time and place where the birthday will be celebrated.
Although this invitation is enough, one day is a day, and we believe that because of the little that it costs Dragon Ball Birthday Invitation Customizable Premium, you would have to at least see it so that you can appreciate the enormous difference in quality and how you will look good delivering a premium invitation card instead of a handwritten one. It is almost a gift, because for just 7,95 € (9,95 € if you want the photo version) we will personalize it with the data you provide and you can print it as many times as you want.

[su_button url = "https://www.piruchita.com/categoria-producto/decoracion-para-cumpleanos-de-personajes-imprimible/dragon-ball/" target = "blank" style = "flat" background = "# ef2d32 "color =" #ffffff "size =" 5 "icon =" icon: shopping-cart "] See Dragon Ball Premium Personalized Birthday Invitations [/ su_button]
FREE Dragon Ball birthday invitation in digital format
La Dragon Ball Birthday Invitation is designed in high quality, 300 dpi, perfect for printing both at home with any type of printer, as well as in a printing or online printing service.
If you are going to print your Invitation, we recommend that you use paper a little thicker than the typical ones that we have at home, since with this paper it would be excessively thin. If you can, get some 220gr paper in brightness (also called glossy). EYE, it is not necessary to look for it to be specific to photography since they tend to be more expensive.
The default invitation size is 7 "x 5" inches (17,78cm x 12,7cm). Yes! It is huge, but this is so that when you print them to a smaller size, the quality is excellent. You can then reduce the size at the time of printing, eg. 6 "x 4" inches (15,24cm x 10,16 cm) or even less.
We recommend that you print 2 for each sheet of size A4, which is a large size but will be more striking than normal tiny. You can also reduce them more and put 4 per sheet, and save if you have many guests or have only got expensive photo paper, but keep in mind the size of the text as it will be, so before doing anything on good paper, it is always advisable to print on a normal sheet and see how it will look.
Download now for free Dragon Ball Birthday Invitation in high quality ready to print:
Surely it will be a great birthday!
Preparing the download ...
Has it been useful to you?
Please, click on the hearts to rate us!
Average Rating / 5. Total votes:
I'm sorry it didn't help you ...
It allows to improve this publication
Thank you for your feedback!