💀 Disney Coco Birthday Invitation · Free Pixar
Disney Coconut digital card to invite birthday by printing it or by whatsapp.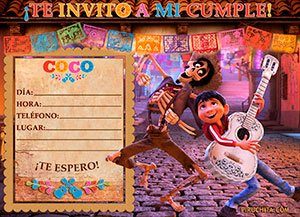 Por end something new and different, a great bet of Disney · Pixar, which guarantees that your film will be watched by the Latin American public, especially the Mexican. It has not yet been released in cinemas but we have not been able to hold on and we want to give you the Disney Coco's Birthday Invitation · Pixar free to print in digital format that you can also use to send by Whatsapp, from now on. Specially dedicated to our Mexican friends 🙂
Origin of the film
Five years have been waiting since Pixar announced that he would create a new movie inspired by the "Day of the Dead".
I name as is "Day of the Dead" and not the equivalent in other countries as in Spain we call "All Saints" since the film has a cultural focus completely to the event in Mexico and that has nothing to do with the type of party that is celebrated in other places.
As a curious fact, Disney tried to get to the point to make clear that the film was going to go, and initially it was not going to have the name "Coco", but it wanted to record "Day of the Dead". Obviously, the Latino community quickly reacted, because Disney could not be allowed, no matter how big, to go so far as to appropriate a name belonging to a culture.
More curious still, is that the person who started the collection of signatures, Lalo Alcaraz, a Mexican caricaturist, was finally hired by Disney itself as a "consultant", a ...
But that was only a point to forget, because we must consider this film as an achievement for Mexican culture, which in a very visual and fun way, will end up educating the little ones and initiating them.
To do this, Disney has not only used images of skulls or skeletons, they traveled to Mexico to document themselves deeply, doing a great research.
So we expect a lot from this movie that will surely have great acceptance, not only by our Mexican friends, but also by children and adults from all over the world who will learn (fantasy apart) what this day is for Mexico and how its people value it. as much of its folklore. A tribute to Mexico.
When life makes me sad I play my guitar - Ernesto de la Cruz
Benjamin Bratt, Gael García Bernal and Renee Victor are some of the best known who will put the voices in the original version.
Regarding the soundtrack, groups like Tierra Mojada and Mono Blanco will participate, as well as producer and musician Camilo Lara, with Michael Giacchino being the main composer.
Decoration for Coco birthday party
Disney Coco Birthday decoration · Pixar PREMIUM Personalized
Are you going to deliver Coco invitations to the guests? Surely expect a fully themed and personalized party with all kinds of decoration with the main characters of Coco.
Look what we have for you for only 19,95 €. 100% personalized with the name and age of the birthday boy. We deliver it to you ready to print.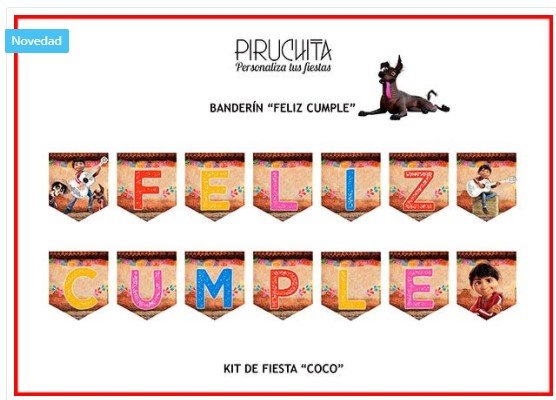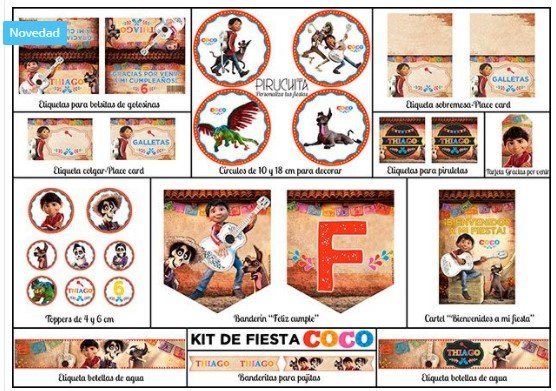 For only 19,95 € get all this to download and print 100% custom with Name and Age
"Happy birthday" pennant + 3 Coco images: 13 x 15 cm / recommended to print on cardboard or glossy photo paper
Tabletop Label - Placecard: 8,5 x 11 cm / recommended to print on cardboard or glossy photo paper
Hang tag - Placecard: 8,5 x 5,5 cm / recommended to print on cardboard or glossy photo paper
Poster "Welcome to my party" for 10 x 15 cm frame / recommended to print on cardboard or glossy photo paper
2 models of labels for water bottles or glass bottles: 22 x 4 cm / recommended to print on plain paper of 80 grs. or glossy photo paper
Label for candy bag: 10,5 x 10 cm / recommended to print on cardboard or glossy photo paper
Label for lollipops: 6 x 6 cm / recommended to print on cardboard or glossy photo paper
2 models of little flags for straws: 12 x 2 cm / recommended to print on cardboard or adhesive paper
Thank you for coming: 6 x 4 cm / recommended to print on cardboard or glossy photo paper
Toppers of 4 and 6 cm: / recommended to print on cardboard or glossy photo paper
Circles to decorate 10 and 18 cm / recommended to print on cardboard or glossy photo paper
You can also buy decoration for Coco birthday party
If you are not good at handicrafts or want to expand even more compared to the previous kit, you can buy some decorative products for parties such as glasses, napkins, balloons, etc .:
[amazon box="B07B2H4ZZQ,B07B2HQFDD,B00QIB70DA"]
Data and valuation of the film Coco in IMDB
Why the name Coco?
Yes ... strange, no ?. The boy protagonist is called Miguel, his dog is not white and neither is coconut, if not Dante, and the adventure friend is Hector, so who is Coco?
Coco is the great-grandmother, the matriarch of the family who will connect all the stories to include several generations.
What about Mexican Folklore?
It will be quite abundant:
Starting with the race of the mascot of our protagonist. The dog Dante is a Xoloitzcuintle, originally from Mexico, considered a symbol of death and representative of the god of the underworld Xolotl. From the 2016 have been declared heritage of the City of Mexico.
There will also be abundant flowers of cempasúchil in the World of the Dead, being very used in the decoration of the tombs and altars.
Of course it will be full of Mexican skulls
And as not of the Catrina.
Ernesto de la Cruz is a singer inventing for this story, but is based on Jorge Negrete.
Release dates at Disney's Coco theaters
This film is scheduled to be released in Mexico on October 27, could not have chosen a better day, since it is just the last Friday before the Day of the Dead.
If you reside in the US you will have to be more patient and wait until November's 22.
In Spain we will have to wait even longer to see her in the cinema, just the December 1.
Argument of the movie Coco
Miguel is a child of 12 years with a great passion for music, with the misfortune of living in what is probably the only family in Mexico where they ban music, something he can not understand.
But despite the ban, Miguel needs to play the guitar, just like his idol Ernesto de la Cruz does.
One day, playing in front of a tomb of a musician, magically ends in the Land of the Dead along with his dog Dante.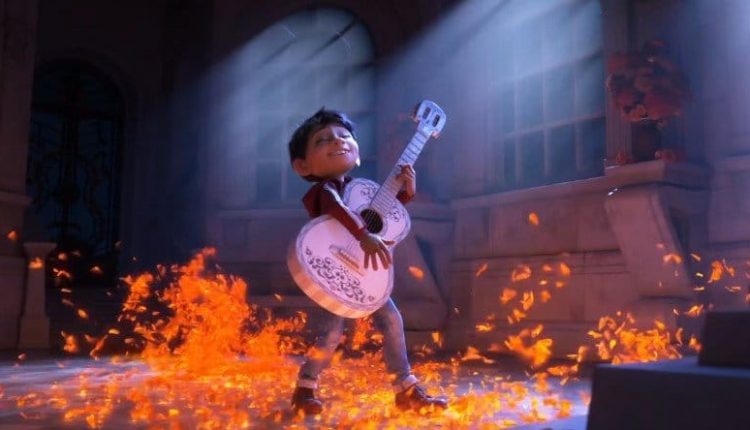 There he will meet Hector, who will become friends with whom he will travel through this colorful world, meeting his ancestors and discovering his history. Will you understand why your family does not want you to play music?
But not everything is like a vacation, you will suddenly realize that your body begins to also become a skeleton, and you will have to receive help to return to the real world before becoming completely dead.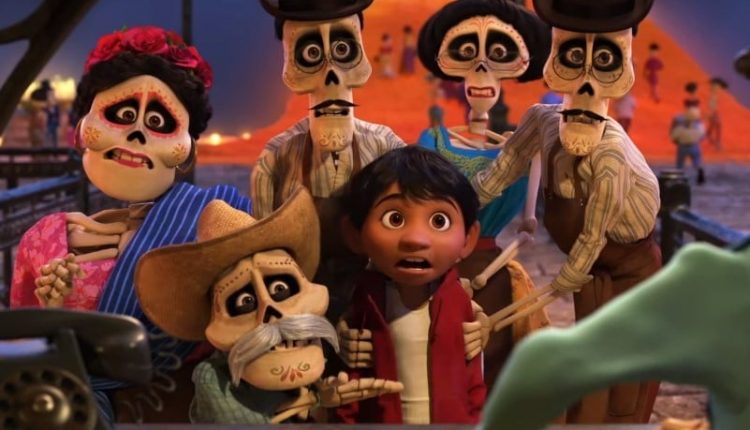 Official trailer of Coco de Disney · Pixar in Spanish of Spain and in Latin
You feel like watching the movie, do not miss the first trailer they published in Spanish of Spain:
And here the original Latin version published by Disney LATAM:
Toys for Coco's birthday gift from Disney · Pixar
Make a gift with this selection of Coco from Disney · Pixar. It will be a sure hit:
[amazon box="B075XY11TG,8416913838,8416857504,8416913870,8416913919,B077VGGH5L,B077GMY1FL″]
Opinion
We leave this space reserved once you can see it in the cinema, for now, a preliminary score based only on what is seen in the trailers.
Everything aims to be a new success of Disney · Pixar, which again bets on the Latino community, just as I had previously done with the series and film of Elena de Avalor.
Disney Coco Birthday Invitation · Pixar PREMIUM Personalized
The free invitation can be downloaded below, but it has a small drawback: you will have to fill in by hand with a ballpoint pen or marker the data as the day and place of the event. Also, it will not include any personalized data.
For this reason, we also offer you the service of PERSONALIZATION PREMIUM in which the personalization is complete, since it will include additional information such as the name and age of the birthday boy, a photograph (if the invitation is available in that version) and the data of place, date and time of the birthday, all integrated perfectly and with a very professional finish.
The prices are very cheap, just 7,95 € for the text-only version y 9,95 € if you want us to add the photo (for invitations that are available with photo).
Look how it would look like Disney Coco · Pixar and customized and imagine it with your child's data: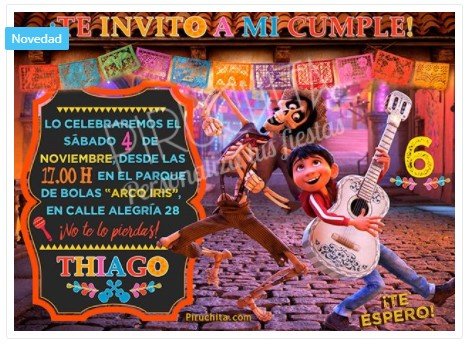 See the Custom Premium version
Disney Coco's Birthday Invitation · FREE Pixar in digital format
La Disney Coco's Birthday Invitation · Pixar is designed in high quality, 300 dpi, perfect for printing both at home with any type of printer, as well as in a printing or online printing service.
If you are going to print your Invitation, we recommend that you use paper a little thicker than the typical ones that we have at home, since with this paper it would be excessively thin. If you can, get some 220gr paper in brightness (also called glossy). EYE, it is not necessary to look for it to be specific to photography since they tend to be more expensive.
The default invitation size is 7 "x 5" inches (17,78cm x 12,7cm). Yes! It is huge, but this is so that when you print them to a smaller size, the quality is excellent. You can then reduce the size at the time of printing, eg. 6 "x 4" inches (15,24cm x 10,16 cm) or even less.
We recommend that you print 2 for each sheet of size A4, which is a large size but will be more striking than normal tiny. You can also reduce them more and put 4 per sheet, and save if you have many guests or have only got expensive photo paper, but keep in mind the size of the text as it will be, so before doing anything on good paper, it is always advisable to print on a normal sheet and see how it will look.
Download now for free Coco birthday invitation by Disney · Pixar in high quality ready to print:
Enjoy a great birthday party!
Your download is being prepared, wait for the meter to finish