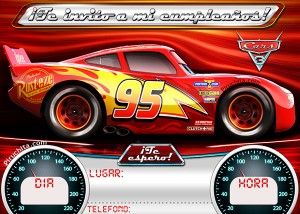 SYou have seen Cars and Cars 2 ... Do you know that 12 has been around for years since Cars premiered at the 2006? Time flies, and so does the same thing Lightning MCQUEEN that will have to face the young competitors who will try to snatch the victory. With so many memories you sure want to set up a birthday party for Cars 3, so here we give you the Cars 3 birthday invitation to print in digital format that you can also use to send by Whatsapp.
The new generation of runners has arrived, all with many novelties and improvements compared to our protagonist, all run faster, are more powerful and with more energy for youth
Source
Cars 3 arrived in theaters in Spain last July of 2017 and is expected to go on sale on DVD, Blu-ray, and other formats including 4K next November 7
Although it was well received thanks to the nostalgic people that we already saw the first two parts, the truth is that the criticism, both from professionals, as well as from the general public, has not rewarded it so much in the previous occasions.
With a budget of 175 million, has raised 361 million.
Speed. I'm fast. I'm cheering on the losers. I'm the fastest. I am the ray.
Facts about Cars 3 in IMDB
Argument
11 have barely passed years since Cars 1 and they want Rayo McQueen to retire. Jackson Storm is the name of its new competitor.
After a spectacular accident, Lightning remembers what happened to his friend Doc Hudson and does not want to end up the same, removed by an accident. Even less when he is seeing how his fellow members of the same generation are also losing losers and are being replaced by promising young people.
So he will have no choice but to show all the power he still has competing with the new generations of cars, all of them being better mechanically speaking. Faster, more powerful and young.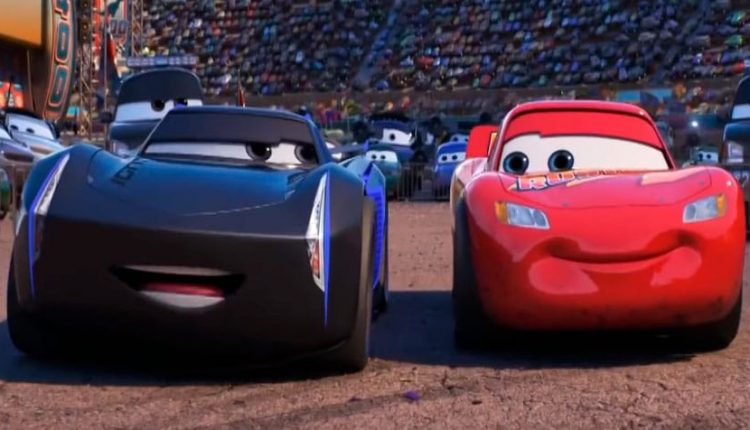 Lightning McQueen will try to win one more race. For this, Cruz Ramírez and Sterling will train him.
During these adventures he will be accompanied by his best friends from previous films, both his girlfriend Sally, the Mater crane, and Radiator Springs.
On this occasion, the Piston Cup will be held at famous places in America.
Official trailer of Cars 3
Haven't you seen the movie yet? Well, watch this trailer so you want to see it, and even more if you have seen Cars and Cars 2, an essential movie:
Game for mobile and tablets of Cars 3 Free
A free mobile game is available, specifically for Android. Of course, like almost all free mobile games, they incorporate advertisements and in-game purchase options.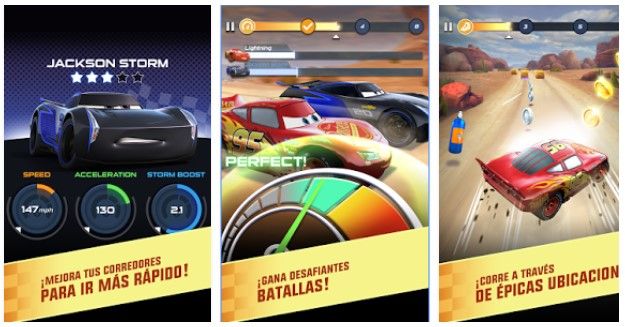 You have to try it:
[su_button url = »https://play.google.com/store/apps/details?hl=en&id=com.disney.cars3_goo» target = »blank» style = »flat» background = »# ef2d32 ″ color =» #ffffff »icon =» icon: youtube-play »] Download Cars 3 Game for Android mobile [/ su_button]
Cars 3 online games
If you want to play something fast like car racing with the protagonists, you only have to enter the official website of Disney and choose one of the available games:
[su_button url = »http://games.disney.com/cars» target = »blank» style = »flat» background = »# ef2d32 ″ color =» # ffffff »icon =» icon: youtube-play »] Sign in a Cars 3 Online Games [/ su_button]
Toys for birthday gift from Cars 3
We recommend some of the best selling toys of Masha and the Bear. It will be a sure hit:
[amazon box="B071NG7FLN,B01N56L0DN,B01MROZURM,B073X2655Y,B01IDW6KZ0,B01N1JVSF7″]
Cars 3 clothing
If you already have many toys but want to enjoy the gift, we recommend clothes with images of cars 3. You will help the parents and see their smile:
[amazon box="B0144KJU3E,B00NLCM0B6,B01LZ79OGT,B0773S7S9P,B07655YRVC,B073Q5KT23″]
Opinion
The visual quality as always, is excellent, and coming from Pixar there is no doubt. Another thing is the story.
It is the typical movie that does not surprise you, you have already seen the 1 and the 2 and here it does not bring much new, it is more of the same. With his comic contributions and some also of sadness.
Still you will have entertained the 102 minutes that lasts. You already know some of the characters and their history, so you have to see this third installment. Do not worry, it is not that you are going to leave euphoric, but you will have more than enough fun.
[better-reviews]
Cars 3 PREMIUM Personalized Birthday Invitation
Yes, we know, this invitation has a small catch. And is that when you write on it the birthday information, address, etc. With a pen or marker, the result will leave a lot to be desired compared to a completely personalized card.
For this reason, we also offer you the service of PREMIUM CUSTOMIZATION in which your son or daughter will be the envy of friends and family.
Prices are very cheap, just € 7,95 for the text only version y 9,95 € if you want us to add the photo (for invitations that are available with photo).
Look how it would look like Cars 3 already customized and imagine it with your child's data: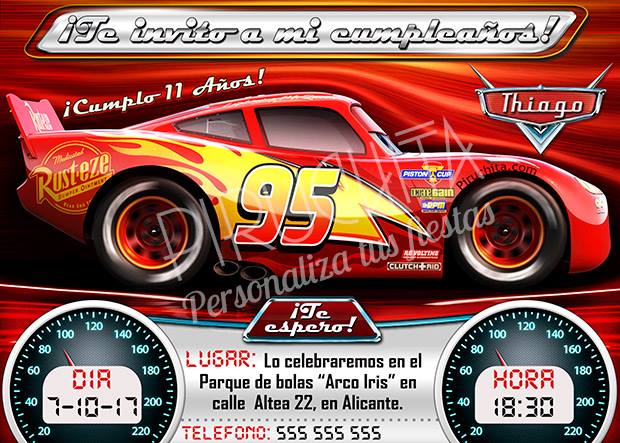 [su_button url = »https://www.piruchita.com/producto/invitacion-cumpleanos-cars-3-01-digital-imprimible/» target = »blank» style = »flat» background = »# ef2d32 ″ color = »#Ffffff» size = »5 ″ icon =» icon: shopping-cart »] See the Premium Custom version [/ su_button]
FREE Cars 3 Birthday Invitation
La Cars 3 birthday invitation is designed in high quality, 300 dpi, perfect for printing both at home with any type of printer, as well as in a printing or online printing service.
If you are going to print your Invitation, we recommend that you use paper a little thicker than the typical ones that we have at home, since with this paper it would be excessively thin. If you can, get some 220gr paper in brightness (also called glossy). EYE, it is not necessary to look for it to be specific to photography since they tend to be more expensive.
The default invitation size is 7 "x 5" inches (17,78cm x 12,7cm). Yes! It is huge, but this is so that when you print them to a smaller size, the quality is excellent. You can then reduce the size at the time of printing, eg. 6 "x 4" inches (15,24cm x 10,16 cm) or even less.
We recommend that you print 2 for each sheet of size A4, which is a large size but will be more striking than normal tiny. You can also reduce them more and put 4 per sheet, and save if you have many guests or have only got expensive photo paper, but keep in mind the size of the text as it will be, so before doing anything on good paper, it is always advisable to print on a normal sheet and see how it will look.
Download now for free Cars 3 birthday invitation in high quality ready to print:
Have a great birthday party!
Your download is being prepared, wait for the meter to finish
Has it been useful to you?
Please, click on the hearts to rate us!
Average Rating 5 / 5. Total votes: 4