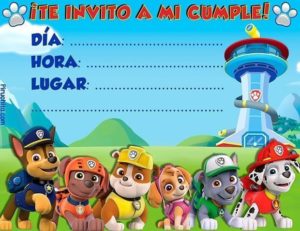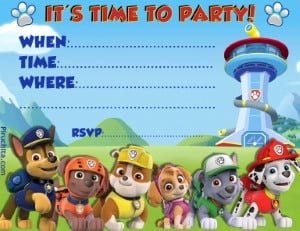 If your son is crazy about Paw Patrol, do not hesitate to put on his birthday party full of educational puppies. With what to start? The first thing is to have ready the invitations for your friends and family, and for this you can use this Paw Patrol Birthday Invitation that we offer you for free.
The canine patrol, also known as «Paw Patrol»(Your original name) or«Puppy Patrol»In Latin America and Spanish-speaking channels in the USA, it has become one of the greatest television hits of recent times. This cartoon series has its origin in Canada.
Its great protagonists are dog puppies who perform all kinds of community activities and rescue, with which the youngest will learn to appreciate and value the work done by police, firefighters, rescuers, doctors, etc.
Decoration for Birthday Party Paw Patrol
The Patrol Dog has been dazzling the youngest of the house for years, and the best thing is that it covers a good range of ages. Our son Gael has been watching it for less than a year, and now with almost 4 it is still his favorite series of drawings by far.
They are even above the Disney classics when it comes to choosing a decoration theme for a birthday party.
You can also think about making use of a Costume characters of The Patrol Canine For children and adults to liven up the party.
To organize a good birthday party The Patrol Dog begins with the Birthday Invitation of the characters, pennants and boxes to put personalized candy stickers with elements or characters from the series.
Now, if you can afford it, organize what can be a great memory for your child, and use everything you can related to the theme. I give you some ideas: Plastic Tablecloth of the Paw Patrol, Glasses and Dishes with the characters, Balloons and all kinds of personalized decoration on paper.
Do not miss our premium decoration packs custom for Paw Patrol Birthday Party that we will personalize in digital format for you and you will be able to receive by working 24 / 48h. Print as many times as you want what you like the most and leave everyone hallucinated!
Ideas to decorate a birthday party for The Canine Patrol Pirates
Decorate your children's birthday party yourself with our Premium Custom KITS to print
Get a beautiful decoration for the birthday party on The Pirates Canine Patrol. To the family, friends, parents of the friends of your child, but above all and mainly to your son, that for something that day will be the protagonist.
You know it, it deserves the best, and although sometimes it takes you out of your boxes, it has you in love with your love, hugs and kisses. This is only once a year, and he has earned it. Show him your love by giving him the best party of his life.
We only do a small part, and it is to give you the necessary tools. Then you are the person in charge of devising the order to decorate everything, print, cut and place everything in its place.
For this, you have Premium Decoration Kits for Simba's birthday party that we can customize for you with the name of the birthday boy / girl.
You can get it here for only 19,95 € and in a working 48h term you will receive it in your e-mail. All ready for you to print what you want and as many times as you need, without limit of uses.
Paw Patrol, a stylish dog patrol that won the hearts of millions of children
Adventures without limits, fun to everything that gives and a crazy need to save the bustling city of Bahia Aventura from any danger. That's how crazy our afternoons were with Paw Patrol, an animated series of Canadian origin that captivated six children and young people from all over the world during six incredible seasons.
And it is not easy to forget the feats of Marshall, Chase, Rubble, Skye, Rocky, Everest, Zuma and Tracker, eight adorable puppies that, formed in a dog patrol led by Ryder, a technology expert of just 10 years, achieved get more laughter out of one.
The show was aired on Nickelodeon television in the United States and on TV Ontario in Canada. This comic created by Keith Chapman and masterfully produced by Guru Studio was released in August of 2013, becoming a reference of television but also one of the favorite children's programs in each of the homes.
Enjoying their episodes was not a matter of discussion. Is that the skills of our favorite dog patrol to solve problems was more than delirious. Although the vehicles of last generation were equally fascinating, Ryder's inventions put everything under control and the teamwork of the entire squadron.
Definitely, these were the ingredients of this animated series that ended up captivating an entire audience. Do you remember any of your missions? Well you can not forget those moments when they had to save small and tender kittens or when they came to the aid of a human at risk.
Paw Patrol did in a short time what no other children's show, as well as entertain and entertain, took advantage of its popularity to promote essential values ​​such as friendship, respect, love and honesty.
For this and many other things, we can not miss the opportunity to thank the creation of this super comic that we can hardly forget.
Although originally they were only 6 puppies Chase (Dog Police), Marshall (Fireman and Doctor), Rocky (Recycling), Zuma (Aquatic Rescues), Rubble (Construction), Skye (Air Rescues), from the second season joined them a seventh called Everest (Mountain Rescues).
Everest in Spain is not well known as it has not been seen on public television where only the first season is broadcast, only on pay channels like Nickelodeon can be seen, so here is a picture in case you do not know it still.
They are currently going through the third season, and each of them has a total of 26 episodes.
We take this opportunity to recommend that you also visit a website with many dog patrol items where you can find the perfect gift for your child 🙂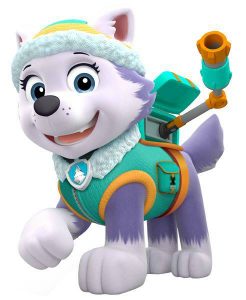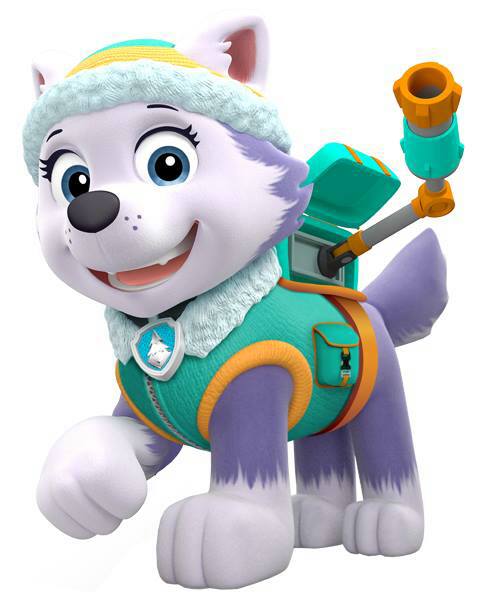 The Patrol Patrol or Paw Patrol of Nickelodeon also caught the attention of his followers for his endearing characters. The best thing was that each one had a different personality, which allowed him to attract the attention of a large audience.
And precisely this quality was what gave the puppies success during each mission in Bahia Aventura. They were provided with unique skills that, in turn, were contributed to teamwork.
For example, Ryder was a very intelligent child. Thanks to his leadership, he was able to solve countless situations. Marshal, a Dalmatian puppy, had medical knowledge and firefighter skills that he knew how to take advantage of for collective benefit.
Chase, the little German shepherd, did not hesitate to use police techniques to do his duty. While the English Bulldog Rubbie, the most fun of the team, knew about construction.
Thus, Rocky (Australian shepherd), Zuma (labrador), Everest (husky), Tracker (cihuahua) and Skye (cocker spaniel and poodle) were contributing their bit to the crazy adventures that they face every day.
By the way, Skye was the only female character to make up the small canine squad.
The official Canine Patrol song in Spanish
This is the Spanish version of The Patrol Dog
The official song of Patrol of Cubs in Latin America
This is the version in Latin America of Paw Patrol. This is how it is heard throughout LATAM and in the USA in the dubbed broadcasts.
IMDB assessment of The Paw Patrol
IMDB is Internet Movie Data Base. The largest online database of movies, series, drawings, anime, etc.
It includes two types of assessments, that of the specialized critic and that of the visitors. This can make you a very good idea of ​​the reception that this film has had worldwide, as well as read the opinions of many participants, but OJO, it is common for some spoilers to escape.
Products derived from Paw Patrol
Yes, it's true, this Paw Patrol dog patrol enjoyed such popularity that it was used as inspiration for the development of children's products. We saw his characters on covers of notebooks and notebooks, in backpacks, cartridge belts and any other instrument for school.
But they were also highly valued in decorations for children's parties. Paw Patrol was a trend in events for children around the world, taking into consideration the personality of the child and that of the puppies.
Tell us if you ever received an invitation card that highlighted the image of Marshall, Ryder, Skye or any of the dog patrol.
Do you want us to personalize the Paw Patrol Birthday Invitation?
There is no doubt the attraction and joy that the characters of The Paw Patrol produce In the kids. That's why the celebration of birthdays based on this wonderful series, which is very educational, it will surely be one of the parties that you will never forget.
There is music at every birthday party. So as the theme is about The Paw Patrol, the songs of the series would not be bad in full celebration. And of course, the Paw Patrol birthday cards they can not miss either. Here you will find them totally free. You just have to add the information of the celebration and pass it to all the guests, even by WhatsApp or other social networks.
And if you are looking for something more personalized, choose the Premium option, because with it you can add the photos you want and give it that unique touch you are looking for.
La Paw Patrol birthday card to celebrate the birthday of the child has to be striking and colorful. Just that is what you have here, a birthday invitation from the patrol beautiful and capable of thrilling your son and all his friends. You just have to download it, print it and fill in the details of the party by hand.
Now, if you do not have time, and also prefer something more elegant, that is not written by hand, we can also customize the texts ourselves.
It can not be cheaper for a customized product. For only 7,95 € (9.95 € photo versions) get it in just 24 / 48h
Download now the Paw Patrol Invitation in high quality, ready to print
La Paw Patrol Birthday Invitation is designed in high quality, 300 dpi, perfect for printing both at home with any type of printer, as well as in a printing or online printing service.
If you are going to print the Invitation, we recommend that you use paper a little thicker than the typical ones that we have at home, since with this paper it would be excessively thin. If you can, get some 220gr paper in brightness (also called glossy). EYE, it is not necessary to look for it to be specific to photography since they tend to be more expensive.
The default invitation size is 7 "x 5" inches (17,78cm x 12,7cm). Yes! It is huge, but this is so that when you print them to a smaller size, the quality is excellent. You can then reduce the size at the time of printing, eg. 6 "x 4" inches (15,24cm x 10,16 cm) or even less.
We recommend that you print 2 for each sheet of size A4, which is a large size but will be more striking than normal tiny. You can also reduce them more and put 4 per sheet, and save if you have many guests or have only got expensive photo paper, but keep in mind the size of the text as it will be, so before doing anything on good paper, it is always advisable to print on a normal sheet and see how it will look.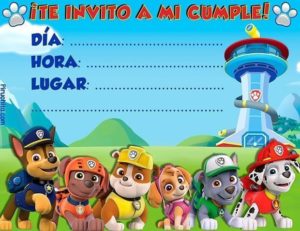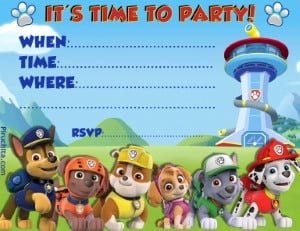 I'm preparing your file ...
The file will be visible in a few moments, wait, please.
Has it been useful to you?
Please, click on the hearts to rate us!
Average Rating 4 / 5. Total votes: 2