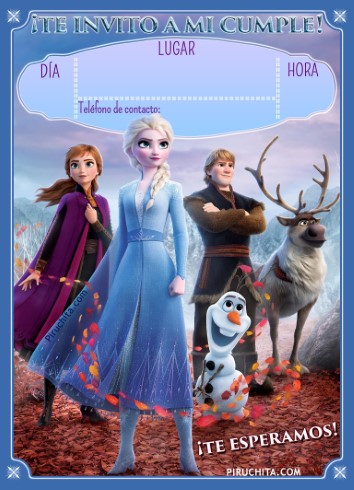 We promised you a year ago. As soon as Frozen 2 came out we would offer you a new Frozen 2 Birthday Invitation with Elsa, Anna, Kristoff, Olaf and Sven.
You already have it here, ready for download, of course, free of charge as always 🙂
The winner of 2 awards Oscar for the best animated film and best original song at the 2013 was "Frozen: El reino del hielo", Better known for"Frozen: A frozen adventure"In Hispanic-America.
Based on the story "The queen of the snow"By Hans Christian Andersen published in the year 1844, Walt Disney has achieved another of his greatest successes. With a budget of 150 millions of dollars, they obtained a collection of more than 1276 millions of dollars, which are then added merchandising of all kinds.
Frozen is not only the winner of 2 Oscar awards. He has also won a Golden Globe, a BAFTA Award, Annie Awards, and the Critic Choice Awards for the best animated film, among many other awards, including several related to his soundtrack.
Decoration for Frozen Birthday Party
Every good party must have certain basic elements such as the Frozen Birthday Invitation, a plastic pennant or printed with Elsa and Anna, and some boxes with trinkets for the smallest guests that is decorated with stickers with elements or Frozen characters to deliver them when they leave and thus thank the attendance to the birthday.
If you want to make something unforgettable you will have to make a greater effort and also get Frozen Tablecloth, Frozen Glasses and Dishes, Frozen Balloons and all kinds of personalized decoration on Frozen paper.
If you want to show off to everyone and your child feels very proud of you, we make it easy for you. Look at our custom premium decoration packs for Frozen Birthday Party that we will personalize in digital format for you and we will send you by e-mail in 24 / 48h. You can print everything you need and create a perfect birthday.
Ideas to decorate a Frozen birthday party with Elsa and Anna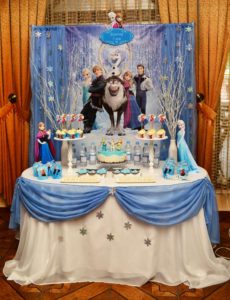 All the details are important, starting with a nice tablecloth and background that allow all the elements to stand out and whose colors keep harmony with the theme of "frozen", blue and white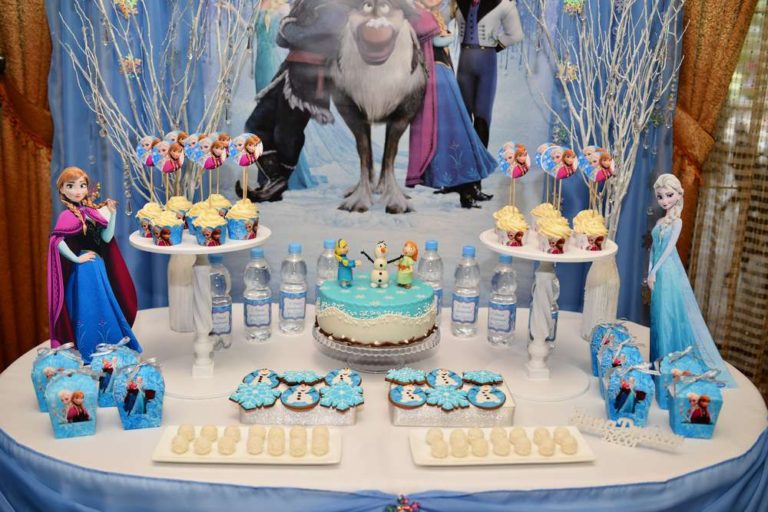 It is not advisable to abuse the table in excess. It is better to calculate what is really going to be consumed at the moment and to think what options are the most appropriate. In this case decorated cupcakes, cake with handmade dolls, decorated cookies, and some boxes with trinkets to give as gifts.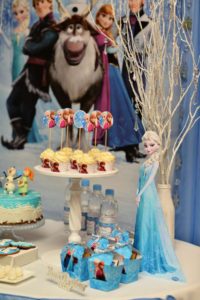 You can complement the decoration with images of Elsa and Anna by buying them or by printing them and sticking them on a cardboard cut to size and adding a small support so that they stand upright.
Decorate the birthday party yourself with our Custom Premium KITS
Leave cold ice creams to everyone with your birthday party decoration work on Frozen. To the family, friends, parents of the friends of your child, but above all and mainly to your son / daughter, that is his special day.
You know it, it deserves the best, and although sometimes it takes you out of your boxes, it has you in love with your love, hugs and kisses. This is only once a year, and he has earned it. Show him your love by giving him the best party of his life.
We only do a small part, and it is to give you the necessary tools. Then you are the person in charge of devising the order to decorate everything, print, cut and place everything in its place.
For this, you have Premium Decoration Kits for Frozen birthday party that we can customize for you with the name of the birthday boy / girl.
You can get it here for only 19,95 € and within a period of 48h work you will receive it in your e-mail. All ready for you to print what you want and as many times as you need, with no limit of uses.
Frozen: A cold adventure to cry, laugh and sing
I'm free, I'm free! When reading this sentence you will surely know that we are going to talk about the famous movie Frozen. A film that came from the hand of Walt Disney Animation Studios in 2013 to tell us about the story of Elsa de Arendelle, the Snow Queen with magical powers to freeze, and her younger sister, the intrepid and witty Princess Anna.
It is a film for all audiences, especially for children, young people, but also for adults, who have enjoyed it to the fullest, have laughed, sung, cried and learned valuable lessons from their special characters.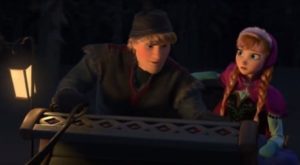 The film has had such success since its premiere, that critics have decided to refer to it as "The best Disney movie since The Lion King"and even some have gone further by pointing out without fear of being wrong, that Frozen is, nothing more and nothing less, than "A new Disney classic".
What is the true story of Frozen?
Frozen, Frozen: A Frozen Adventure in Latin America or Frozen: The Kingdom of Ice in Spain, is not an original Disney story, but rather an adventure based on The Snow Queen (1844), one of the best works of the Danish poet and writer Hans Christian Andersen and that raises the fight between good and evil from the point of view of his characters.
It reached the cinema screens of U.S.A. 19 November 2013 and its success has been such that it is the highest grossing film among Disney classics, with an impressive number of $ 657.818.612 and the one that achieved the highest collection in its premiere year with $ 84.091.326 worldwide, just in its first weekend.
For the English version Idina Menzel, Kristen Bell, Santino Fontana, Jonathan Groff and Josh Gad were in charge of giving life and personality to the protagonists of the story.
And as for the famous and catchy song Let it go, played by the ex-Disney girl Demy Lovato and, in Latin America, I am free is heard with the voice of the Argentine actress and singer, Martina Stoessel, better known as Violetta Castillo, the protagonist of the homonymous series of Disney Channel Latin America. In Spain, the title was changed to ¡Suéltalo! and she sang it Gisela Lladó, a singer already experienced in putting the voice in songs of Disney and other animated largometrajes.
Frozen Argument: A true frozen adventure
The animated film Frozen takes place in the Kingdom of Arendelle and tells the story of Princess Elsa, who has the incredible power to freeze, something that separates her from her younger sister Princess Anna, after an accident in which she involuntarily wounds her .
Being both adolescents and already distanced, in spite of living in the same palace, their parents die. When Elsa meets the 21 years of age she is crowned Queen of Arendelle and for that, she is forced to open the doors of her castle to celebrate with the people.
It is at that moment when Princess Anna meets Prince Hans, falls in love, and decides to marry him, but Elsa disagrees, which leads her to lose control of her powers and freeze Arendelle, and then flee to the Montana.
But, true love triumphs when the brave Anna joins Kristoff, the reindeer Sven and the funny snowman Olaf, to find Elsa, save her and prevent Arendelle from joining in an eternal winter.
Meet the Frozen characters
A great story does not make any sense without its characters and in the case of Frozen is no exception. And, next we present you to those who made this adventure something unforgettable, or at least the most important:
Elsa: She is the eldest daughter of King Agnarr and Queen Iduna; she is a princess who, when she is the 21 year, becomes the Snow Queen; she has the power to create ice and snow, something that can be very dangerous and that is why she is forced to get away from her sister Anna, to protect her and not harm her.
Anna: She is a princess and is Elsa's younger sister, she is daring, affectionate, brave and daring, but at the same time a little awkward. His personality is completely opposite to Elsa's, since he is not very elegant, is quite impulsive and is free and adventurous.
Olaf: He is a very nice snowman created by Elsa and Anna when they were girls; He is innocent, optimistic, disinterested, funny, cheerful and loves to give hugs. It has the capacity to disarm itself.
Kristof: He is a young 21 years old who loves nature, is surly, strong and lonely; although at first it seems that he does not give it more importance, after embarking on an adventure together, he becomes Anna's protector.
Sven: He is a loyal reindeer, who loves carrots and is Kristof's best friend, whom he defends from any danger or ridicule.
Hans: Also known as Prince Hans of the South Islands, he is a handsome young man and looks charming and is the youngest of 13 brothers; seeks to manipulate Princess Anna, to be crowned and become the king of Arendelle. He is the antagonist of this story.
What you probably did not know about Frozen
Like any movie, Frozen also has certain interesting details that you probably did not know and that will surprise you, such as:
Although Elsa was originally conceived as a villain, after listening to the Let it go music theme, the producers chose to turn it into someone good, although with its ambiguities.
Before reaching the big screen, Frozen had several failed attempts - 1998 / 2002 and 2008 / 2010 - until finally 2013 saw light with overwhelming success.
The film won 27 awards, including a Golden Globe Award for "Best Animated Film" and two Oscars as "Best Animated Film" and "Best Original Song".
The script was not necessary for those who played Olaf, since most of his dialogues were improvised and with very good results.
A real reindeer, who was transferred to the studio, was the inspiration for Sven's character, as the idea was to recreate the exact movements of the animal.
The snow monster that Elsa creates was going to be a giant version of Olaf, but since it did not look terrifying at all, the producers decided otherwise.
In one of the scenes, specifically in the celebration of the coronation of Elsa, the protagonists of Tangled, Rapunzel and Flynn made a cameo.
Maybe you did not know, but Elsa and Anna's mother is the sister of Rapunzel's mother, so they are cousins.
If you are a megafanatic of the Disney stories and you have not lost any, we are sure that you will enjoy this movie to the fullest and that you will not be able to stop singing its songs.
If you have not yet seen Frozen, we invite you to laugh, cry and dream of a true adventure in which love and courage lead to a happy ending and whose second installment is set to premiere at the end of 2019.
Frozen 2 movie trailer in Spanish
Do not miss the Frozen trailer. In less than a minute 1 you will see the amazing events that lie ahead in this great adventure.
IMDB rating of Frozen 1 and 2
IMDB is Internet Movie Data Base. The largest online database of movies, series, drawings, anime, etc.
It includes two types of assessments, that of the specialized critic and that of the visitors. This can make you a very good idea of ​​the reception that this film has had worldwide, as well as read the opinions of many participants, but OJO, it is common for some spoilers to escape.
Frozen 2 PREMIUM Personalized Birthday Invitations with or without photo
The free invitation of Frozen can be downloaded below, but it has a small drawback: you will have to fill in by hand with a ballpoint pen or marker the data as the day and place of the event. Also, it will not include any personalized data.
For this reason, we also offer you the service of PREMIUM CUSTOMIZATION in which the personalization is complete, since it will include additional data such as the name and age of the birthday boy, a photograph (if the invitation is available in said version) and the data of place, date and time of the birthday, all perfectly integrated and With a very professional finish.
The prices are very cheap, just € 7,95 for the text only version y 9,95 € if you want us to add the photo (for invitations that are available with photo).
See how some would look on Frozen and imagine it with your daughter's data:
Download FREE now the invitation of Frozen 2 in high quality ready to print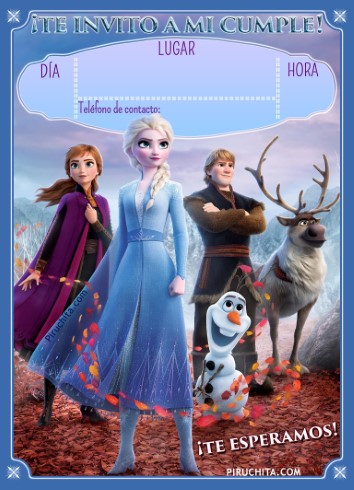 La Frozen 2 birthday invitation is designed in high quality, 300 dpi, perfect for printing both at home with any type of printer, as well as in a printing or online printing service.
If you are going to print your Invitation, we recommend that you use paper a little thicker than the typical ones that we have at home, since with this paper it would be excessively thin. If you can, get some 220gr paper in brightness (also called glossy). EYE, it is not necessary to look for it to be specific to photography since they tend to be more expensive.
The default invitation size is 7 "x 5" inches (17,78cm x 12,7cm). Yes! It is huge, but this is so that when you print them to a smaller size, the quality is excellent. You can then reduce the size at the time of printing, eg. 6 "x 4" inches (15,24cm x 10,16 cm) or even less.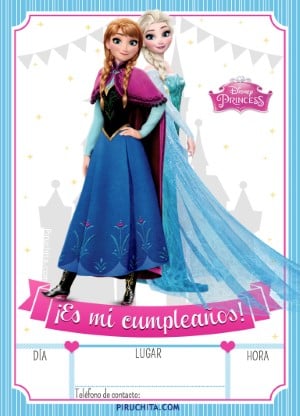 I'm preparing your file ...
The file will be visible in a few moments, wait, please.
Has it been useful to you?
Please, click on the hearts to rate us!
Average Rating 4.8 / 5. Total votes: 6