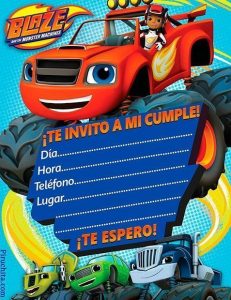 BLaze is the fastest and most incredible monster truck in Axle city, and could not miss Piruchita Blaze birthday invitation and monsters machines free to print.
Blaze is not only the fastest of all, he is also the smartest, with great knowledge of science, technology, etc.
His driver in town Axle is called AJ, that with just 8 years is made an expert technician. He helps himself with his gloves and helmet visor to draw in the air all the designs with their corresponding measurements.
Both enjoy solving all the problems they encounter in each adventure with the help of science, mathematics and technology.
In most cases, the tricky situations are caused by Blaze's rival, a tractor with a trailer called Crusher, that will make all kinds of traps in order to get the first to the goal ... for this invents all kinds of pots. The concept is something similar to the "crazy cars" but modernized for the times that are running 🙂
Ciudad Axle is full of vehicles, and they need a "doctor" to fix them and repair them. At that moment, the mechanics of the city garage comes into action Gabby, with also just 9 years of age.
There are many more vehicles in the city, including the acrobatic Darington, the brute Say which is half a car and half triceraptor (yes .. a car-dinosaur), the tiger truck Stripes, the cowboy truck Starla and the little one Pickle, that being the companion of the "bad" of the series (Crusher) tries to convince him in each chapter that he abandons his dates without success.
Blaze and the Monster Machines is considered the first series of cartoons for preschool children that touch a large part of the areas of science, mathematics, technology and even engineering.
Each episode introduces different concepts CTIM, including buoyancy and trajectory, so that children while enjoying their favorite series are learning a lot without realizing it.
With so many STEM concepts in each chapter, not only the youngest of the house will enjoy, but also the respective adults while they are taking care of it. And not everything is to learn, cars are adorable and fun.
The songs that are used while teaching you math and science are very catchy, as soon as you see a chapter you will be humming them all day long.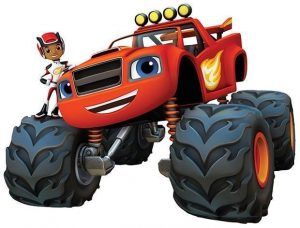 If you want to see free online chapters, games and other videos, you can do it from the official website of Nick jr.
Data and valuation about Blaze in IMDB
https://www.imdb.com/title/tt4458594/
If you are looking for a gift for the birthday boy, here are some recommendations:
[amazon box="B01BKB6ITE,B014SKN99Q,B00SYIJZBU,B00SYIJZ2E,B00SYIK3N4,B00VJKTLK0″]
Download now for free Birthday invitation Blaze and the monsters machines in high quality ready to print:
Happy birthday party!
Your download is being prepared, wait for the meter to finish
Has it been useful to you?
Please, click on the hearts to rate us!
Average Rating / 5. Total votes:
I'm sorry it didn't help you ...
It allows to improve this publication
Thank you for your feedback!