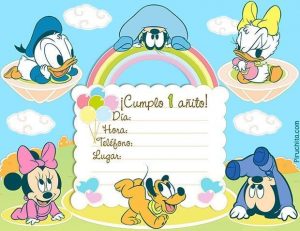 Por end the first birthday the baby! What joy, huh? 🙂 This is a very special party, the first birthday we always want to do our best to take many photos and create many memories to show the future adult.
Taking into account that at this age, he still does not have many characters that he is passionate about, in Piruchita we advise you to go safe, the one that never fails for many years to pass, our beloved Mickey, but this time in a 100% baby version , so we created you these First Birthday Invitations cards Mickey Mouse Baby to print that you can download totally free at the end of this publication.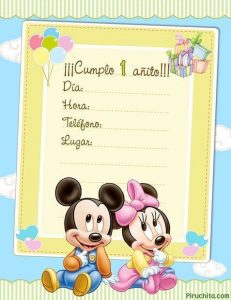 In the 1 model we have included several members the disney baby family, where besides the funny Mickey Baby doing pirouettes and the friendly Minnie Baby, they are also accompanied by the puppy Pluto Baby walking with only the two front legs, a Donald Baby Duck very attentive and entertaining observing his companions (it seems that as a child it was not so gruñon hehe), a Goofy Baby looking at the world from a new perspective, and a Daisy Baby who seems to have taken away his favorite toy and is not so happy.
Come on, do not you think that this invitation simulates an authentic birthday party for real babies? each one doing his own 😀
In the 2 model of invitation you can see the adorable Baby versions of Mickey Mouse and Minnie Mouse, with very nice pastel colors that will be perfect for any first birthday party, they will sing indistinctly of the main colors that you use to set up the party.
Did you know that we also offer you Premium versions of these first year invitations? You can instruct us to personalize the invitations with the birthday information to make them perfect!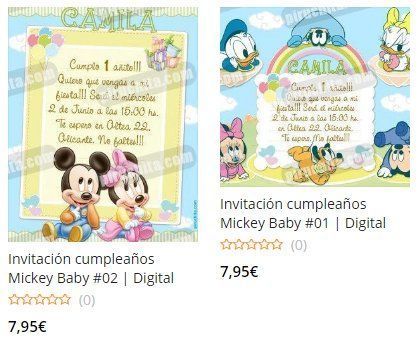 So you know, if your baby turns 1 year old, don't wait any longer. You have the two versions available for you to use the one you want ... or both 😉
Download below the 1 birthday invitations from Mickey Mouse Baby in high quality, ready to print .:
Your download is being prepared, wait for the meter to finish
Has it been useful to you?
Please, click on the hearts to rate us!
Average Rating / 5. Total votes:
There are no votes yet. Be the first to vote!