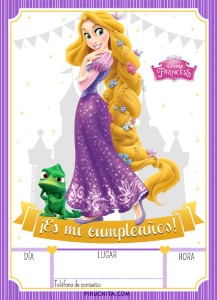 Did you miss the Rapunzel Birthday Invitation of the movie Tangled / Tangled? The Disney princess with the longest and strongest hair of all is already here. You can download our free version with one click. It is in high quality and ready to print.
Tangled in or Tangled in Spanish. In any language it is a production of Walt Disney Animation Studios and nothing more and nothing less than Disney's animated feature 50, released in the 2010 year.
But it is not a simple tape, but an instructive story that with phrases like "that's the best of dreams, you have the opportunity to look for a new one", said by the protagonist Flynn, it teaches us to live without limits and not to fear to follow a new way.
Those who have had the opportunity to enjoy it, define it as more than a Disney princess musical, as an empowering tale that teaches imaginative and brilliant girls how to grow to maturity and overcome obstacles.
Decoration for Rapunzel Birthday Party - Tangled
Rapunzel is a much loved character for both adults and children, since it is a classic movie.
You can also think about making use of a Rapunzel costume for children and adults to liven up the party.
To organize a good Tangled birthday party begins with the Rapunzel Birthday Invitation, Pennants and Boxes to put personalized treats with stickers with elements or characters from the movie.
Now, if you can afford it, organize what can be a great memory for your child, and use everything you can related to the theme. I give you some ideas: Plastic Tablecloth of Tangled, Glasses and Dishes of the characters of Tangled, Balloons and all kinds of personalized decoration on paper.
Do not miss our custom premium decoration packs for Tangled Birthday Party that we will personalize in digital format for you and you will be able to receive by working 24 / 48h. Print as many times as you want what you like the most and leave everyone hallucinated!
Ideas to decorate a Rapunzel birthday party - Tangled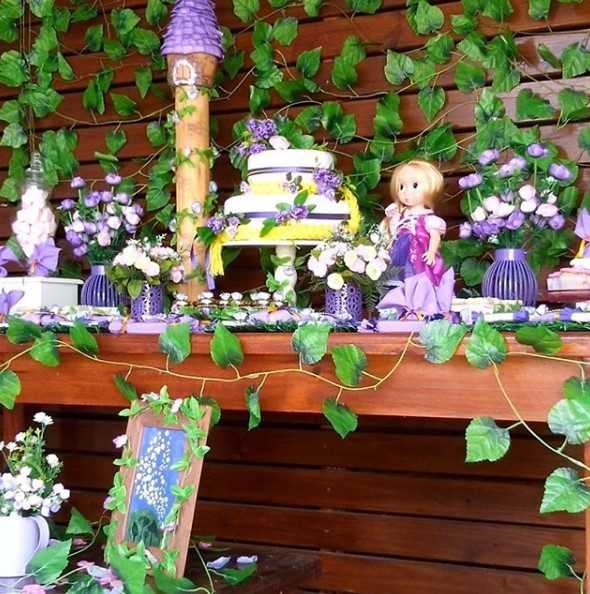 In the Candybar designed by Naty Carrazan, plants and flowers abound, alluding to the environment of the film.
The tower is an essential element together with the cake.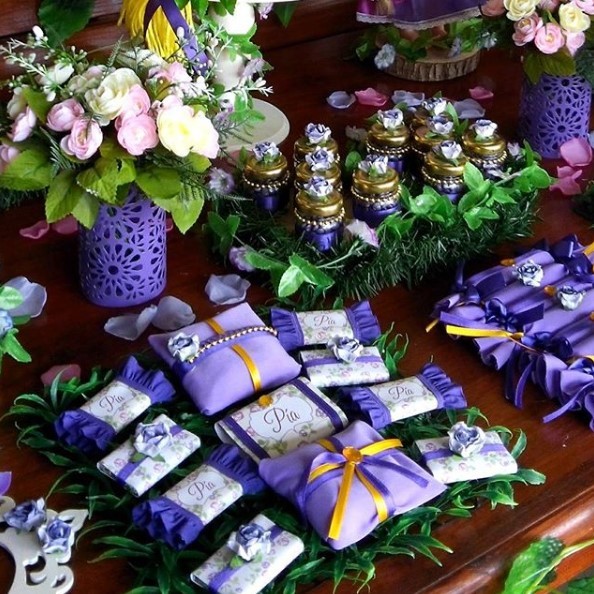 You can not miss the cupcakes at any sweet table.
Along with other sweets and wrapped gifts, will delight all present.
Source: https://www.instagram.com/natycarrazan_ambientaciones/
Decorate your children's birthday party yourself with our Premium Custom KITS to print
Get a beautiful decoration for the birthday party about Tangled. To the family, friends, parents of the friends of your daughter, but above all and mainly to your daughter, that for something that day will be the protagonist.
You know it, it deserves the best, and although sometimes it takes you out of your boxes, it has you in love with your love, hugs and kisses. This is only once a year, and he has earned it. Show him your love by giving him the best party of his life.
We only do a small part, and it is to give you the necessary tools. Then you are the person in charge of devising the order to decorate everything, print, cut and place everything in its place.
For this, you have Premium Decoration Kits for Tangled birthday party that we can customize for you with the name of the birthday boy / girl.
You can get it here for only 19,95 € and in a working 48h term you will receive it in your e-mail. All ready for you to print what you want and as many times as you need, without limit of uses.
Where did Rapunzel come from?
Like most of his films, Disney relives an old story. In this opportunity, as well as the long hair of the protagonist is a story that has many antecedents.
Beginning with the Grimm Brothers' fairy tale, Rapunzel, which was published in 1812, inspired in turn by Friedrich Schulz's story published in 1790, based on Charlotte-Rose's Persinette by Caumont de La Force, published in 1698, influenced by Petrosinella, by Giambattista Basile, which was published in 1634. A little "tangled", right?
But, returning to a not-so-distant past, Tangled, which was achieved with an investment of 260 million dollars, the 14 November 2010 and the rest of the world arrived at the North American movie theaters only 10 days later, collecting 591 millions of dollars in all the countries where it was exhibited.
For their original version - in English - Mandy Moore, Zachary Levi and Donna Murphy, lent their voices to the colorful characters. And for the dubbing in Spanish the famous Puerto Rican singer Chayanne played the thief / in love Flynn Rider, while the Mexican actress and singer, Danna Paola, gave life to Rapunzel.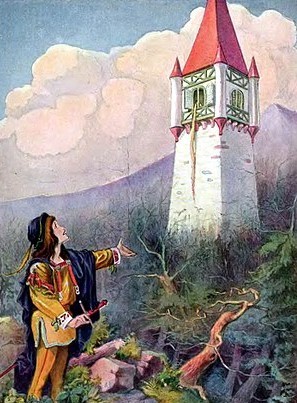 Interestingly, some of the lovers of the film have been very insistent to say that two of the most important characters in history, Rapunzel and Mother Gothel, have a very peculiar resemblance to two Hollywood stars.
Do you guess who they are? Amanda Seyfried and Cher. Surely now that you read it you will agree with this impressive comparison. In fact, a photographic composition comparing the actresses and the protagonist and antagonist of Rapunzel has caused a stir in social networks.
So that you know a little of the story before seeing it, we tell you that everything starts when being a baby, the Rapunzel princess is kidnapped by Mother Gothel, after the little girl received an interesting magical power of a flower: the ability to heal.
Over the years, Mother Gothel understands the importance of Rapunzel's long golden hair and therefore decides to keep her locked -under cheating- in a very tall tower.
But when her hair reaches 70 feet in length, the bandit Flynn Ryder enters the scene, who after an agreement becomes his guide to travel to "that place where the floating lights come from" that she has seen every year . The following is a journey full of dangers, but also of emotions and adventures.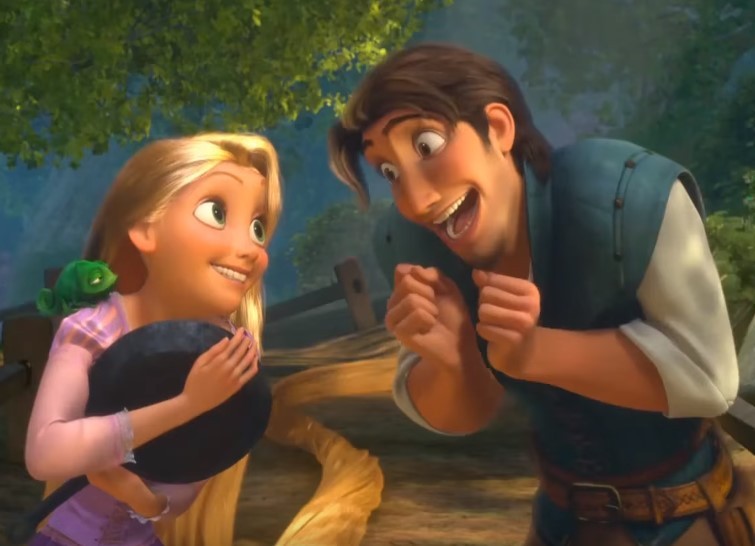 We present you the Tangled / Tangled characters
Although we do not have time to present them to everyone, we want you to know at least the main characters of this peculiar story:
Rapunzel. At her 18 years she becomes the protagonist of this story; she is a beautiful young dreamer, with long golden hair, who has the incredible gift of healing, but who remains locked in a tower under the care of someone who pretends to be his mother.
Flynn Rider. He is a young man over 20 years, who spent his life in an orphanage. Eugene Fitzherbert begins as a thief but ends up becoming the love interest of Rapunzel and who guides her in a new adventure.
Mother Gothel. It is the main villa of this story and although it appears to be young and beautiful, it hides a dark secret: in reality it is a wicked witch, with a few years, who is not really Rapunzel's mother.
Pascal. It is not a person, but even so it is the best friend of our protagonist, who has been with her since she was a child. It is a chameleon that adapts to the environment and whose mood changes also affect its appearance.
Maximus. It is a peculiar horse belonging to the Royal Guard, whose main objective is to maintain law and order within the Kingdom; He was in charge of going after the thief in the crown, nothing more and nothing less than Flynn.
The Stabbington brothers. They are also villains, that is, they are part of the group of antagonists in history and, when they are blackmailed, they are part of the plans of the evil Gothel against Rapunzel; in addition, at first they were allies of Flynn when it was arranged to rob the crown to him to the princess.
Meet some of the many curious details about Tangled
About Tangled may be many data that everyone knows, but to entertain you a little we want to tell you those curious details that are more interesting, such as:
For many it is Disney's best transition from traditional animation to three-dimensional animation or 3D.
Flynn with 26 years and Rapunzel with 18 are the couple with the biggest age difference between Disney stories.
The long hair of the protagonist, not only is beautiful and golden, but also heavy, because with a length of 20 meters, weighing a little over four kilos.
The musical style of the film is very particular, as the story is accompanied by rock songs from the 60 years.
To create the handsome Flynn, the animators had a very interesting help, because it was the women of the team who decided what the character would be like.
The idea of ​​making a film about the history of Rapunzel took a long time to materialize for Disney, to be exact 73 years.
Tangled is Disney's most expensive animated film, but it also turned out to be the most expensive animated film among all.
Although most Disney movies have had twice as long, Tangled had to be ready in just two.
The directors of the film asked the help of the women of the team to understand how the mother / daughter relationship between Rapunzel and Gothel could be.
And we could spend hours and hours writing about thousands of things that make this movie unique, but the next thing we're going to do is invite you to just watch it and enjoy it. You can invite your friends or contemplate it as a family.
You know, if you want to have fun for a while, cry a little, fall in love and dare to sing a little, the best thing you can do is spend 60 minutes of your time to see this wonderful story, another Disney bet with very good results and, of course with a happy ending. In short, Tangled.
Rapunzel / Tangled Trailer (2010) | Official trailer in Latin | HD
Marvel with trailer in Tangled / Tangled Latin. The 24 November 2010 was released in US theaters.
IMDB is Internet Movie Data Base. The largest online database of movies, series, drawings, anime, etc.
It includes two types of assessments, that of the specialized critic and that of the visitors. This can make you a very good idea of ​​the reception that this film has had worldwide, as well as read the opinions of many participants, but OJO, it is common for some spoilers to escape.
Do you want us to personalize the Tangled Birthday Invitation?
Undoubtedly, the attraction and joy it produces Tangled In the kids. That's why the birthday celebration based on this beautiful film, which leaves great teachings, will surely be one of the parties you will never forget.
There is music at every birthday party. So as the theme is about Tangled, the songs of the film would not be bad in full celebration. And of course, the birthday cards Tangled they can not miss either. Here you will find them totally free. You just have to add the information of the celebration and pass it to all the guests, even by WhatsApp or other social networks. And if you are looking for something more personalized, choose the Premium option, because with it you can add the photos you want and give it that unique touch you are looking for.
Download now the Rapunzel Invitation in high quality, ready to print
La Rapunzel birthday invitation is designed in high quality, 300 dpi, perfect for printing both at home with any type of printer, as well as in a printing or online printing service.
If you are going to print the Invitation, we recommend that you use paper a little thicker than the typical ones that we have at home, since with this paper it would be excessively thin. If you can, get some 220gr paper in brightness (also called glossy). EYE, it is not necessary to look for it to be specific to photography since they tend to be more expensive.
The default invitation size is 7 "x 5" inches (17,78cm x 12,7cm). Yes! It is huge, but this is so that when you print them to a smaller size, the quality is excellent. You can then reduce the size at the time of printing, eg. 6 "x 4" inches (15,24cm x 10,16 cm) or even less.
We recommend that you print 2 for each sheet of size A4, which is a large size but will be more striking than normal tiny. You can also reduce them more and put 4 per sheet, and save if you have many guests or have only got expensive photo paper, but keep in mind the size of the text as it will be, so before doing anything on good paper, it is always advisable to print on a normal sheet and see how it will look.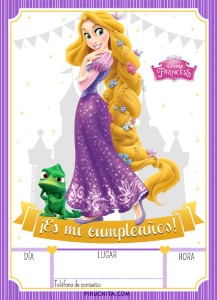 I'm preparing your file ...
The file will be visible in a few moments, wait, please.
Has it been useful to you?
Please, click on the hearts to rate us!
Average Rating / 5. Total votes:
There are no votes yet. Be the first to vote!