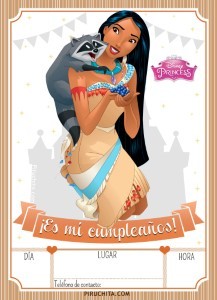 If there is an unconventional princess at Disney, that is Pocahontas. Unlike Aurora, Cinderella, Jasmine, Snow White or any other, Pocahontas is the first of the children's stories native to America. Its history is set in Virginia, United States, where there is still a marked Native American influence.
Announce the birthday party with our Pocahontas Birthday Invitation that you can download for free online now, so that you add the data of the party and go.
Her name means "Little Silent" and she is considered one of the Disney princesses for being the daughter of the head of one of the most important indigenous tribes, known as Powhatan.
And when we say that it is unconventional, we also refer to his love story for nothing common in a film made primarily for children.
It is that not only was sentimentally related to Jhon Smith, a European settler, during the first film delivery premiered at 1995; He also featured his romance with Jhon Rolfe, another settler of English origin, during the second installment of this film on 1998.
But if Pocahontas differs from other princesses in some fundamental aspects, it can be said that it also has a lot of relationship with all of them. First, she is an extremely beautiful young woman, with a noble and indomitable heart, kind, brave, intelligent and willing to fight for the well-being of her family.
He is able to love others and the surrounding environment. Certain supernatural powers, similar to those of shamans, are also attributed to it, since it can merge with nature, invoke spirits, talk to animals, and develop other abilities.
At his young age he must deal with the designs of his father who forcibly wants to make him marry a man he does not love. And here comes Kocoum, the strongest warrior in the tribe, who asks to marry her, but the princess's heart simply already has an owner.
The history of Pocahontas begins when European settlers step on America. With them comes the blue prince of history, Jhon Smith, who despite his rejection by the Indians, falls hopelessly in love with our long black hair princess.
Jealous of the approach between Jhon and Pocahontas, Kocoum attacks the settler wildly. But the warrior of the Powhatan tribe is cowardly murdered by Thomas, another of the European settlers. Because of this, only John is arrested and sentenced to die at the hands of the tribe.
The execution could unleash a war between the natives and the invaders, and Pocahontas well knows it. That is why he does whatever it takes to stop his people. And he succeeds, making his father forgive him too. But Governor Ratcliffe shoots the Amerindians, giving John the bullet after getting between the projectile and his beloved.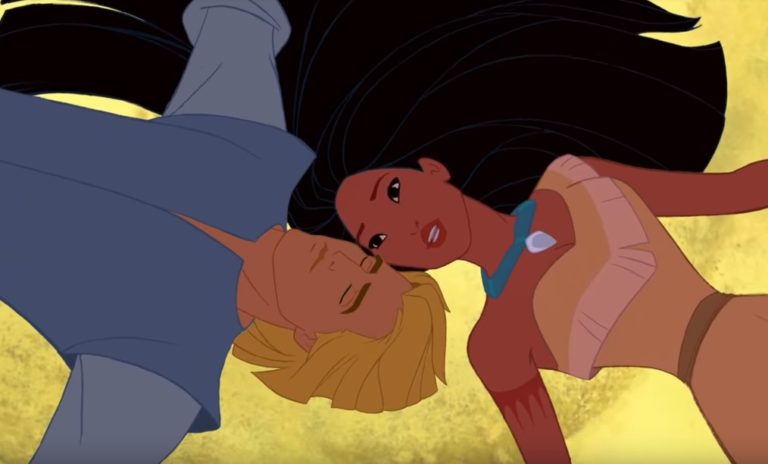 Very badly injured, Jhon is embarked on the ship that would take them back to England, but Pocahontas decides to stay in Virginia, United States, next to his own, despite the request of his beloved to accompany him. And as the ship moves away, she, very sad, says goodbye to him from one of the cliffs.
During the second installment of this film, Pocahontas is already a few years older and decides to travel to Europe, on behalf of his people, to prevent an invasion. There he sees Jhon Smith again, but that love between them apparently no longer exists.
Back in America, together with Jhon Rolfe, and after having achieved his mission, Princess Powhatan and the settler give each other a kiss of deep love that marks the end of this beautiful and sobering story.
Yes, it is true, both films touched the fibers of the billions of people around the world who had the opportunity to enjoy it. And they learned from her values ​​such as loyalty, courage, love and the struggle to achieve good over evil.
Pocahontas toys and dolls
If you are looking for a gift for the birthday, you can hit with a beautiful pocahonta dolls.
But it is not the only thing available, there are also POP figures !, cups of pocahontas, movies, books, stories, watches, figures, photo albums, pocahontas costumes, etc.
And this charismatic and different Disney princess has so many followers that all kinds of merchandising related to her has been created.
If you want to find many products, click on the button below
Pocahontas: Song 'Colors in the wind' | Official Disney
Listen to this song from the official Disney video included in the movie Pocahontas.
IMDB rating of Pocahontas [1995]
IMDB is Internet Movie Data Base. The largest online database of movies, series, drawings, anime, etc.
It includes two types of assessments, that of the specialized critic and that of the visitors. This can make you a very good idea of ​​the reception that this film has had worldwide, as well as read the opinions of many participants, but OJO, it is common for some spoilers to escape.
Do you want us to personalize the Pocahontas Birthday Invitation?
A little further down you will find the fantastic Pocahontas Dolls Birthday Invitation And you know what? You do not have to pay anything at all, just put your e-mail and it will arrive instantly to your email. Of course, then you will have to write by hand some information such as the day, time and place where the birthday will be celebrated.
Although this invitation is enough, one day is a day, and we believe that because of the little that it costs Premium Customizable Pocahontas Birthday Invitation, you would have to at least see it so that you can appreciate the enormous difference in quality and how you will look good delivering a premium invitation card instead of a handwritten one. It is almost a gift, because for just 7,95 € (9,95 € if you want the photo version) we will personalize it with the data you provide and you can print it as many times as you want.
Download now for free the Pocahontas Birthday Invitation in high quality ready to print
La Pocahontas birthday invitation is designed in high quality, 300 dpi, perfect for printing both at home with any type of printer, as well as in a printing or online printing service.
If you are going to print the Invitation, we recommend that you use paper a little thicker than the typical ones that we have at home, since with this paper it would be excessively thin. If you can, get some 220gr paper in brightness (also called glossy). EYE, it is not necessary to look for it to be specific to photography since they tend to be more expensive.
The default invitation size is 7 "x 5" inches (17,78cm x 12,7cm). Yes! It is huge, but this is so that when you print them to a smaller size, the quality is excellent. You can then reduce the size at the time of printing, eg. 6 "x 4" inches (15,24cm x 10,16 cm) or even less.
We recommend that you print 2 for each sheet of size A4, which is a large size but will be more striking than normal tiny. You can also reduce them more and put 4 per sheet, and save if you have many guests or have only got expensive photo paper, but keep in mind the size of the text as it will be, so before doing anything on good paper, it is always advisable to print on a normal sheet and see how it will look.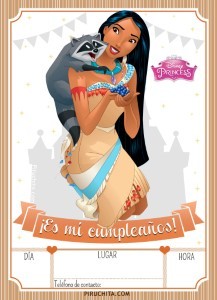 I'm preparing your file ...
Surely it will be a great birthday!
The file will be visible in a few moments, wait, please.
Has it been useful to you?
Please, click on the hearts to rate us!
Average Rating 5 / 5. Total votes: 2