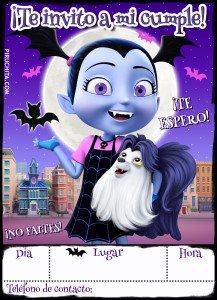 Apenalties one month before Halloween, Disney Junior launched a new series with a Vampirina as the protagonist. As always, from Piruchita, we offer you quickly the Disney Vampirina Birthday Invitation for FREE, you just have to download, print, and fill in the details of the party to deliver it to the guests of this special party.
The Disney Junior Vampirina cartoon series
Vee is the name of our protagonist, a vampire girl who moves with her family from Transylvania to Pennsylvania to open a room "Bed and Breakfast" called the Scare B&B for visiting demons (including vampires and goblins).
Vee will face the joys and trials of being the new girl in the city where she will make new friends.
This series is created between the United States and Ireland by Anne Marie Pace and Chris Nee.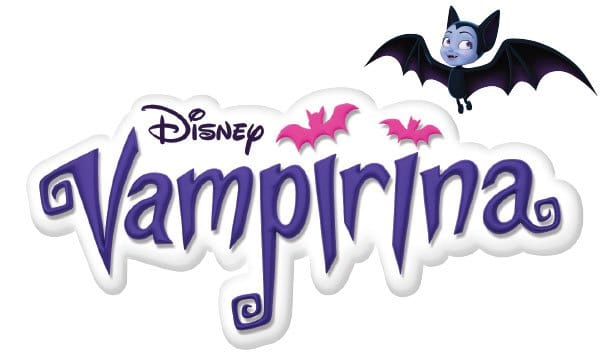 As usual at Disney, along with the series they will offer many digital content, such as Disney Junior YouTube channel videos, online games, printables to paint, or the opening song in karaoke format so that the little ones can sing it and record Your own version.
This place is scary ... I feel at home! - Vampirin
Data on Vampirine in IMDB
Release dates for Vampirina
The 1 of October premiered Vampirina at Disney Junior for USA and Latin America.
In Spain the first chapter began airing this past October 11 at 21: 00h also at Disney Junior, where a new chapter is broadcast every Wednesday at the same time 21: 00h.
As of today, November 26 has already aired 14 chapters of the first season in the USA, and 2 seasons are expected to be broadcast with 34 chapters of about 24 minutes each.
Disney Vampirina Image Gallery
Here we can see Vee with her two new friends Bridget and Poppy
Vee with his mother Oxana Hauntley and his father Boris Hauntley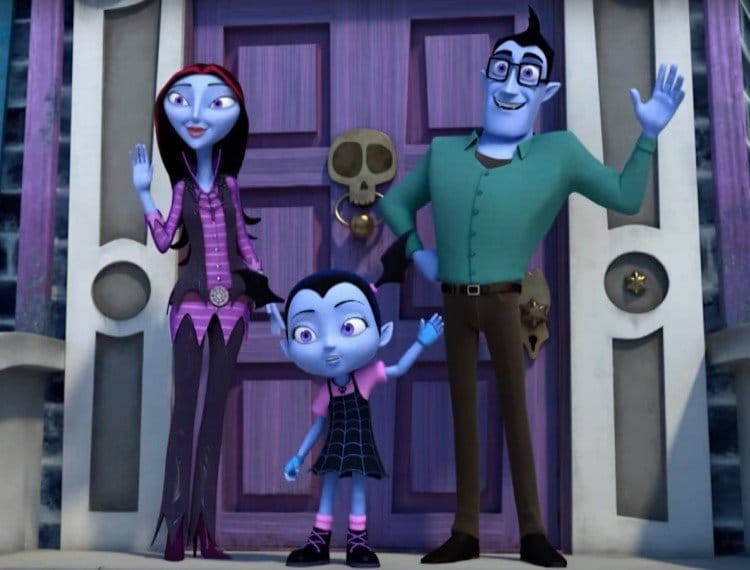 Presentation of Vampirina at Disney Junior Spain
A new family arrives at Disney Junior
The Vampirina song at Disney Junior LA
Enjoy the catchy song of Vampirina
Toys for Disney Vampirina birthday gift
Get the gift right with this selection of Disney Vampirina toys. Guaranteed success:
[amazon box="B075QLJTVV,B075G1R9JS,B07694XW3F,B071YMBZHP,1368006213″]
Disney Vampirina Clothing
Can you imagine your daughter or niece dressed as Vampirina ?:
[amazon box="B004UAC7IO,B075QLXYP2,B005PWW3FS″]
Download Vampirina Games FOR FREE in PDF
Coloring Vampirina. Download this PDF and print it. Your children can have a good time painting some characters. You can print them as many times as you want.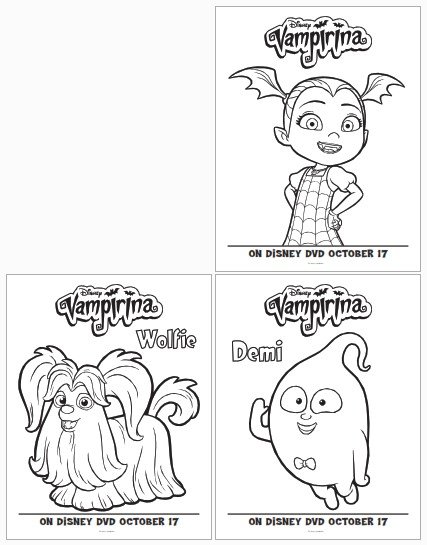 Find the differences of Vampirina. You can search them on the computer or better print and search with your children, they will have fun for a while.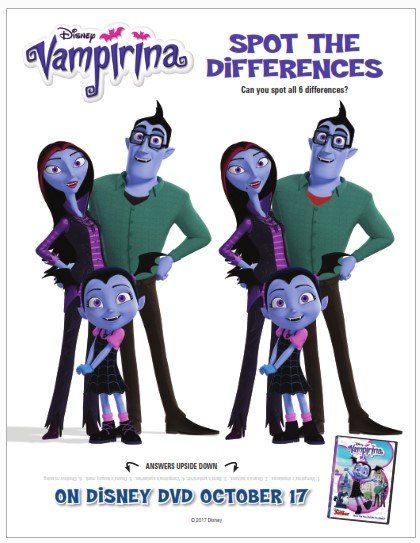 Vampirina's labyrinth it's for smarter kids, you'll have to try several times until you get it, do not give up and feel proud when you get it!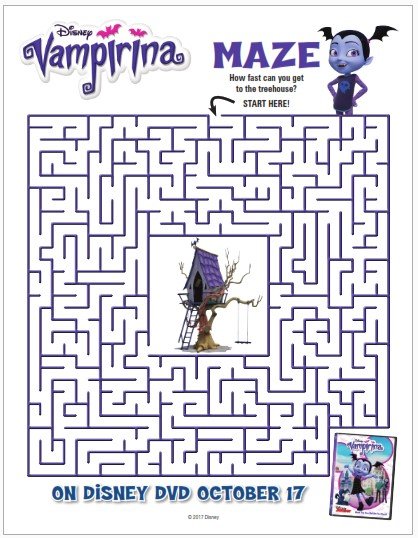 Opinion
Do not forget that they are drawings for children, you can not judge or value the series based on how Vee and his family members can become dust when receiving sunlight.
Surely it is the first thing that has crossed your mind, but Disney seeks a different approach. He wants to show values ​​such as that being different in appearance from the people around you does not mean that they can not be integrated as one. Everyone can become friends regardless of their origin or appearance.
The visual aspect, design and animation, is 100% disney, nothing new, but no less attractive. As always very colorful and striking.
Also very catchy music will make all the kids dance.
This is the typical series where age does not matter, 2 children, 13 pre-adolescents and 30 year olds can all see it.
Possibly one of the best Disney Junior series currently in broadcast.
[better-reviews]
Disney's Personalized PREMIUM Vampirina Birthday Invitation
The free invitation can be downloaded below, but it has a small drawback: you will have to fill in by hand with a ballpoint pen or marker the data as the day and place of the event. Also, it will not include any personalized data.
For this reason, we also offer you the service of PREMIUM CUSTOMIZATION in which the personalization is complete, since it will include additional data such as the name and age of the birthday boy, a photograph (if the invitation is available in said version) and the data of place, date and time of the birthday, all perfectly integrated and With a very professional finish.
The prices are very cheap, just € 7,95 for the text only version y 9,95 € if you want us to add the photo (for invitations that are available with photo).
Look how the Personalized Vampirina Birthday Invitations and imagine it with your child's data:
[su_button url = »https://www.piruchita.com/categoria-producto/decoracion-para-cumpleanos-de-personajes-imprimible/vampirina/» target = »blank» style = »flat» background = »# ef2d32 ″ color = »# ffffff» size = »5 ″ icon =» icon: shopping-cart »] See Premium Custom versions [/ su_button]
Decoration KIT for Vampirina birthday party
Now, and if you really want to leave everyone hallucinating at the party and be the person most loved by your son or daughter, you should set up the 100% themed birthday party on Vampirina.
In Piruchita.com you can find a printable online digital kit that we will customize specifically for you with the birthday information, showing your name and age and being fully integrated.
You only have to buy it for just 19,95 € and in only 1 or 2 working days we will send you the kit already personalized and ready to print. What are you waiting for?
[su_button url = »https://www.piruchita.com/producto/decoracion-fiesta-de-cumpleanos-vampirina-para-imprimir/» target = »blank» style = »flat» background = »# ef2d32 ″ color = »#Ffffff» size = »5 ″ icon =» icon: shopping-cart »] See Vampirina Personalized Premium Decoration Kit [/ su_button]
FREE Disney Vampirina birthday invitation in digital format
La Disney Vampirina Birthday Invitation is designed in high quality, 300 dpi, perfect for printing both at home with any type of printer, as well as in a printing or online printing service.
If you are going to print your Invitation, we recommend that you use paper a little thicker than the typical ones that we have at home, since with this paper it would be excessively thin. If you can, get some 220gr paper in brightness (also called glossy). EYE, it is not necessary to look for it to be specific to photography since they tend to be more expensive.
The default invitation size is 7 "x 5" inches (17,78cm x 12,7cm). Yes! It is huge, but this is so that when you print them to a smaller size, the quality is excellent. You can then reduce the size at the time of printing, eg. 6 "x 4" inches (15,24cm x 10,16 cm) or even less.
We recommend that you print 2 for each sheet of size A4, which is a large size but will be more striking than normal tiny. You can also reduce them more and put 4 per sheet, and save if you have many guests or have only got expensive photo paper, but keep in mind the size of the text as it will be, so before doing anything on good paper, it is always advisable to print on a normal sheet and see how it will look.
Download now for free Vampirina's birthday invitation from Disney in high quality ready to print:
Enjoy a great birthday party!
Your download is being prepared, wait for the meter to finish
Has it been useful to you?
Please, click on the hearts to rate us!
Average Rating 5 / 5. Total votes: 4