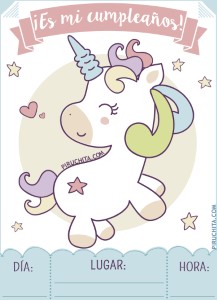 For many, many years we have heard or read about unicorns. They have been considered fantastic creatures very common in fairy tales, myths and legends. We could not resist designing a totally free Unicorn Birthday Invitation in high quality and ready to print.
It is a beautiful horse that proudly bears a horn on its forehead, which can only be seen by those pure of heart and touched only by a deity.
Decoration for Unicorns Birthday Party
The Unicorns are increasingly fashionable, although it has always been in the childhood of every child for generations.
Before making recommendations on decorations for unicorn parties, I want to advise you to also consider the option of Costumes of Unicorns, either to disguise your children so that someone appears disguised by surprise as if a huge unicorn has happened to visit them.
To organize a good birthday party for Unicorns, start with the Birthday Invitation of Unicorns, Pennants and Boxes to put personalized treats with stickers with fantasy elements.
If you are within your pocket, you can also design a party that draws everyone's attention so that no one will forget it. For it you will have to use all the resources that you of your imagination of thematic related to the unicorns. I give you some ideas: Plastic tablecloth of Unicorns, Glasses and Dishes, Balloons and all kinds of personalized decoration on paper.
Do not miss our custom premium decoration packs for Unicorns Birthday Party that we will personalize in digital format for you and you will be able to receive by working 24 / 48h. Print as many times as you want what you like the most and leave everyone hallucinated!
Ideas to decorate a birthday party for Unicorns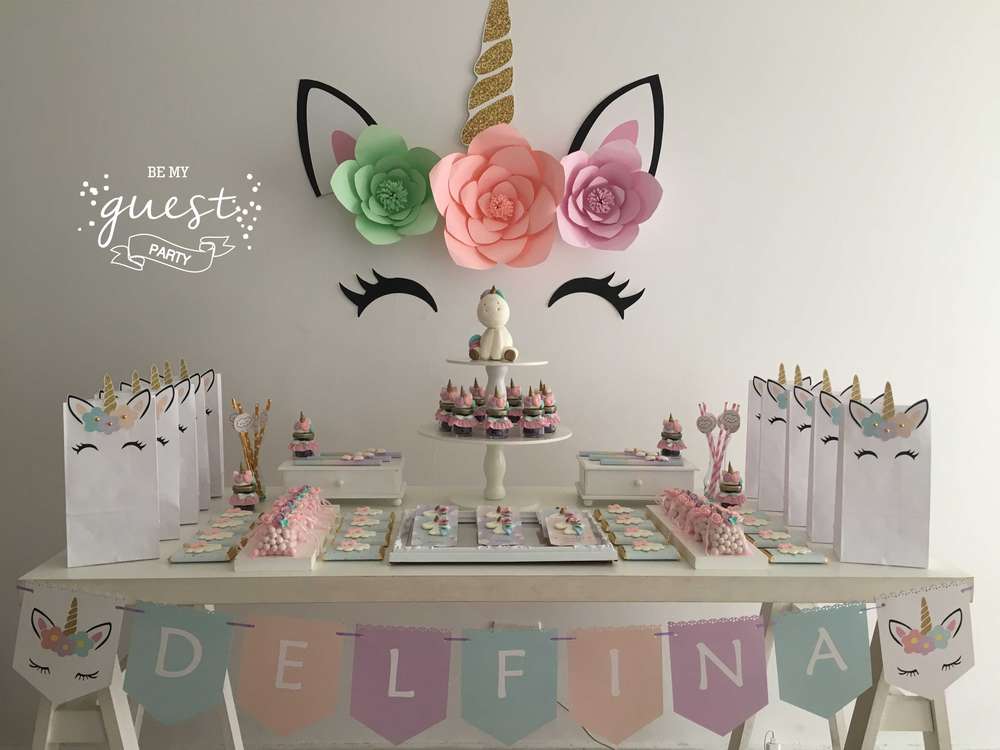 In Be My Guest Party they designed an elegant and simple composition as well as a very good selection of sweets for the party.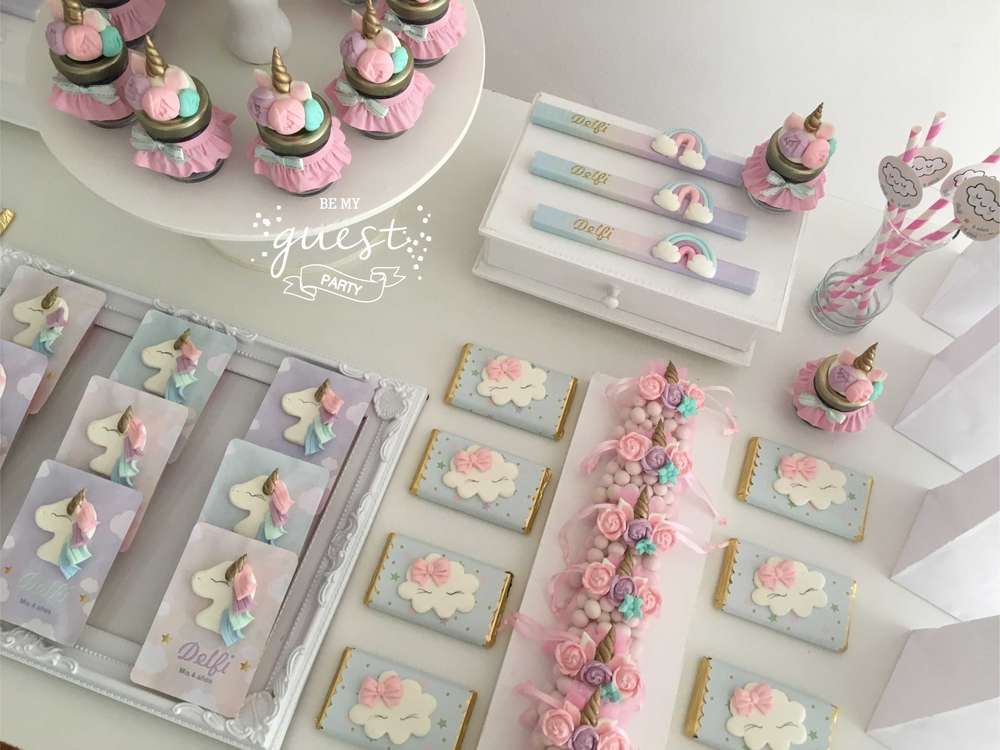 Even the smallest detail is very well thought out. All colors are very pastel and in perfect harmony.
Decorate your children's birthday party yourself with our Premium Custom KITS to print
Get a beautiful decoration for the birthday party on Unicorns. To the family, friends, parents of the friends of your child, but above all and mainly to your son, that for something that day will be the protagonist.
You know it, it deserves the best, and although sometimes it takes you out of your boxes, it has you in love with your love, hugs and kisses. This is only once a year, and he has earned it. Show him your love by giving him the best party of his life.
We only do a small part, and it is to give you the necessary tools. Then you are the person in charge of devising the order to decorate everything, print, cut and place everything in its place.
For this, you have Premium Decoration Kits for Unicorns birthday party that we can customize for you with the name of the birthday boy / girl.
You can get it here for only 19,95 € and in a working 48h term you will receive it in your e-mail. All ready for you to print what you want and as many times as you need, without limit of uses.
Items included in the Premium Kit:
Personalized wreath with name and age and two images of Unicorns / recommended to print on cardboard or glossy photo paper
3 Models of Placecards (without text) for the Candy Bar / recommended to print on cardboard or glossy photo paper
Poster "Welcome to my birthday" for 10 x 15 cm frame / recommended to print on cardboard or glossy photo paper
Custom A4 poster with name and age / recommended to print on cardboard or glossy photo paper
2 Label models for water bottles or glass bottles / recommended to print on plain paper of 80 grs. or glossy photo paper
Label for candy bags / recommended to print on cardboard or glossy photo paper
3 Models of labels for lollipops / recommended to print on cardboard or glossy photo paper
3 Models of little flags for straws / recommended to print on cardboard or adhesive paper
2 Model of Cards «Thank you for coming» / recommended to print on cardboard or glossy photo paper
Custom Toppers of 4 cm / recommended to print on cardboard or glossy photo paper
Small box for popcorn / recommended to print on cardboard or glossy photo paper
Unicorns, fantastic creatures ideal for invitation cards
There is no doubt that they are an extraordinary species whose stories began to be told from the fifth century. But today they have inspired the creation of invitation cards for children's parties, so that, although only in images, they continue to be fully valid. .
They are unique, beautiful, legendary and captivating. Its symbolism has made many mothers use the most beautiful figures of unicorns to decorate the events of their children.
Is that despite the fact that superheroes from the comics of the Marvel universe or funny characters from the latest generation animated series are very fashionable, unicorns never go out of style.
For this reason it is intended that these creatures adorn the most beautiful and elegant invitation cards.
Choose the one you like best from the designer's catalog designed to create the invitations, but also carry a proposal that could be adapted by the professional. At the end of the day, there are endless models that can be adjusted to the tastes and needs.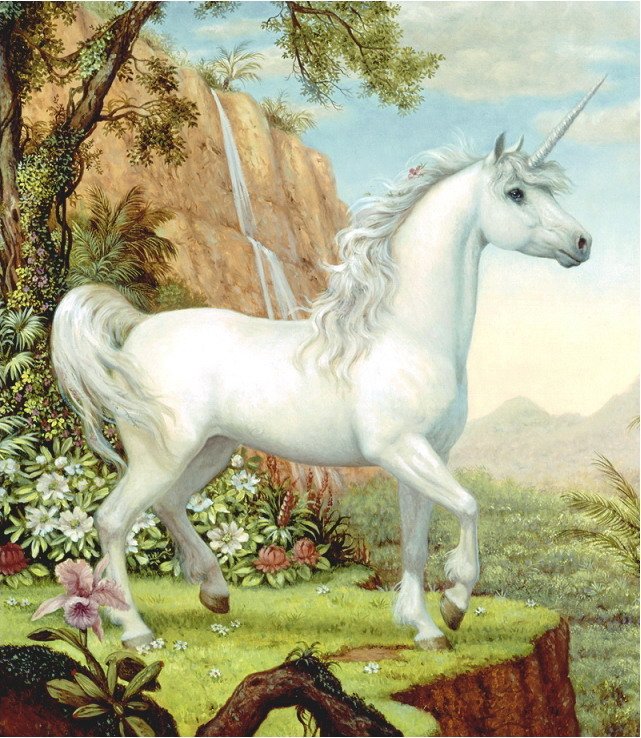 If you want to surprise your little one the day of his birthday and the more to the guests, propose beautiful designs of unicorns on the invitation cards. But also, decorate the entire space with attractive figures of this kind of horse used as a divine reference in epic stories.
Choose unicorn figures of immaculate white, but if you want to be a bit more creative and risky choose a black one. It does not matter the size of the card whenever you decorate with landscapes, waterfalls, bright lights or children playing around.
What does a unicorn symbolize
While it is true that we do not pay attention to what the unicorn symbolizes when choosing them for invitation cards, it is necessary to know why they have been so important for years by many civilizations.
Unicorns are solitary creatures. They prefer to live away from people, although they are very respectful of what surrounds them. In addition, they are beautiful and for that reason they also love beauty.
That is why on many occasions they preferred to set aside their freedom to go in search of a beautiful maid to be cared for forever. But there is also talk about its majesty and wisdom. They are also super smart, brave and protective.
The horn on his forehead is also loaded with symbolism. Experts say it represents both sexes. Yes, it refers to masculinity, but because of its spiral shape it refers to femininity.
According to other interpretations, the horn of a unicorn is related to water. Why? Simple, since precisely its spiral shape (as we have already mentioned) makes it look like a snail.
We all know that in the horn it concentrates its magic. And it is also what allows you to feel and experience situations of life itself.
In general, the horn of a unicorn is not a simple ornament or a weapon of defense against predators, but a delirious symbol that is an important part of their being.
Now that you know for sure what the unicorns have represented for years, with much more reason you will have to use your image to decorate the invitation cards of the children's parties.
My Little Pony - Hasbro Franchise
Who does not know the "Little Pony"? If you were born at the end of the 70 onwards, surely someone has passed through your hands at some time.
During the 80 the little unicorns created by Hasbro. These plastic toys were characterized by being colorful, having beautiful hair that girls spent hours combing and a mark on the side, now known as «Cutiemarks».
It is true, not all My little Pony are Unicorns, but there are several among them. You will have to watch his series of cartoons and movies to discover all his characters:
Twilight Sparkle: A winged unicorn who is the princess of friendship of Equestria, and leader of the ponies «Mane 6», represents the Element of Harmony of Magic with a star-shaped cutie mark.5
Applejack: A pigeon farrera of apples and represents the Element of the Harmony of Honesty with a cutie mark of 3 manzanas.5
Fluttershy: A pegasus that cares for and loves animals, and represents the Element of Harmony of Kindness with a cutie mark of 3 butterflies.5
Pinkie Pie: A pony lover of the holidays and represents the Element of the Harmony of Laughter with a cutie mark of 3 globos.5
Rainbow Dash: A flying pegasus and represents the Element of the Harmony of Loyalty, with a cutie mark in the form of a rainbow ray.5
Racy: A unicorn fashion designer, represents the Element of Harmony of Generosity with a cutie mark of 3 diamante.5
Spike: A baby dragon who is the friend and assistant of Twilight Sparkle.5
Songbird Serenade: A pegasus and pop star in Equestria.
Tempest Shadow (Tempest in Spanish America): A unicorn with broken horn and second in command of King Storm.
Cultivator: A hedgehog soldier in the army of King Storm.
King Storm (King Storm in Latin America): A despotic satyr that seeks to conquer Equestria.
Capper: A formerly aristocratic humanoid cat who now makes a living as a swindler. But when discovering the friendship decides to leave its activity like swindler and to be united to the Mane 6 And ​​to Spike in its adventure.
Captain Celaeno (Captain Caledano in Spanish America): A pirate captain humanoid parrot.
Reina Novo: The mother of Princess Skystar and ruler of the hippogriffs who became seaponies.
Princess Skystar: Marine princess and magically transformed hippogriff, who lives in the submarine kingdom of Seaquestria.
Source: https://es.wikipedia.org/wiki/My_Little_Pony:_La_pel%C3%ADcula
My Little Pony Birthday Gifts - Unicorns
Not all My Little Pony are Unicorns, but they sure love as a gift. But if you are looking for a unicorn, I advise the Princess celestia
Trailer of the My Little Pony: The movie (2017) | Official trailer in Latin Spanish

Enjoy the official My Little Pony trailer in LATAM
IMDB rating of My Little Pony: The movie [2017]
IMDB is Internet Movie Data Base. The largest online database of movies, series, drawings, anime, etc.
It includes two types of assessments, that of the specialized critic and that of the visitors. This can make you a very good idea of ​​the reception that this film has had worldwide, as well as read the opinions of many participants, but OJO, it is common for some spoilers to escape.
Do you want us to personalize the Unicorn Birthday Invitation?
There is no doubt the attraction and joy that the Unicorns produce. That's why the birthday celebration based on this beautiful theme will surely be one of the parties you will never forget.
Here you will find the Unicorns birthday cards totally free. You just have to add the information of the celebration and pass it to all the guests, even by WhatsApp or other social networks. And if you are looking for something more personalized, choose the Premium option, because with it you can add the photos you want and give it that unique touch you are looking for.
Download now the Unicorn CUTE Invitation in high quality ready to print
La Adorable Unicorn Birthday Invitation is designed in high quality, 300 dpi, perfect for printing both at home with any type of printer, as well as in a printing or online printing service.
If you are going to print the Invitation, we recommend that you use paper a little thicker than the typical ones that we have at home, since with this paper it would be excessively thin. If you can, get some 220gr paper in brightness (also called glossy). EYE, it is not necessary to look for it to be specific to photography since they tend to be more expensive.
The default invitation size is 7 "x 5" inches (17,78cm x 12,7cm). Yes! It is huge, but this is so that when you print them to a smaller size, the quality is excellent. You can then reduce the size at the time of printing, eg. 6 "x 4" inches (15,24cm x 10,16 cm) or even less.
We recommend that you print 2 for each sheet of size A4, which is a large size but will be more striking than normal tiny. You can also reduce them more and put 4 per sheet, and save if you have many guests or have only got expensive photo paper, but keep in mind the size of the text as it will be, so before doing anything on good paper, it is always advisable to print on a normal sheet and see how it will look.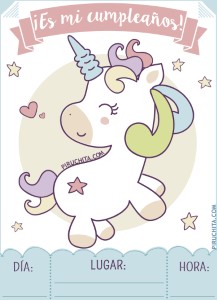 I'm preparing your file ...
The file will be visible in a few moments, wait, please.
Has it been useful to you?
Please, click on the hearts to rate us!
Average Rating 4.8 / 5. Total votes: 5