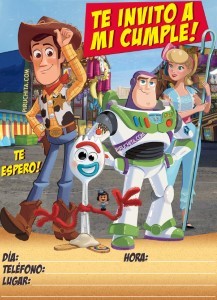 Do I need to present Toy Story? They have been at 1995 among us and they have just premiered in theaters in the United States, Spain and LATAM. Of course, here is our Toy Story 4 Birthday Invitation for FREE, with Woody Buzz, Betty and Forky. What are you waiting to download?
Decoration for Toy Story Birthday Party 4
Iron Man, Hulk, Thor, Wolverine ... are just some of the classic supeheroes that all children and adults know, even those who are not fans of superheroes. It will be easy to design an amazing party and that everyone recognizes any character.
You can also think about making use of a Super Heroes costume for children and adults to liven up the party.
To organize a great birthday party for Marvel Superheroes, start with the Birthday Invitation that we give you, Banderines and Boxes to put personalized candy with stickers with elements or characters from the drawings.
Now, if you can afford it, organize what can be a great memory for your child, and use everything you can related to the theme. I give you some ideas: Superhero plastic tablecloth, cups and plates, children's balloons and all kinds of personalized decoration on paper.
Do not miss our custom premium decoration packs for Marvel Superhero Birthday Party that we will personalize in digital format for you and you will be able to receive by working 24 / 48h. Print as many times as you want what you like the most and leave everyone hallucinated!
Ideas to decorate a Toy Story birthday party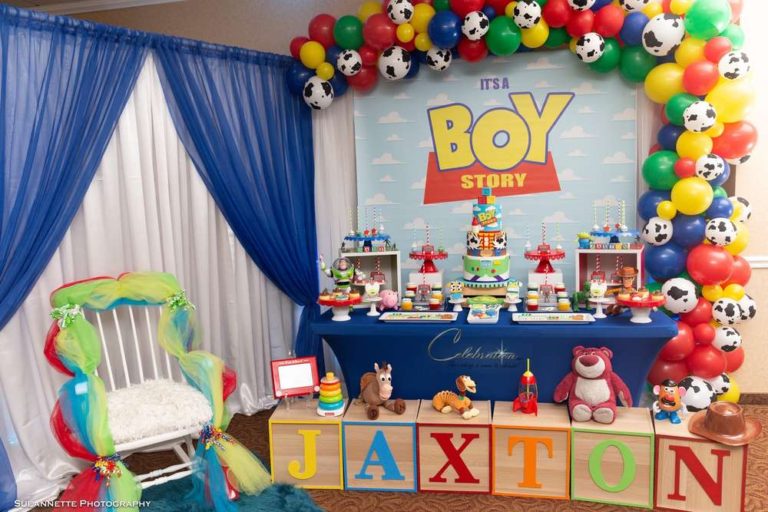 It could be better? The dedication in designing and creating this event is incredible.
The background with the font of the big movie lyrics already makes the theme clear, but then notice that there are all the main characters around the beautiful Candy Bar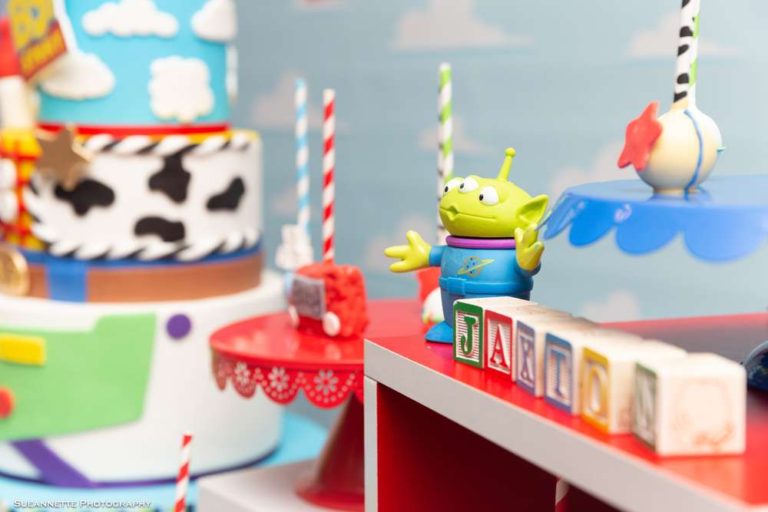 There is no lack of details in this sweet table with all kinds of decoration.
Everything is very personalized, even the letter dice and all kinds of characters. There are even the aliens! 🙂
Our congratulations to https://celebration-inc.com/
At the moment of creating this publication, we are in the 2019, taking advantage of the premiere in cinemas of the 4ª movie of Toy Story.
That means that nothing more and nothing less than 24 has happened since we saw the first movie of Toy Story, a real milestone in the cinema.
Pixar had already amazed us with some shorts, but it was with his agreement with Disney that they agreed to create Toy Story, along with other 2 movies. Later they also created "A bug's life", "Monster Inc." and "Looking for nemo" do you know them all? If you missed the first one, you are always in time to see it 😉
The origin leaves a bit of the short Tin Toy, created in 1988, are not you curious to see what technology was capable of at that time?
Look it here: https://youtu.be/lLnrn9Nw1iM
It took a great effort for a total of 110 people involved and was doubled by famous actors like Tom Hanks and Tim Allen.
We had to wait until 1999 to watch Toy Story 2, but the wait was much longer for Toy Story 3 in the 2010 and 9 years more we had to wait until the 4 movie.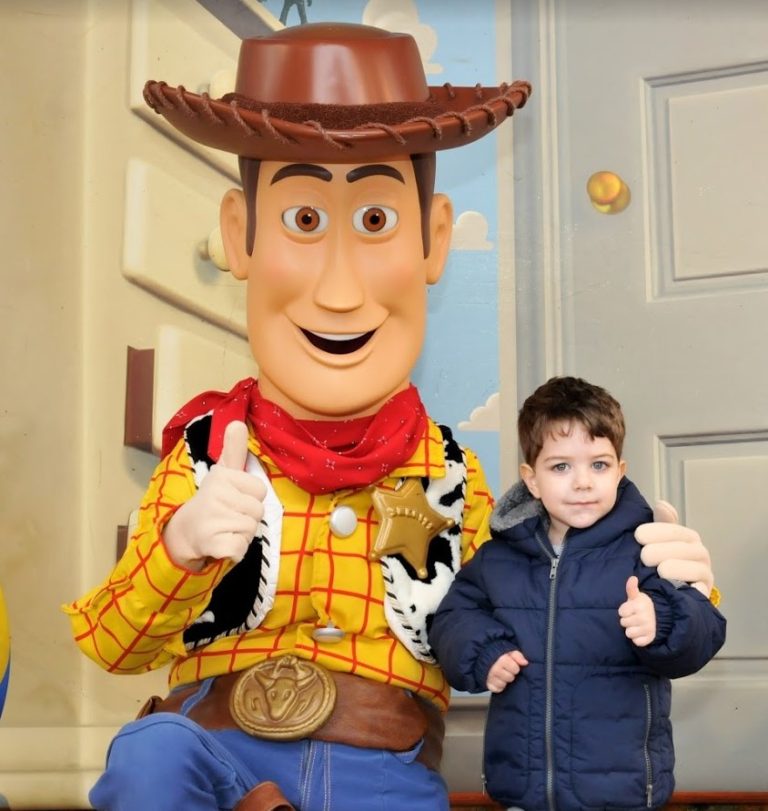 Argument of the movie Toy Story 4
It is a film that is just going to appear in the cinema, so it is not a plan to advance events.
What if you can comment, is what you can see in the trailer below.
Bonnie is the girl who receives the inheritance of Andy, staying a box with the toys protagonists of the previous films since Andy goes to the University, you can not take the toys with him and he knows that the toys need someone to play with they.
Bonny makes a craft with a plastic fork that ends up transforming into a toy, the most precious one for her and all the other toys will try to protect it.
Meanwhile it seems that Woody can reencounter with his beloved Betty (Bo Beep) that had been lost in the previous movie.
Characters and Benders of Toy Story 4 in USA, LATAM and Spain
We will highlight only some of them, but really all have their important role in the film:
Toy Story 4 Trailer in Spanish HD
Watch and enjoy the fourth Toy Story 4 trailer in Spanish:
Rating on IMDB of Toy Stroy 4 [2019]
IMDB is Internet Movie Data Base. The largest online database of movies, series, drawings, anime, etc.
It includes two types of assessments, that of the specialized critic and that of the visitors. This can make you a very good idea of ​​the reception that this film has had worldwide, as well as read the opinions of many participants, but OJO, it is common for some spoilers to escape.
Do you want us to customize the Toy Story 4 Birthday Invitation?
A little further down you will find the fantastic Toy Story 4 Birthday Invitation. And you know what? You don't have to pay anything at all, just put your email and it will instantly reach your email. Of course, then you will have to write by hand some information such as the day, time and place where the birthday will be celebrated.
Although this invitation is enough, one day is a day, and we believe that because of the little that it costs Marvel Superhero Personalized Birthday Invitation Premium, you would have to at least see it so that you can appreciate the enormous difference in quality and how you will look good delivering a premium invitation card instead of a handwritten one. It is almost a gift, because for just 7,95 € (9,95 € if you want the photo version) we will personalize it with the data you provide and you can print it as many times as you want.
Free download now the Toy Story 4 Birthday Invitation in high quality ready to print
La Toy Story 4 Birthday Invitation is designed in high quality, 300 dpi, perfect for printing both at home with any type of printer, as well as in a printing or online printing service.
If you are going to print the Invitation, we recommend that you use paper a little thicker than the typical ones that we have at home, since with this paper it would be excessively thin. If you can, get some 220gr paper in brightness (also called glossy). EYE, it is not necessary to look for it to be specific to photography since they tend to be more expensive.
The default invitation size is 7 "x 5" inches (17,78cm x 12,7cm). Yes! It is huge, but this is so that when you print them to a smaller size, the quality is excellent. You can then reduce the size at the time of printing, eg. 6 "x 4" inches (15,24cm x 10,16 cm) or even less.
We recommend that you print 2 for each sheet of size A4, which is a large size but will be more striking than normal tiny. You can also reduce them more and put 4 per sheet, and save if you have many guests or have only got expensive photo paper, but keep in mind the size of the text as it will be, so before doing anything on good paper, it is always advisable to print on a normal sheet and see how it will look.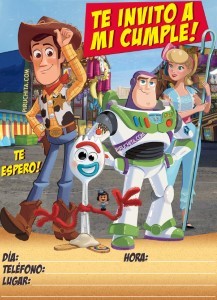 I'm preparing your file ...
Surely it will be a great birthday!
The file will be visible in a few moments, wait, please.
Has it been useful to you?
Please, click on the hearts to rate us!
Average Rating 5 / 5. Total votes: 4