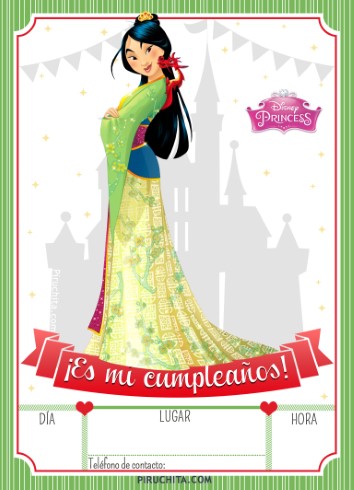 Mulán is nothing like Disney's heroines. At all. In fact, the unconventional character of this character that we could enjoy at the Mulán (1998) and Mulán II (2004) ticket offices was what most caught the attention of the billions of moviegoers who made this one of the best animated films of all the times.
Now, in 2020, we await the screening in theaters of Spain, Latin America and the United States of the new remake, in «Live-Action». Download now the Mulán's Birthday Invitation, will be the next favorite princess of many.
Argument of the film Mulán
Set in China, Mulán, a young woman of marriageable age, has been considered a disgrace to her family and to the culture of the Asian country as well. It is that at the time it was not well seen that the damsels had a free and adventurous spirit like that of our heroine.
They also knew her as brave, intelligent, frank, honest, determined and self-sufficient, so common characteristics of today's girls and so despised at the time.
Mulán was clumsy. So much so that the day of his interview with the matchmaker he made such a disaster that the woman assured him that he could never honor his family, except get a good husband.
After the words of the old woman, who were like a dagger nailed directly to her heart, she returns home with her elderly father, where they receive the unpleasant news that the country was being invaded by the Huns' army.
To defend the Chinese empire from foreigners, each family had to have a warrior and fight to the death. But Fa Zhou, Mulán's father, a war veteran entered years, is chosen to fight, which awakens the desperation of the girl.
So he decides to take action and undertake what will be a great adventure to save his nation and his people.
You must impersonate a man
How many would do anything to defend the sacred honor of the family and the life of their beloved father? Then Mulán made one of the toughest and bravest decisions of his life. He had to impersonate a boy to fight in the war against the enemy, commanded by Shan Yu.
He did it to take his father's place. He changed his name and became known as Ping. It was always very well accompanied. His best friends, Mushu, a little dragon sent by his ancestors; and his good luck cricket was at his side at all times.
Then, he had the loyalty of three honest and funny warriors: Chien Po, Yao and Ling.
Mulán has to pass many tests in the middle of a training in which he proved what it was made of. And in the midst of fighting against the Huns he is wounded, discovered and thrown out of the army, which caused him a new disappointment.
Believing in a dead end, Mulán discovers that the Huns will ambush the Chinese in the Forbidden City. And despite wanting to warn the army of danger, nobody takes him into account.
And in a master move of the invaders the emperor is kidnapped. Mulán and his friends, all dressed as women, infiltrate the castle in the middle of a rescue operation. The audacity generates a confrontation in which Shan Yu ends up dead and Mulán and his vindicated friends.
An exceptional second part
The second part of the movie is equally delusional. Yes, in this new installment Mulán demonstrates his adventurous spirit and brave heart, similar to that of many girls of the time.
This is an unconventional story, one of those that Disney has used to us. But that was precisely what we loved most about this great character who came to the screens to captivate the audience.

There is no doubt that Mulán has been one of the best rated animated films and his central character one of the most loved by the public.
Official Mulán 2020 trailer in Spanish HD
"Loyal. Brave. Authentic ». Discover the new # Mulán trailer.
In theaters in the United States, Spain and LATAM: March 27, 2020
In this real action movie, a fearless young woman risks everything for love of her family and her country and becomes one of the most famous warriors in the history of China.
The Emperor of China issues a decree to recruit a male for each family who must serve in the Imperial Army to defend the country from the invaders of the North. Hua Mulán, the only daughter of a decorated warrior, shows up to prevent his elderly father from being called up. He pretends to be a man, Hua Jun and undergoes all kinds of tests. To achieve this, he must appeal to his inner strength and bring to light his full potential. It is an epic adventure that will transform her into a laureate warrior that will make her deserve the respect of an entire country and a source of pride for her father. "Mulán" has a famous international cast that includes Yifei Liu as Mulán; Donnie Yen as Commander Tung; Jason Scott Lee as Böri Khan; Yoson An as Cheng Honghui; with Gong Li as Xianniang and Jet Li as the Emperor. The film is directed by Niki Caro from a screenplay by Rick Jaffa & Amanda Silver and Elizabeth Martin & Lauren Hynek based on the narrative poem "La ballad de Mulán".
Valuation in IMDB of Mulán [1998 - 2020]
IMDB is Internet Movie Data Base. The largest online database of movies, series, drawings, anime, etc.
It includes two types of assessments, that of the specialized critic and that of the visitors. This can make you a very good idea of ​​the reception that this film has had worldwide, as well as read the opinions of many participants, but OJO, it is common for some spoilers to escape.
Did you know that this Disney movie is based on a Chinese legend?
It is not a novelty. Virtually all Disney princesses have origins in ancient stories, stories or legends.
Mulán is no exception, it is based on the Chinese legend of Hua Mulan.
In the original story, they never came to discover that she was a woman, and was even rewarded by the emperor for her bravery, cunning and strength.
Do you want us to personalize Mulán's Birthday Invitation?
A little further down you will find the fantastic Mulán birthday invitation And you know what? You do not have to pay anything at all, just put your e-mail and it will arrive instantly to your email. Of course, then you will have to write by hand some information such as the day, time and place where the birthday will be celebrated.
Although this invitation is enough, one day is a day, and we believe that because of the little that it costs Mulán's birthday invitation Customizable Premium, you would have to at least see it so that you can appreciate the enormous difference in quality and how you will look good delivering a premium invitation card instead of a handwritten one. It is almost a gift, because for just 7,95 € (9,95 € if you want the photo version) we will personalize it with the data you provide and you can print it as many times as you want.
Download now free Mulán Birthday Invitation in high quality ready to print
La Mulán's birthday invitation is designed in high quality, 300 dpi, perfect for printing both at home with any type of printer, as well as in a printing or online printing service.
If you are going to print the Invitation, we recommend that you use paper a little thicker than the typical ones that we have at home, since with this paper it would be excessively thin. If you can, get some 220gr paper in brightness (also called glossy). EYE, it is not necessary to look for it to be specific to photography since they tend to be more expensive.
The default invitation size is 7 "x 5" inches (17,78cm x 12,7cm). Yes! It is huge, but this is so that when you print them to a smaller size, the quality is excellent. You can then reduce the size at the time of printing, eg. 6 "x 4" inches (15,24cm x 10,16 cm) or even less.
We recommend that you print 2 for each sheet of size A4, which is a large size but will be more striking than normal tiny. You can also reduce them more and put 4 per sheet, and save if you have many guests or have only got expensive photo paper, but keep in mind the size of the text as it will be, so before doing anything on good paper, it is always advisable to print on a normal sheet and see how it will look.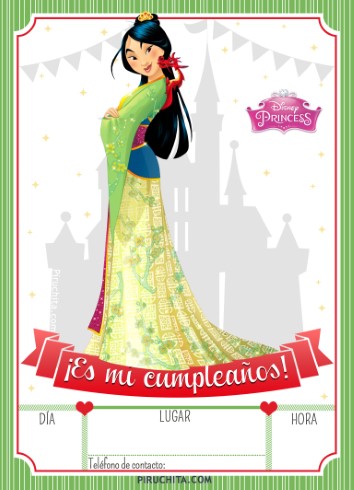 I'm preparing your file ...
Surely it will be a great birthday!
The file will be visible in a few moments, wait, please.
Has it been useful to you?
Please, click on the hearts to rate us!
Average Rating 5 / 5. Total votes: 1