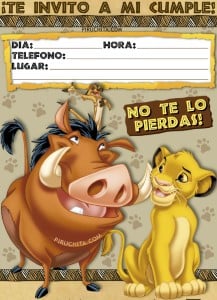 The Lion King, or The Lion King, is a film probably seen by the youngest of the house, who have even come to see it again and again, which is why the celebration of his next birthday about this extraordinary animated film will be one of the best news they will receive. And as in any celebration, you can not miss birthday invitation cards The Lion King (simba). Here you will find them, and best of all, it will be free.
The film occupies the number 32 place to be produced by nothing more and nothing less than Disney, specifically premiering the 24 June 1994.
Decoration for The Lion King's Birthday Party - Simba
Simba is a character much loved by both adults and children, since it is a classic film.
You can also think about making use of a Costume of The Lion King for children and adults to liven up the party.
To organize a good birthday party for The Lion King begins with Simba's Birthday Invitation, Pennants and Boxes to put personalized treats with stickers with elements or characters from the movie.
Now, if you can afford it, organize what can be a great memory for your child, and use everything you can related to the theme. I give you some ideas: Simba plastic tablecloth, Glasses and Dishes of the king lion, Balloons and all kinds of personalized decoration on paper.
Do not miss our personalized premium decoration packs for The Lion King Simba Birthday Party that we will personalize in digital format for you and you will be able to receive by working 24 / 48h. Print as many times as you want what you like the most and leave everyone hallucinated!
Ideas to decorate a birthday party for The Lion King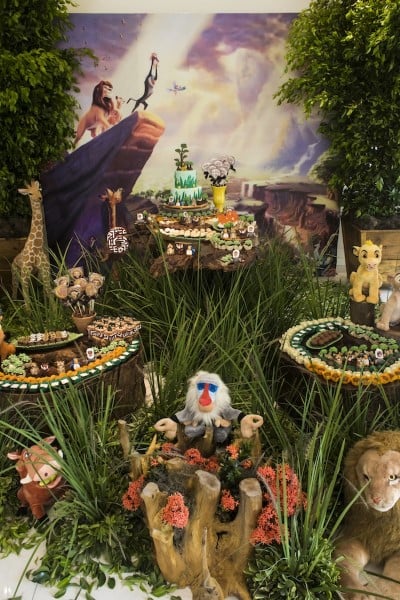 In this decoration for a children's birthday party of The Lion King it is highly decorated, but perhaps it contains too much «green», referring to the plants, since the film is set in much more arid places.
For the rest it is very complete and colorful in the absence of some stationery.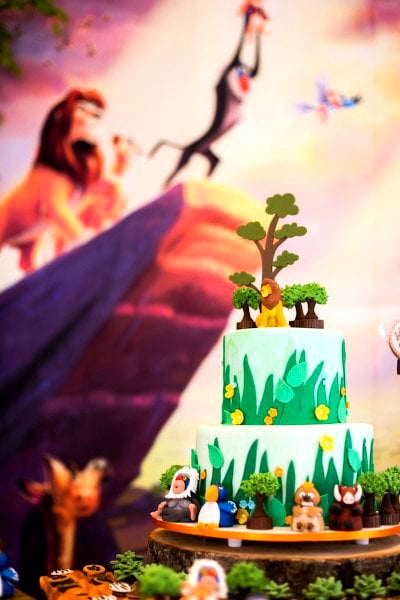 The Lion King's birthday cake is simple and beautiful. It is simply composed of two floors and is a light green tone in such a way that it gives more prominence to the characters around it.
It is crowned with small trees and a figure of The Lion King.
Source: https://karaspartyideas.com/category/kids-parties/disney-themed-parties/lion-king-party-ideas
Decorate your children's birthday party yourself with our Premium Custom KITS to print
Get a beautiful decoration for the birthday party about The Lion King. To the family, friends, parents of the friends of your child, but above all and mainly to your son, that for something that day will be the protagonist.
You know it, it deserves the best, and although sometimes it takes you out of your boxes, it has you in love with your love, hugs and kisses. This is only once a year, and he has earned it. Show him your love by giving him the best party of his life.
We only do a small part, and it is to give you the necessary tools. Then you are the person in charge of devising the order to decorate everything, print, cut and place everything in its place.
For this, you have Premium Decoration Kits for Simba's birthday party that we can customize for you with the name of the birthday boy / girl.
You can get it here for only 19,95 € and in a working 48h term you will receive it in your e-mail. All ready for you to print what you want and as many times as you need, without limit of uses.
The film is based on one of the famous works of the prestigious writer from the United Kingdom, William Shakespeare, Hamlet.
As the title of the film indicates, it revolves around a young lion named Simba that lives in the African savannah, which manages to learn its place in the "Cycle of life".
Because he is a young lion, he is in need of moving to another place since he was unjustly attributed the death of his father. In his expulsion, he makes good friends and returns determined and with a well-defined purpose: to recover the throne that corresponds to him by inheritance. However, the road will not be easy for him, as he has to overcome several obstacles until he becomes the legitimate king.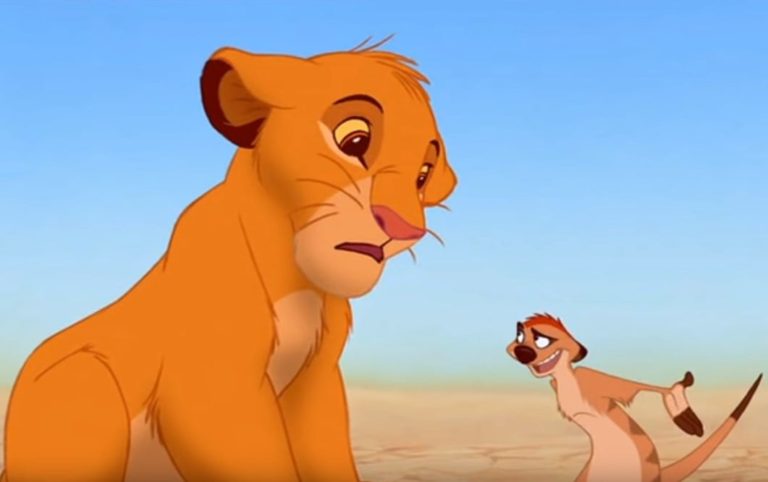 The Lion King It is a movie full of main and secondary characters, being the children's favorites the following:
Simba: son of the king and queen Sarabi and Mufasa respectively.
Mufasa: Simba's father and king of the Pride Lands.
Sarabi: wife of Mufasa, mother of Simba and at the same time leader of the hunting herd.
Scar: brother of Mufasa, and therefore uncle of Simba. Scar is characterized by his great desire to become king.
Nala: at first she is Simba's best friend. But later he becomes his wife.
Timón: Meerkat friend of Simba.
Sarafina: is the mother of Nala.
Pumbaa: he's a warthog. However, the tape is treated like a boar. It is defined as being very particular for his flatulence condition. He is also Timon's best friend.
Rafiki: is an old mandrill, known for his great wisdom. Although he is a baboon, in the movie he is referred to as a baboon. Rafiki cooperates as a shaman of the Pride Lands. He also presents Simba, when he was little, formally before the animals of the kingdom.
Zazú: he is a toco who works as a real steward.
Shenzi: female hyena with grumpy and arrogant personality.
Banzai: violent and impulsive male hyena.
Ed: male hyena and clumsy, never speaks, just laughs.
The Lion King not only has he captivated the little ones of the house for their excellent animations, history, values ​​such as loyalty, friendship, family, life, dedication and effort, the struggle to achieve goals, but also for their excellent musical themes :
"The lion king is already sleeping". Performers: Raúl Carballeda (Timón) and Francisco Colmenero (Pumba).
"The endless cycle". Performers: Tata Vega and Lebo M.
"I would like to be the king". Performers: Eduardo Tejedo (Zazú), Maggie Vera (Nala) and Kalimba Marichal (Simba).
"Hakuna Matata". Performers: Raúl Carballeda (Timón), Renato López (Simba adult), Kalimba Marichal (Simba junior) and Francisco Colmenero (Pumba).
"Today's report". Performers: Alan Piz Morán (Simba), Héctor Lama Yazbek (Mufasa) and Eduardo Tejedo (Zazú).
"Tonight is to love". Performers: Marianne (Nala), Raúl Carballeda (Timón), Claudia Pizá (VF), Renato López (Simba) and Francisco Colmenero (Pumba).
"Hula Hula". Performers: Raúl Carballeda (Timón) and Francisco Colmenero (Pumba).
"Ready!" Performers: Rosanelda Aguire (Shenzi), Jesús Barrero (Banzai) and Carlos Petrel (Scar).
The Lion King - The Musical at the Lope de Vega Theater, Madrid
If you live or are passing through Madrid, you should not miss one of the functions that are active for more years. The Lion King - The Musical, at the Lope de Vega theater.
Taking into account that we tend to be very critical, getting an 4.6 on 5 in the opinions of google is a very high valuation, and that is that they have already passed 4.000.000 of people to see it only in Madrid, and more than 90.000.000 in the whole world !! I still have it pending, and as soon as I can, I escape to see the function.
Of course, keep in mind its duration, they are close to 2h and 45 minutes, so you can get an idea of ​​everything that may come to expect.
More info here: https://www.elreyleon.es/el-musical/
Interesting facts about the movie
The name of the film was not at the beginning for which today it is known, because at the beginning it was planned to call The King of the Jungle.
As it happened in one of the first films of Bambi, animators analyzed real animals as reference, even several of the directors of the film traveled to Africa, specifically to Kenya, in order to see the natural habitat that would develop in The Lion King.
Thanks to the important use of computers on the tape, the creators were able to present their vision in an innovative way. The clearer use of computer animation is perceived in the sequence of the "wildebeest stampede".
Various characters of wildebeest were created through a software program in 3D format and multiplied in hundreds, which were treated to give the impression that they were drawn with random trajectories at the time of descending the hillside to simulate the unimaginable and real movement of a herd.
The film was awarded two Oscars in the category of Best Original Music for the German composer Hans Zimmer and Best Original Song "Tonight is to love"(Can you feel the love tonigh), composition of Tim Rice with Elton John.
Trailer of the new movie The Lion King (2019) | Official trailer in Spanish | HD
Discover the first trailer of the new real action movie of 'The Lion King'. 19 of July in cinemas.
Rating in IMDB of The Lion King
IMDB is Internet Movie Data Base. The largest online database of movies, series, drawings, anime, etc.
It includes two types of assessments, that of the specialized critic and that of the visitors. This can make you a very good idea of ​​the reception that this film has had worldwide, as well as read the opinions of many participants, but OJO, it is common for some spoilers to escape.
Do you want us to personalize the Lion King's Birthday Invitation?
Undoubtedly, the attraction and joy it produces The Lion King In the kids. That's why the birthday celebration based on this beautiful film, which leaves great teachings, will surely be one of the parties you will never forget.
There is music at every birthday party. So as the theme is about The Lion King, the songs of the film would not be bad in full celebration. And of course, the birthday cards The Lion King they can not miss either. Here you will find them totally free. You just have to add the information of the celebration and pass it to all the guests, even by WhatsApp or other social networks. And if you are looking for something more personalized, choose the Premium option, because with it you can add the photos you want and give it that unique touch you are looking for.
Download now the King of León Invitation in high quality ready to print
La Lion King birthday invitation is designed in high quality, 300 dpi, perfect for printing both at home with any type of printer, as well as in a printing or online printing service.
If you are going to print the Invitation, we recommend that you use paper a little thicker than the typical ones that we have at home, since with this paper it would be excessively thin. If you can, get some 220gr paper in brightness (also called glossy). EYE, it is not necessary to look for it to be specific to photography since they tend to be more expensive.
The default invitation size is 7 "x 5" inches (17,78cm x 12,7cm). Yes! It is huge, but this is so that when you print them to a smaller size, the quality is excellent. You can then reduce the size at the time of printing, eg. 6 "x 4" inches (15,24cm x 10,16 cm) or even less.
We recommend that you print 2 for each sheet of size A4, which is a large size but will be more striking than normal tiny. You can also reduce them more and put 4 per sheet, and save if you have many guests or have only got expensive photo paper, but keep in mind the size of the text as it will be, so before doing anything on good paper, it is always advisable to print on a normal sheet and see how it will look.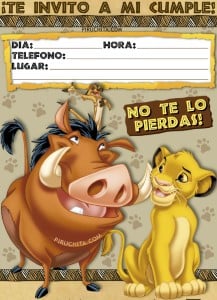 I'm preparing your file ...
The file will be visible in a few moments, wait, please.
Has it been useful to you?
Please, click on the hearts to rate us!
Average Rating 5 / 5. Total votes: 2