🎅🏻 Letter to Santa Claus FREE to print
Download now the letter with a nice Santa Claus and his famous reindeer ready to print and give it to your children as soon as possible :-)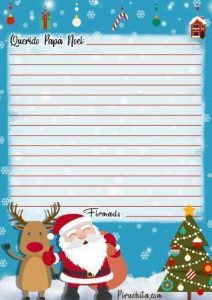 Bueeeenoooo, we have been careless and Christmas is just around the corner, time flies and the little ones of the house are already asking us to write the letter to our fat friend to make sure they receive the gifts as soon as possible. So from Piruchita we want to give you the Letter for Santa Claus for free ready to print. And not just one, we give you several models so you can print the one you like the most.
Although in Spain historically the wise men have predominated, more and more children choose to write to Santa Claus, and that is that they are not stupid, they want to receive the gifts as soon as possible and thus be able to enjoy them during the short Christmas holidays before returning to school.
There are families who still refuse to break the tradition and allow the man in the red suit to descend through his fireplace, so we also have Letters for the Magi free here.
In Spain and other countries we know him as Santa Claus, but it is not his only name, depending on where you are you will know him as Santa Claus, San Nicolás or Viejito pascuero, and in some countries it has been translated as Father Christmas, Père Noël, Babbo Natale.
The supermarkets, hypermarkets and shopping centers will be in charge of reminding you that Santa Claus will go through all the houses the night of the 24 to the 25 of December.
Do you know the story of Santa Claus or rather Nicolás de Bari? Being a character so involved in our lives, I recommend you read this summary:
Nicolás de Bari was a young man from a wealthy family, whose father intended him to follow in his footsteps as a commercial in the Adriatic Sea while his mother preferred that he be ordained as a priest. To his dismay the plague allowed him to be the one to choose his path since he took his parents while they were trying to help many other citizens who had such a serious illness.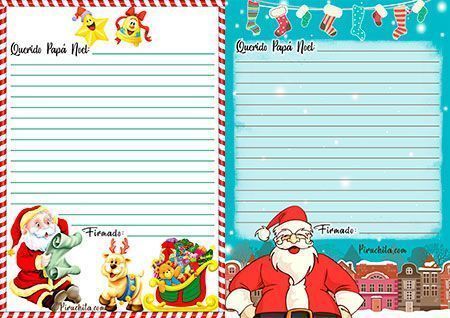 Nicolás wanted to follow the example of his parents and shared his wealth among the needy. After that he went to Mira to become a priest and with only 19 years he had already achieved it.
But it was not his goodness handing out his riches who sanctified him in Greece, Turkey, Russia and Lorraine, but for his innumerable stories full of miracles, especially towards children. One of the best known tells that they had stabbed several children and Nicolás prayed for them and they were cured immediately.
That is not the only story, and its legends vary according to countries and traditions. If you have been intrigued visit this wikipedia page with abundant detailed information.
I do not entertain you anymore. Remember that it is not just a Letter for Santa Claus for free , we put several at your disposal, ready to print as I had promised. Just share them on any of these social networks and download them right now:
Your download is being prepared, wait for the meter to finish