👑 Letter for the Three Kings FREE to print
Print this letter for the wise men online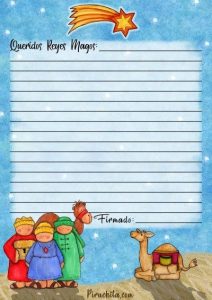 There is nothing left for the year to end, as soon as you neglect the children they will already be crazy to write the Letter for the Magi with his long list of gifts.
In Piruchita we wanted to share for free some different models of Letters for the Magi so you can choose the one you like the most. You have them at the end of this publication in High Quality and free. You only have to download it, print it and enjoy the illusion face of your child only by seeing the magic letter that gives you full powers to choose the gift for which you have been waiting for a whole year.
Eye! Remember to put some rules or you can get out of hand. In recent years even the youngest are born learned and start asking for money, expensive video game consoles, and many also want gifts not only for the Magi, but also for Santa Claus. It is advisable to choose who will be responsible for making the delivery of gifts, because of course, have a lot of work to do giving gifts to children around the world and can not afford to deliver twice gifts to the same child 😉
If you prefer to write to Papa Noél, there is no problem, we also offer you free several models of Letter for Santa Claus here.
See if it is important on the day of the Three Kings, that the January 6 is considered a holiday in Spain, Argentina, Mexico, Cuba, Puerto Rico, the Dominican Republic, Paraguay, Uruguay, Colombia and Venezuela. Of course, you have to give even a full day so that children can enjoy their gifts. In addition there is to enjoy the rich Roscón de Reyes, which is only available during these days of the year, and caretaker, do not touch the bean and have to pay for the roscón 😉
Straight to the point. Here are the different models of Letter for the Magi for free, all ready to print and give it to the kids. To download them just share them in any of these social networks to help us get to know and ready:
Your download is being prepared, wait for the meter to finish