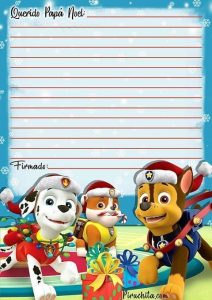 AHere is the latest design we made this year so that the kids are waiting to receive their complete list of gifts by writing the Paw Patrol Santa Claus Letter.
Download now the Canine Paw Patrol Card for free that we have prepared for you
It is online and you only have to share it on social networks and the buttons will be enabled to download it in high quality and you can print it in full color.
And if the little one is no longer a fan of the Paw Patrol as a few months ago, do not worry because we have designed many more letters, both from the classic Santa Claus of a lifetime as Mickey Mouse and Minni mouse. And if you prefer the wise men you also have some to choose from, all of them for free, just a click to download them online for free. you want to see them? make click here.
Do not miss the happy moment next to your son while you help fill in the Santa Paule Canine Patrol letter that he sure loves, because although the years pass, our beloved friend is still one of the most beloved characters for our little ones.
Recommended Paw Patrol toys
[amazon box="B00JLDGLB4,B00W62P65E,B075M1B5ZH,B01N97DMP9,B00PIT52SI,B01BQ8G6PW″]
Paw Patrol clothes to give away
[amazon box="B0757SBRW9,B01LXWR12W,B01K9UOTDO,B06XGYY53T,B014QZGHB0,B016ACALNM″]
Your download is being prepared, wait for the meter to finish
Has it been useful to you?
Please, click on the hearts to rate us!
Average Rating 3.7 / 5. Total votes: 3