🎅🏻 Free Santa Claus Mickey Mouse letter
Write to Mickey Mouse and Minie Mouse as official representatives of Papa Noél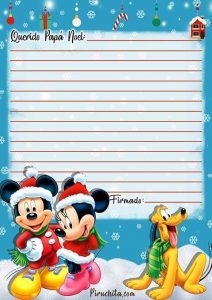 En these dates the letters should already be written and sent, but just in case it is not, do not wait any longer, and download now the Letter Santa from Mickey Mouse free that we have prepared for you It is online and you only have to share it on social networks and the buttons will be enabled to download it in high quality and you can print it in full color.
In case this model is not to your liking, do not worry, we have several more models, both the father of all life as the patrol dog, and if you prefer the wise men, we also have all of them free! You can find them by clicking here.
Do not miss the happy moment next to your son while you help fill out the letter santa mickey mouse that sure loves it, because although the years pass, our dear friend is still one of the most beloved characters for our little ones.
Toys, apparel and accessories by Mickey Mouse for gifts
Clementoni - Mickey's garage (170586)
Funny and electronic garage that includes Baby Mickey and Baby Minnie strollers
Sound and light effects
The car wash revolves
The semaphore lights up really
Toy
Clementoni
Disney - Pajamas for Children - Mickey Mouse - 4 - 5 Years
Fabulous Disney Mickey Mouse pajamas with chic two-tone sleeves.
With brightly colored graphics on the shirt of these cool striped pajamas.
Incredible Mickey Mouse pajama set with elasticated waist and tight ankles.
A perfect gift for the kids who love La Casa de Mickey Mouse!
Disney merchandise officially licensed, designed exclusively for Character ES.
Offer
Oral-B Stages Power Kids Mickey Mouse Electric Toothbrush
The rotating head reaches, surrounds and cleans in depth multiple surfaces
Includes a musical timer on the handle that motivates children to brush better and for longer
Extra-soft filaments that gently clean the teeth like a soft manual toothbrush
Removes more plate than a normal manual brush
Make brushing funnier with Disney's Mickey Mouse
Compatible with the Disney MagicTimer application to help children brush longer
9 of each 10 children brush for longer with the MagicTimer application
Download now the Letter to Father Noel from Mickey Mouse in high quality ready to print:
Your download is being prepared, wait for the meter to finish