Recommendation: Personalized t-shirts for birthdays
Custom shirts for birthdays Give them your own
On our son Gael's first birthday we wanted to do some things a little differently, and we came up with custom t-shirts for birthdays for the children who attended the party, both family and friends.
Since Gael was so tiny he still did not have favorite characters, and not to fall on the usual themes that at that moment could be the canine patrol or the super wings, we prefer to look for a more neutral theme, and we decided to use Robots for it.

Gael's father (Sergio) has always liked the whole subject of technology, science fiction and similar subjects, so I thought he would like it too, so after designing some examples I showed them and they loved it.
We use a different robot for each child, including the name of the child under the drawing, at first we thought of putting the name behind, but after seeing what was left in the designer that I will show you later, we thought that it was very soccer, and that we preferred Having everything together in front, after all are all small children, and also it would be cheaper to print only one side of the shirt.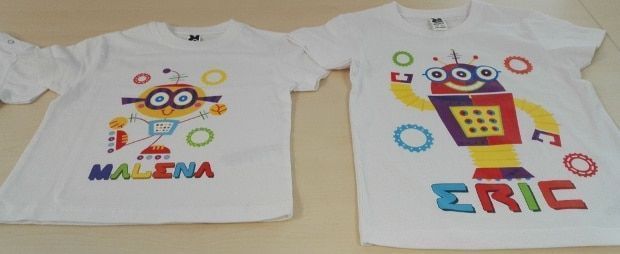 We were comparing several places to print T-shirts, and there are several sites where they do not want to print a T-shirt of each design, they asked us for at least 10 t-shirts by design and they also told us to print them in only 1 color because if the price did not go up ( they used silkscreen printing), and the designs were very colorful.
In other places the technique proposed to us was to print a special vinyl for textile and ironing, which was not bad in price, but besides being very ugly, it was a big problem, since in the middle of summer (24 of August) with the heat that makes, put a piece of huge plastic attached to the shirt of the child in front would not sweat the shirt, it would be almost like they had put a bag.
Finally we are left with the option to buy it online in the online store Rafasshop.es, that although at the beginning we would not know how it would come out we thought that after all it would do the same, since if you print it in a shop in the town, once printed and there is little to do.
Well in the end we were pleasantly surprised, for everything, the online designer of shirts It is very simple to use, you see quickly how much it will cost and offered something that other sites did not see "Direct printing" after contacting a contact form with them, they explained that it was to print directly on the shirt using a printer special with inks to the water, and that as above we wanted it on white shirts, that the touch would be very good and breathable.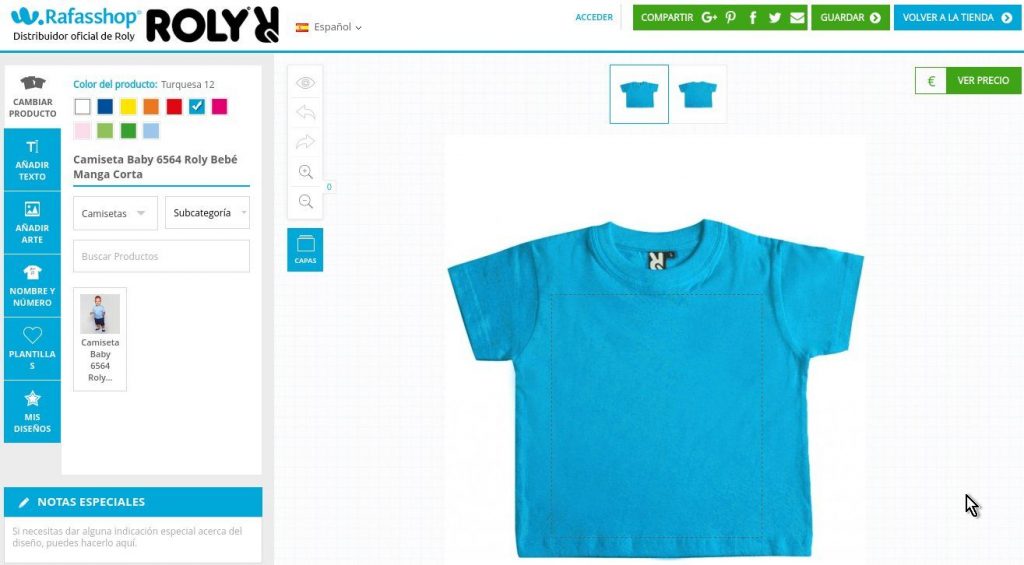 The price also seemed right, within our budget, especially considering that each shirt was with a different design. The online designer, includes a kind of calculator that on the fly tells you the cost per shirt, and tried putting more quantity and the total price per shirt was lower, so apply discounts as you buy more or less amount. I share this last because if instead of making different designs for each shirt, if you do only one for all, the final cost will be much cheaper.
Although the process is very simple, in the next few days I will publish a video in a quick plan to help you get an idea. First of all I recommend you register on the web, because that way, as you upload designs will allow you to keep them for another day to reload them if you have to print them again, or as in my case, I was uploading several designs and saving in several days, until I had them all designed and so make an order of everything together and save on shipping costs.
Here you can see how they were already posted: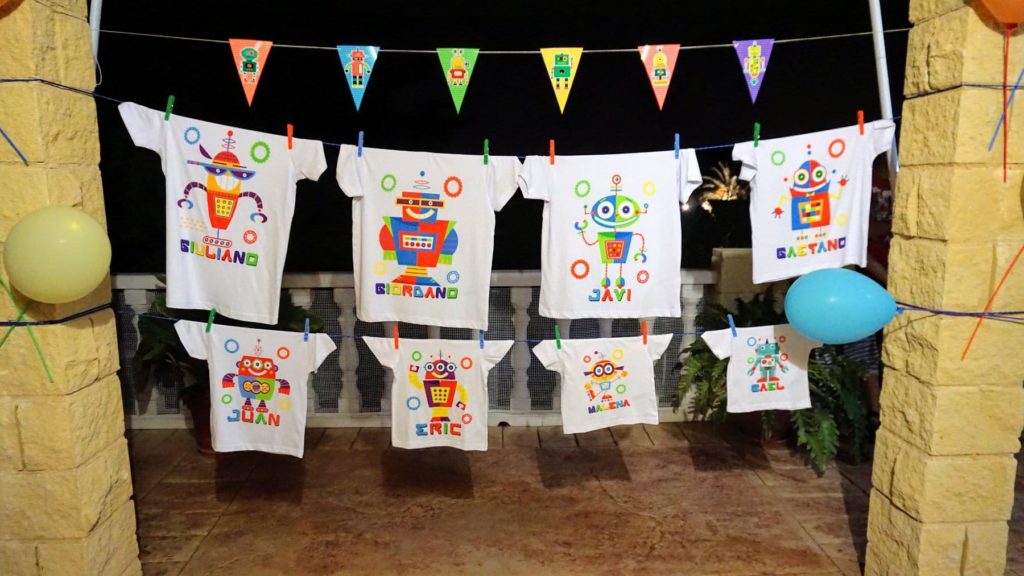 It was a total and resounding success. When the children arrived they saw the shirts hanging from a robot and immediately they saw his name and they became anxious thinking if they would be for them or not. Once all the children arrived, we told them that they were indeed for them and that they could catch them, and what we did not expect was for everyone to take off their shirts and polo shirts right there and put on their shirts and run among all the guests showing it with pride, thanking him very much and saying that as soon as they returned to the summer school they would wear it.
So we encourage you to do it at your next birthday party, guaranteed success ^ _ ^